Story by Pamela Sleezer.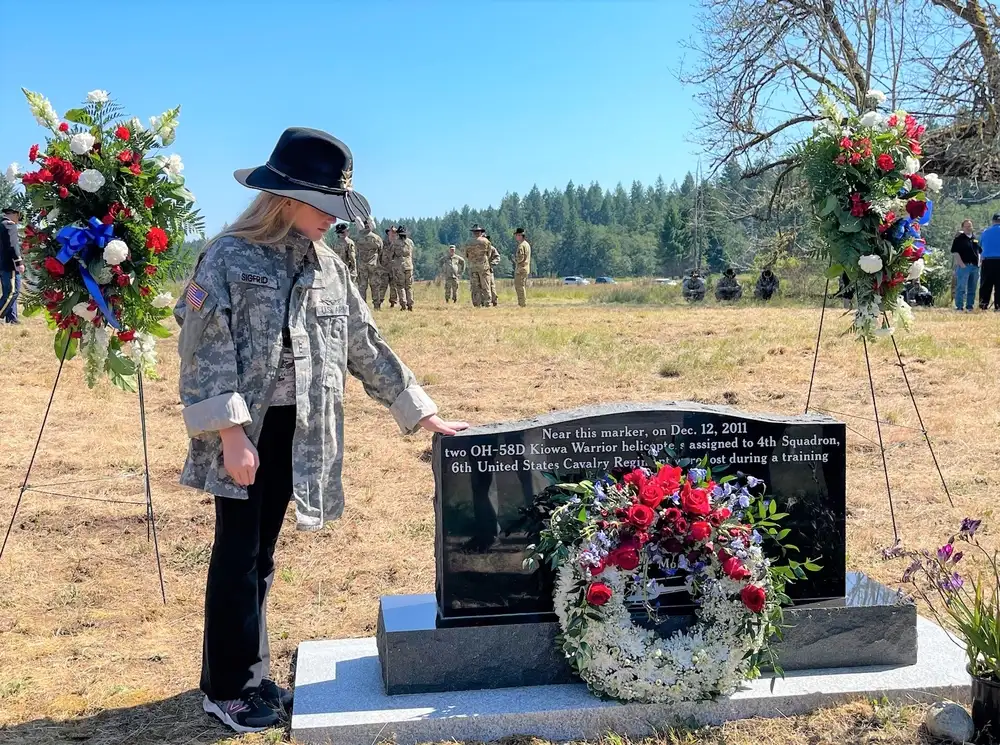 JOINT BASE LEWIS-McCHORD, Wash. – Nearly 12 years after a tragic helicopter crash at Joint Base Lewis-McChord, a civilian community joined together to properly honor and memorialize the service members that were lost.
A somber ceremony was held June 23 to dedicate a permanent memorial at the remote training area site where two OH-58H Kiowa Warrior helicopters collided during a training exercise the night of Dec. 12, 2011, killing four service members.
The dark stone memorial stands out poignantly on a hill at the edge of Training Area 22, just outside the town of Rainier. It is emblazoned with the names of Capt. Anne M. Montgomery, Chief Warrant Officer 2 Lucas D. Sigfrid, Chief Warrant Officer 3 Shan Joseph Satterfield, and Chief Warrant Officer 3 Frank A. Buoniconti III, all with the 4th Squadron, 6th Cavalry Regiment, 16th Combat Aviation Brigade.
"It's really great to see it placed here at last," Rainier resident Robert Champion said. "I'm so honored we were able to do this; the whole community feels a connection to what happened here, and I'm really happy to be working for a company that cares this much for the military community."
Champion works for Mills and Mills Funeral Home and Memorial Park, an area business that answered the call to purchase the memorial after Rainier residents had assumed caretaking responsibilities for a temporary, wooden marker they placed at the site in the days immediately following the crash.
"I would drive past the temporary memorial every day on my way to and from work," Mindy Rocha-Barella, Mills and Mills regional general manager, said. "I would look at it as I passed each time and I just felt in my heart that we could do something better. Those Soldiers deserved something better."
Mills and Mills Funeral Home agreed to fully fund the purchase of the permanent memorial, and Champion reached out to JBLM officials for help in making the gesture a reality. He said the entire process took about a year from start to finish.
"The Army was pivotal in designing and creating the monument," Champion said. "Everyone who reached out to me about it, whether they were an officer or civilian, had a personal connection with the crash or the victims."
During the dedication ceremony, Lt. Col. Lori Perkins, 4-6 ARS commander, remarked about her own personal experience following the crash. She had been assigned to the 4-6 ARS at the time of the crash in 2011, and she said she could still remember the overwhelming grief she felt at the loss of the service members she dubbed "the Fantastic Four."
"Those Fantastic Four were and still are very much respected and loved by those that knew them and worked alongside them," Perkins said.
To the Rainier residents and the funeral home officials, Perkins extended her gratitude for their show of support and love.
"For the past 12 years, you have cared so sincerely and so meticulously for our family, that you have made us feel like we are a part of yours," Perkins said.
That feeling was echoed by the surviving family members who traveled from near and far to attend the ceremony.
Hilary Sigfrid attended with her late husband's family and her daughter, Ellie, whom she was pregnant with at the time of the tragic crash. The family now lives in their home state of Minnesota and traveled to JBLM for the ceremony.
"When she heard about this," Sigfrid said. "Ellie really wanted to be here. It was important to her."
Sigfrid's father, Daniel Sigfrid, said he was moved by the gesture of kindness from the Rainier community.
"To think that this was all made possible by a civilian community, all because they felt so affected by what happened here," Sigfrid said. "It's amazing to me, it really is. You just don't hear about this kind of thing very often. I am making a point to meet every person who helped make this happen, and to shake their hand and thank them personally for what they have done."