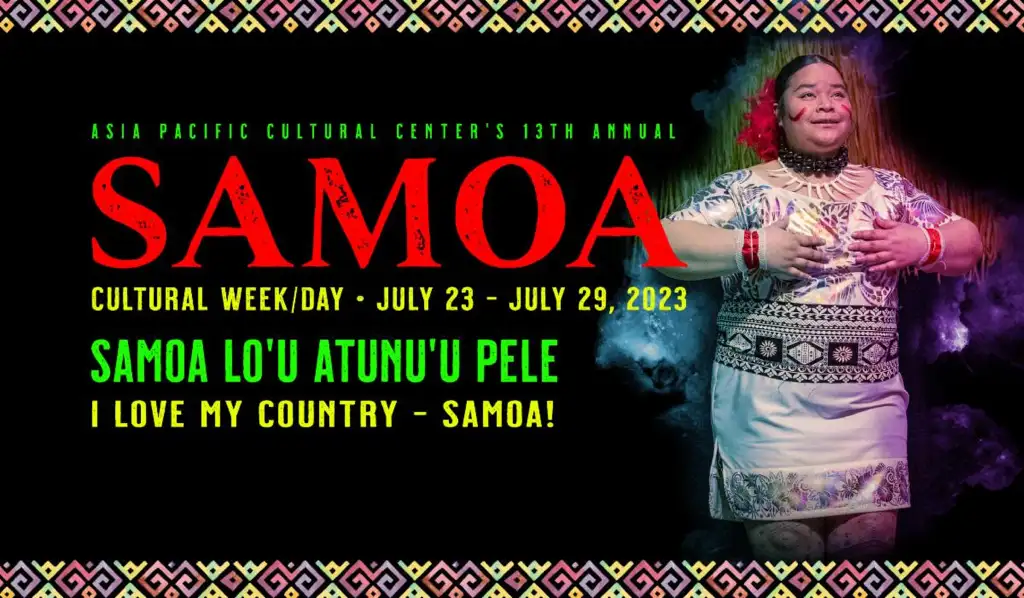 Asia Pacific Cultural Center (APCC) is delighted to announce the much-anticipated arrival of the 13th Annual Samoa Cultural Day/Week, a vibrant and joyous celebration of the Samoan people and their rich Polynesian heritage. This event promises to immerse participants in the vibrant culture, traditions, and delicious cuisine of Samoa.
Order of events
Sunday, July 23, 2023. Samoa Prayer Service at 6:30 pm, held at the Mt Tahoma High School Performing Arts Center. This spiritual gathering sets the tone for the week-long celebration, fostering a sense of unity, asking for blessings, and reflection within the community.
Monday, July 24, 2023. The Samoa Youth Gospel Night will take place at the Mt Tahoma High School Performing Arts Center, starting at 6:30 pm. This event showcases the immense talent and dedication of young Samoan performers, who will captivate the audience with their soul-stirring gospel music.
Tuesday, July 25, 2023, Day One. One of the highlights of the week is the Aganu'u Fa'aSamoa, which will take place at APCC, located at 4851 South Tacoma Way. Starting at 10 am, attendees will have the opportunity to delve deep into the heart of Samoan culture through interactive workshops, traditional dances, and captivating storytelling.
Wednesday, July 26, 2023, Day Two, brings Aganu'u Sa'aSamoa to the APCC. Starting at 10 am, participants will have the chance to learn about the various aspects of Samoan traditions, including arts and crafts, music, and customary practices that have been passed down through generations.
Thursday, July 27, 2023. The festivities take a glamorous turn with the Samoa Fashion Show. Starting at 6:30 pm, the Museum of Glass will be transformed into a runway, showcasing the exquisite and vibrant traditional attire of Samoa. Attendees will be mesmerized by the fusion of modern and traditional fashion, creating a visual feast for the eyes.
Friday, July 28, 2023. Bringing community leaders together, the Samoa Community Dinner will take place at the Museum of Glass, starting at 6:30 pm. This gathering will honor youth scholars who are moving forward to college. Participants will be enjoying the company of friends and family of Samoa from locally and abroad. Entertainment will be amazing. Tickets are $75 per person, Table of 10 seats for $750; contact us now; tickets are running out fast.
Saturday, July 29, 2023. The week-long celebration concludes with the much-anticipated Samoa Pasifika Food Festival. From 11 am onwards, Clover Park High School's Harry Lang Stadium will be transformed into a bustling culinary paradise, offering an assortment of delectable Samoan and Pacific Island delicacies. The festival will also feature lively cultural performances, traditional games, and vibrant displays, providing a memorable experience for all. A parade of Samoa Cultural Groups will kick off the celebration early.
For those seeking more information about the 13th Annual Samoa Cultural Day/Week or any of the events mentioned, please contact APCC at 253-383-3900 or reach out via email at faaluaina@asiapacificculturalcenter.org.
Join us as we come together to celebrate the beauty and richness of Samoa's cultural heritage. The 13th Annual Samoa Cultural Day/Week promises to be a week filled with unity, appreciation, and vibrant festivities that will leave a lasting impression on all who participate.