Submitted by Tacoma Historical Society.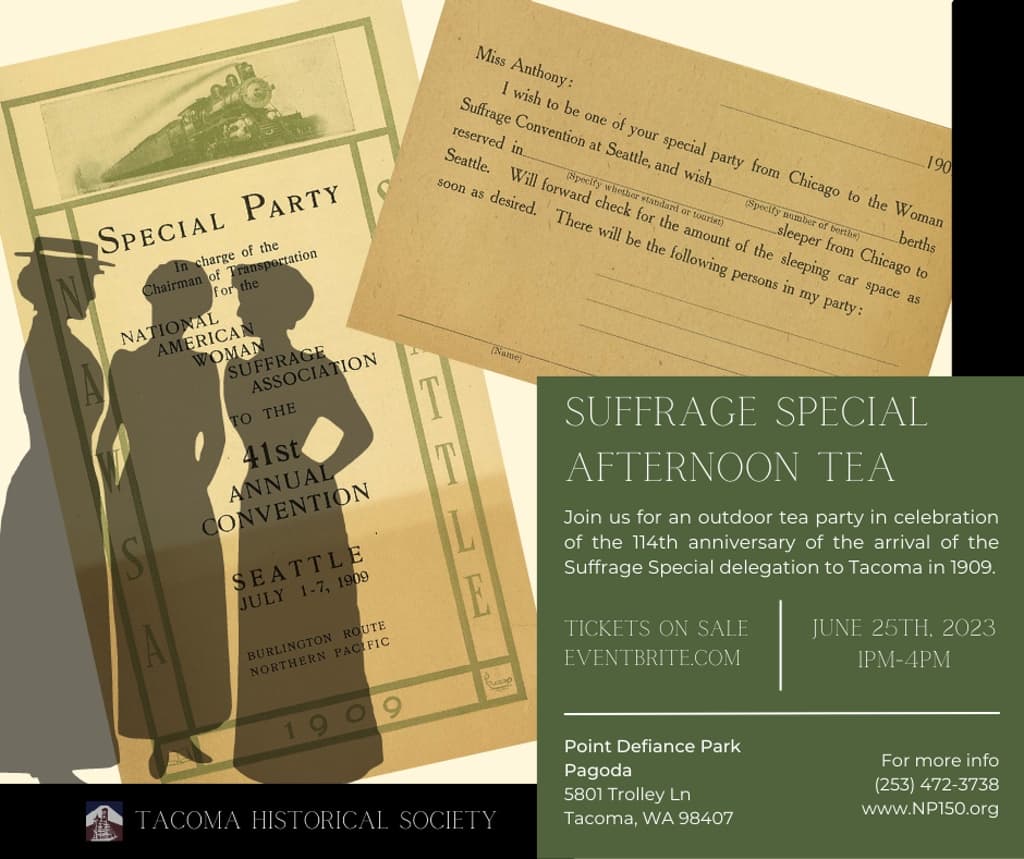 Join us on June 25th, 2023 to mark the 114th anniversary of the Suffrage Special!
In 1909, the National American Woman Suffrage Association held its forty-first annual convention in Seattle. Scheduled for July 1st through 6th, this conference was set to coincide with the opening of the Alaska-Yukon-Pacific Exposition, which designated July 7th as Woman's Suffrage Day. While many national organizations, from the Women's Christian Temperance League to the Odd Fellows, held conventions during the AYP Expo, the Suffrage Association's choice was strategic. Washington voters were about to decide whether women would be allowed to vote in state elections.
With an amendment to the state Constitution on the ballot, leading suffragists hit the campaign trail. A specially-chartered Northern Pacific train, dubbed the "Suffrage Special", took over 250 suffrage leaders from Chicago to Seattle. More advocates joined en route, with prominent Washington suffragists coming aboard at Spokane. On the train, the delegates held meetings and discussed their work. National suffrage leaders gave speeches at each stop. Having reached Spokane on June 28th, the train made whistle-stops at Pasco, Yakima, and Ellensburg before reaching Tacoma on the evening of June 29th. At this penultimate stop, Tacoma's suffragists gave the delegates a tour of Point Defiance Park, followed by a dinner hosted at the Commercial Club. After making the case for the vote to Tacoma's business leaders, the train resumed its course to Seattle.
In honor of these events, Tacoma Historical is hosting a historic tea party in the picturesque gardens of Point Defiance Park. The menu will include a variety of teas, gourmet Italian tea sandwiches, scrumptious scones topped with berries and assorted jams, plus rich raspberry, chocolate and banana cream tartlets. Following tea, THS curator Elizabeth Korsmo will give a talk about the historical events behind the Suffrage Special. The program will conclude with a special performance by Barbara Callander and Denise Winters portraying leaders of the Washington suffrage movement. Guests are encouraged to wear historic costumes and will be given supplies to make their own women's suffrage sashes! We hope to see you there!
June 25th @ 1:00pm
Point Defiance Pagoda
$75 per person. Tickets on sale now: https://www.eventbrite.com/e/suffrage-special-afternoon-tea-tickets-631820631517?aff=oddtdtcreator
For questions:
(253) 472-3738
info@tacomahistory.org
For more information on Tacoma Historical Society events, visit www.NP150.org