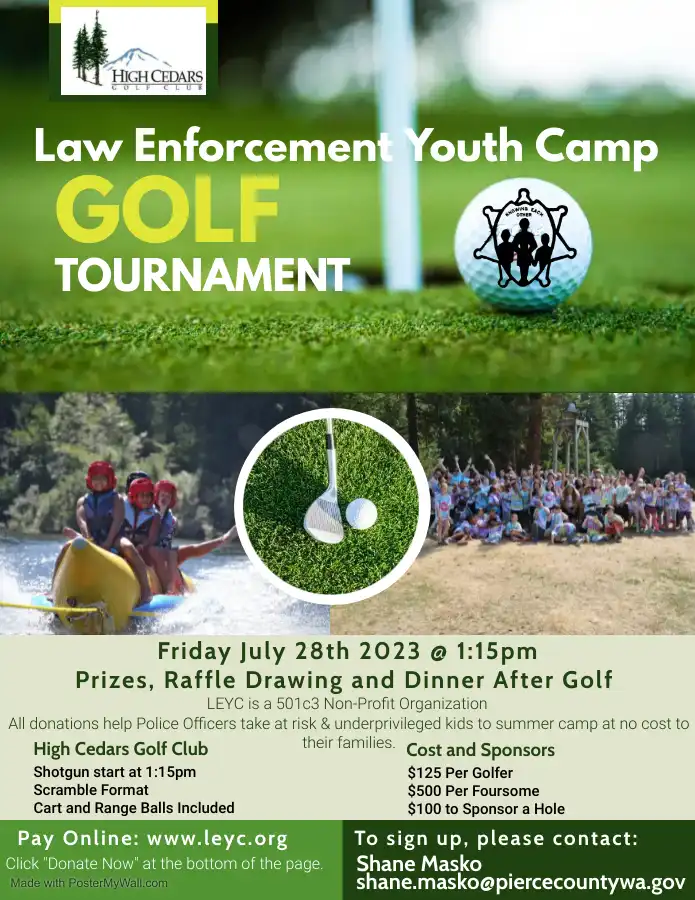 Whether you're an experienced golfer or you just like to get together with friends and have a good time, we have an exciting opportunity to share with you. Law Enforcement Youth Camp is hosting its annual golf tournament on July 28 at High Cedars Golf Club in Orting.
Law Enforcement Youth Camp (LEYC) is a summer camp program run by law enforcement officers and employees from throughout Pierce County. Through the program, at-risk and underprivileged youth attend summer camp at no cost to their families. Campers have fun, learn leadership skills, and build positive relationships with law enforcement.
This annual golf tournament is one of LEYC's largest fundraisers and is very popular. Sign up TODAY! This tournament WILL sell out! Send an email to shane.masko@piercecountywa.gov.
You can also support this cause by sponsoring a hole. At only $100, you won't find a better way to stretch your advertising dollars.
Can't make it, but still want to support LEYC? Please visit http://www.leyc.org/ and click "Donate Now."