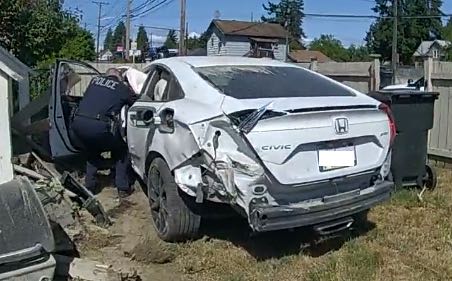 Last Thursday, June 1, Special Investigations Unit deputies spotted an armed carjacking suspect at an apartment complex near 112th St E and D St E in Parkland. The suspect was still driving the Honda Civic that he stole at gunpoint from the Hosmer area of Tacoma the night before.
Just as backup deputies were arriving, the suspect left the complex in the stolen vehicle. A patrol deputy attempted to stop the vehicle, but it fled. Since armed robbery is a pursuable offense, deputies chased after the suspect.
The pursuit went northbound on I-5 to Hwy 16, and then to S Sprague Ave. As they entered an area with higher traffic volume and pedestrians, deputies decided to terminate the pursuit.
The suspect continued to drive recklessly and, a short time later, collided with a vehicle. The suspect fled on foot, but deputies quickly tracked him down and arrested him.
The carjacking victim positively identified the suspect as well as the firearm that was used.
Once he was medically cleared, the 25-year-old suspect was booked into the Pierce County Jail.
This morning, prosecutors charged him with robbery in the first degree, attempting to elude a pursuing police vehicle, and unlawful possession of a firearm. Bail was set at $400,000.
The suspect has a federal felony conviction for unlawful transport of a firearm, as well as a conviction for attempted burglary in Alaska.
The occupants of the car the suspect struck were treated for minor injuries.