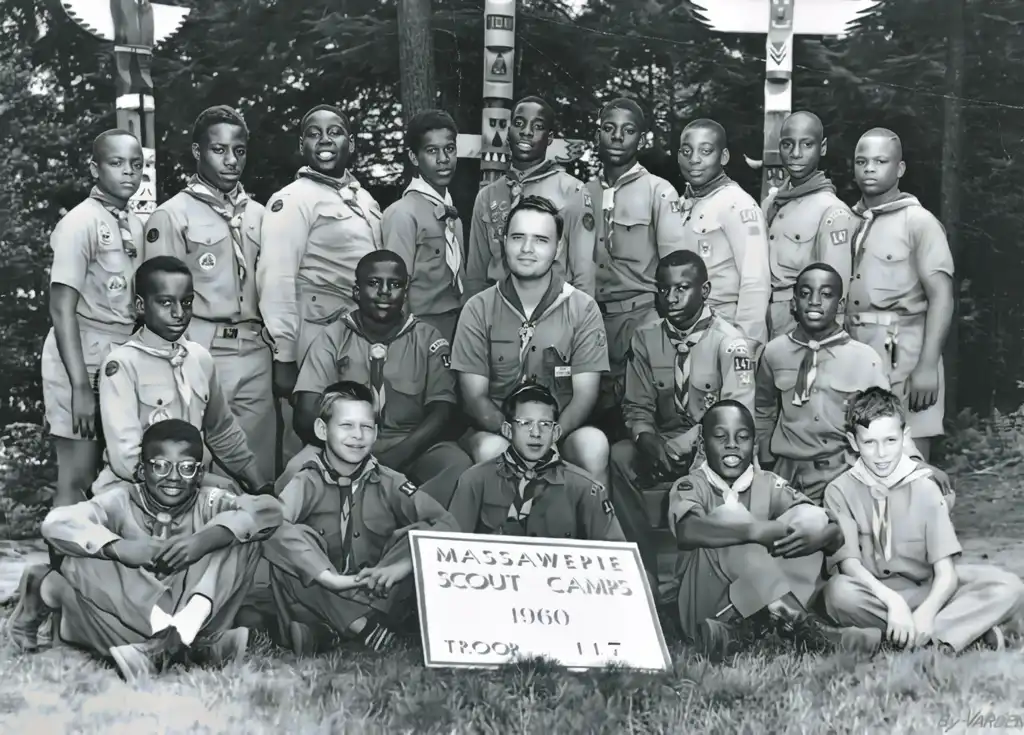 TACOMA – The Pacific Harbors Council of the Boy Scouts of America will recognize the achievement of 75-year-old Samuel Lynn Jones who became an Eagle Scout at age 15, but was denied public recognition because he was judged "not to be from a model African American family," while growing up in the housing projects of 1960's Rochester, New York. 
A long-deserved Court of Honor will be held for the now-retired Navy Commander on June 19, 2023, at Mountain View Lutheran Church at 3505 122nd Ave East in Edgewood, WA 98372 at 6:30 p.m.
"This will not make up all the lost years this Eagle Scout felt," said Mark Crawford, President of the Pacific Harbors Council. "It was inexcusable and insensitive to do this to a young person who learned so much from Scouting and used it as motivation to achieve an honorable and useful life serving his country and his community," said Crawford. Sam Jones is a person of faith and motivational leader for younger people. In retirement, he is involved with his church and other groups in the Puyallup Valley, Pierce County. "By any measure, Sam is a role model for today's Scouts in the Pacific Harbors Council," said Crawford.
Background
How did we get to this point?
Jones earned all the requirements he needed to accomplish to become an Eagle Scout in 1962.
But, he was told there would be no Court of Honor for him becoming an Eagle Scout because he was told he "did not represent Boy Scout Troop 147 as a family model, the unit wanted to support," according to a social worker at the time from the Baden Street Settlement which chartered the Scout troop. He was angry, hurt and in disbelief when told this. "What did they mean "not from a model family?" 
Jones: "We all have pains of life that we can't explain. We need community, sometimes to unearth those pains buried deep." Sam Jones says this delayed recognition is an amazing blessing beyond imagination.
One lesson he learned in Scouting was to pick himself up and move forward. It is reminiscent of the Winston Churchill line: "Success is not final; failure is not fatal: it is the courage to continue that counts." Churchill was a big supporter of Scouting and was close to Scouting's founder, Lord Robert Baden-Powell. Churchill was also fond of saying, "never, ever give up." Sam Jones never gave up and was determined to be a victor. Scouting was a pathway to Jones' dream, making his mother proud of him.
Rochester's Housing Projects
Samuel Jones came from a single parent home where his mother worked two full-time jobs, determined to buy a home, and move the family out of the housing project. He never knew his father, having met him only once and then for a few minutes. While his mother worked, Samuel Jones had responsibility for taking care of his younger brother David, making sure he was watched after, fed, and doing his schoolwork. Jones did well in local public schools. In the fifth grade, in a school of nearly a thousand students, he received a good citizen medal from the Daughters of the American Revolution in Washington D.C.
He said his Scout training on leadership, accountability and responsibility helped him in his daily affairs. "We never went on vacation as my mother was determined to pull us out of the projects. The Boy Scouts gave me the opportunity to achieve my dreams and complemented my mother's mandate that 'we were going to make it, through discipline, grit and hard work,'" said Jones.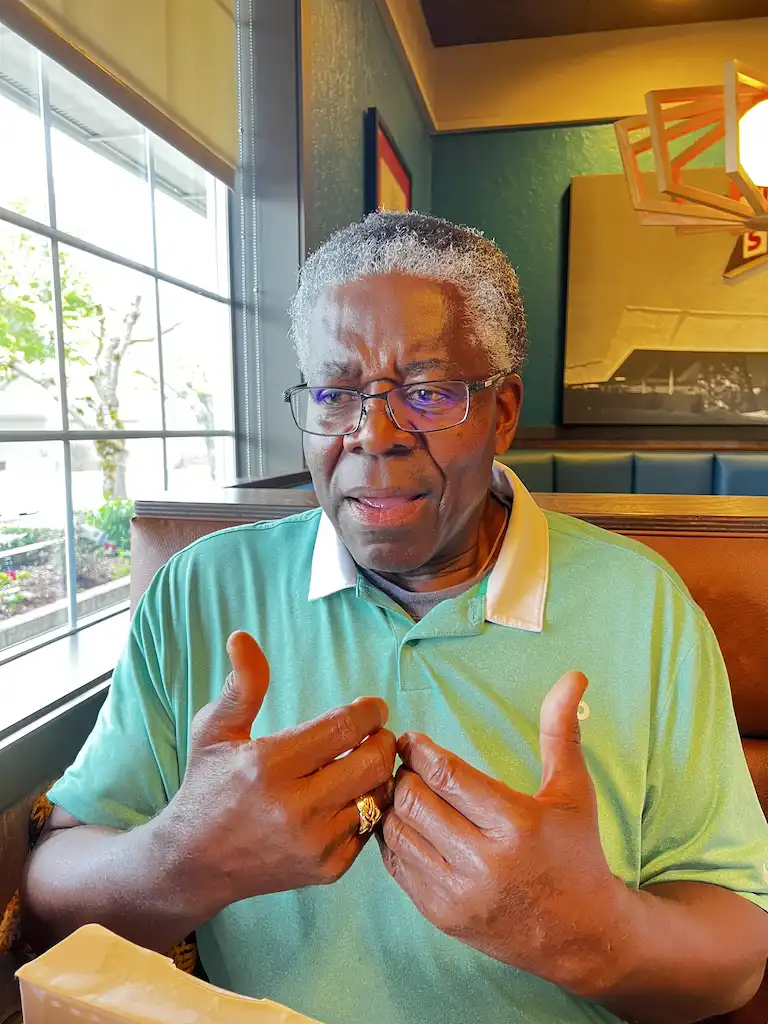 On My Honor
"The Scout Law has 12 points, goals which each Scout strives to live up to every day. It's not always easy, but a Scout is always aware and determined to achieve," he said. "On my honor I will do my best to do my duty to God and my country and to obey the Scout Law; to help other people at all times; to keep myself physically strong, mentally awake, and morally straight," would resonate throughout his life. It was there when he celebrated good times. It was there to lift him up during bad times. "The Scout Oath helped guide Sam through the trials and tribulations of life," said his wife, Cindy.
The Scouting Journey Begins
Sam Jones came to Scouting after watching a 1958 western movie, "Light in the Forest," starring Fess Parker, Joanne Dru, James McArthur, and Wendell Corey. He doesn't recall much of the film, but vividly remembers the opening scenes of nature and forests and thought "if God exists, he exists in the woods." That influence was behind the beginnings of his spiritual journey and his desire to be part of Scouting. He joined Boy Scout Troop 147 in Rochester in 1958.
Jones said there was never racial injustice within Troop 147. "It was the opposite; it was an oasis for me to learn and grow."
Eagle Scout is the highest honor a Scout can Receive
Sam Jones enjoyed the friends he made and the 24 merit badges he earned. Eagle Scout is the highest achievement of rank attainable in the Scouts BSA program of the Boy Scouts of America (BSA). Since its inception in 1911, only four percent of Scouts have earned this rank after a lengthy review process. It was and continues to be hard work. Sam Jones represented the best of the best and did everything that was asked of him to qualify.
"Scouting was a rite of passage for me, a young man from the ghetto, a young man from humble means learning how to be successful," he said.
Role Models
He put his Scout skills to work during summers when his high school science teacher introduced Sam to Dr. Charles Perham from Cornell University. Perham was personally involved in helping kids in need through programs that involved the outdoors such as canoeing and hiking. He also supervised working vacations in Canada where youngsters did work for the Algonquin Provincial Park in Ontario, Canada. Perham also encouraged young Sam Jones to enroll at the University of Michigan.
Perham, along with his Scoutmaster John Morrison were his role models. Morrison was more than a Scouting instructor to Jones. He was an influential father figure who helped teach kids what it was like to be a responsible citizen and a responsible member of a family.
Jones went on to the University of Michigan and was commissioned through the Navy ROTC program where he earned a degree in Industrial Psychology. Through the Navy, he enjoyed travel and postings around the world representing the best of the American people. Jones served his country in Vietnam. He was awarded a meritorious service medal and retired as a Naval Commander.
The Significance of an Eagle Court of Honor
Eagle courts of honor are significant celebrations recognizing Scouts who have attained Scouting's highest rank. They often feature a variety of ceremonies commensurate with the high honor being bestowed upon outstanding young people. The Eagle court of honor has been referred to as Scouting's greatest moment. It is an event that is long remembered fondly by the Scout being honored.
Sam Jones is in good company. Some local Eagle Scouts include former Governor Dan Evans, former Ambassador to China, Gary Locke, Retired Alaska Airlines CEO Brad Tilden, former Defense Secretary Robert Gates, former Defense Secretary James Mattis, Bill Gates. Sr., father of Microsoft founder Bill Gates, retired Boeing CEO Phil Condit, Attorney General Rob McKenna among many others.
From Rochester, New York
"We are very proud of Sam Jones," said Stephen Hoitt, Scout Executive and Chief Executive Officer of the Seneca Waterways Council, which covers Scouting units in the Rochester, New York area. "Even though his mother and brother have passed, they knew Sam was going to make something of himself by becoming an Eagle Scout. He is the embodiment of our mission, which is to prepare young people to make ethical and moral choices over their lifetimes by instilling in them the values of the Scout Oath and Law. I'd say he continues to honor Scouting with his life accomplishments. Thank you, Sam, and Cindy, for representing the best of Scouting."
The Importance of Service
Sam Jones has seen a lot of life in his 75 years. And through it all, he counts his faith, his Scouting experience, and his family as ongoing points of inspiration. His advice to the Scouts (Cub Scout Pack 526, Scouts BSA Troop 525, Scouts BSA Troop 525GT, Venture Crew 525) who are chartered by his church, "you've got to serve the community, you've got to serve your country. It is the heart and soul of who you are, who we are. Without it, we are nothing."
About the Pacific Harbors Council
The Pacific Harbors Council of the Boy Scouts of America supports Scouting Units across the South Sound from Federal Way to Centralia and from the Washington Coast to the Cascade foothills. This includes Cub Scouts, Venture Scouts, Scouts BSA, Sea Scouts, and Explorer Scouts. Nearly 4,000 young people participate in Scouting locally. The Mission of the Boy Scouts of America is to prepare young people to make ethical and moral choices over their lifetimes by instilling in them the values of the Scout Oath and Law. For more information on Scouting go to: beascout.org.