Submitted by Support the Enlisted Project (STEP).
Support the Enlisted Project (STEP) will host its first educational resource fair for military students and their families in Washington on August 19-20, 2023. The event, Cammies to College, allows potential students access to colleges, universities, school districts, prep schools, and preschools, among others, and teaches them how to use their military benefits in the most beneficial way.
As part of the event, STEP collects and distributes backpacks and school supplies to the younger attendees. We are looking for your help to make this a success. Please consider becoming a collection site and email Linda Disney at linda.disney@teamstepusa.org to let her know that you are in. STEP volunteers will then happily drop off a bin to your business, church, or organization for collection. Alternatively, you may purchase supplies online and making collection even easier. Please see the photo for more information.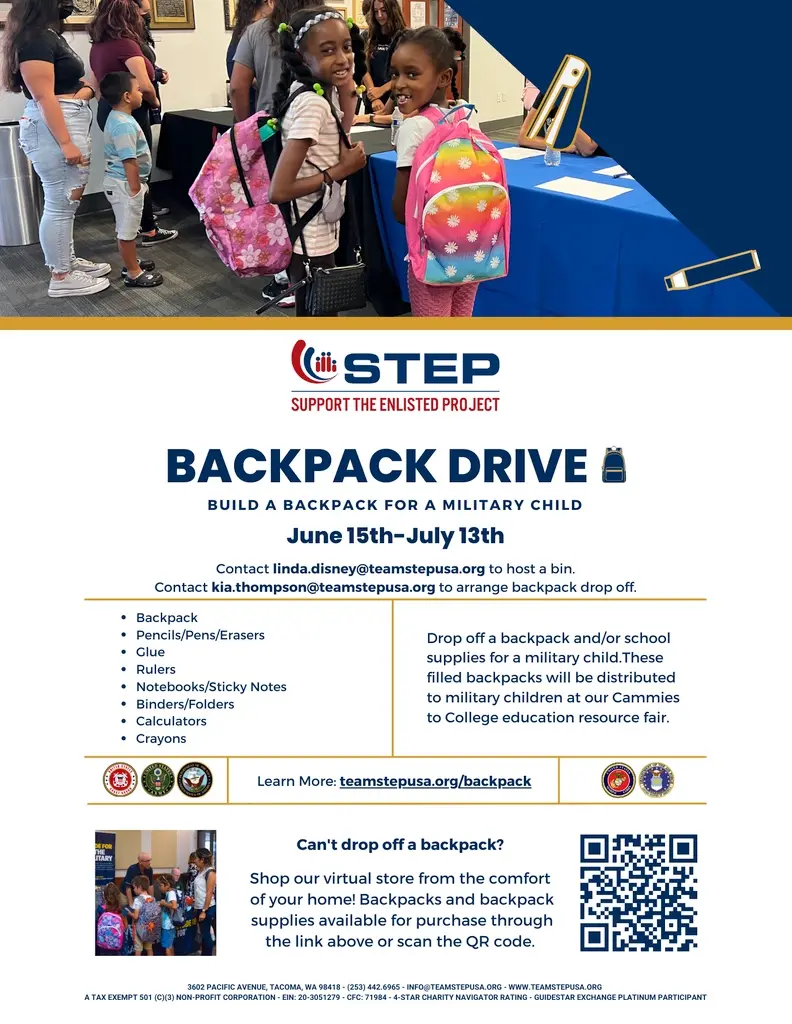 STEP is a 501 c(3) charity whose mission is to develop financial self-sufficiency among junior enlisted military families and recently transitioned veterans. STEP offers counseling, education, and grants through its Emergency Financial Assistance Program. There are also auxiliary programs that address food insecurity, and provide critical baby needs, clothing, personal hygiene, and household supplies, among other things.
Cammies to College is one way that STEP encourages military service members to set their path to achieve their greatest dreams. Join our backpack collection team and make a difference today.