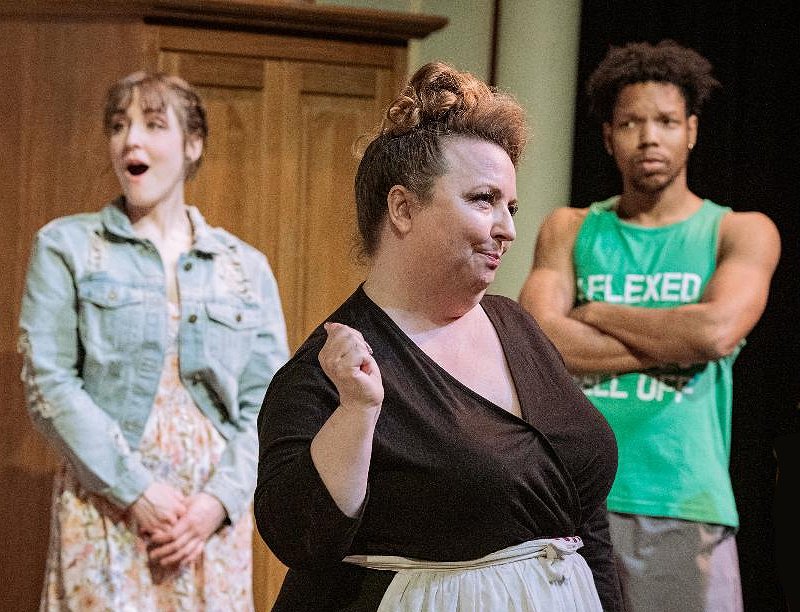 When I graduated from Clover Park High School in 1964, Tartuffe by French playwright Moliere (first presented in 1664) was in the midst of its three-hundredth year anniversary. Peg and I were so looking forward to the production at CenterStage. My cousin, Lavinia, an actress, director, teacher, and theatre know-it-all was going to join us, but chose to spend a couple of weeks on the beaches of Hawaii instead. We got the last laugh; Tartuffe was a howler.
The first scene was a head scratcher as we tried to figure out what was going on and who was doing what and with whom. The butler Olivier (Ben Stahl) is going around the room, mutely tidying up and behaving oddly. Soon we begin to see that Director Christopher Kehoe decided to keep the original play dialogue and insert modern and classical theatre miming, clowning humor techniques. This proved to be the beginning of a truly funny play.
Buzzkill/Swing, the world's crankiest woman (Aya Hashiguchi) sets up the premise. Aya and her husband Randy Clark run Dukesbay Theatre in the Merino Building, Tacoma. It's nice to see Aya out and acting – although quite contrary as Buzzkill.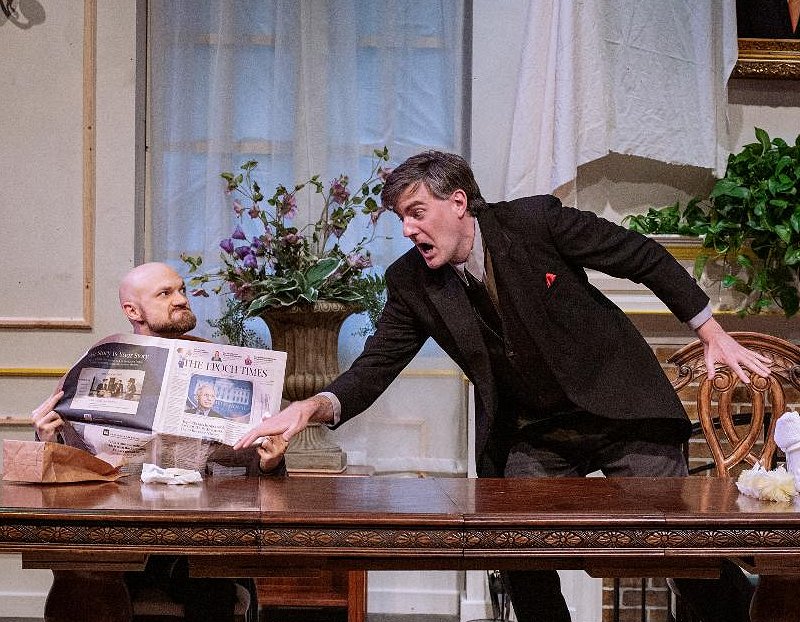 In the play, eavesdroppers are working out hiding places in the home of the rich and powerful, while the maid Dorine (Shelleigh Ferguson), in her own little world, rocks and dances all around the dining room. She knows her job and keeping the expensive and beautiful home spotless was her mission . . . among other things. She is aligned with the family, determined to oust Tartuffe, the master Orgon's favorite con artist vagrant turned fair-haired boy. The smiles on our faces began to crack.
We knew we were in for a slippery ride in the scene featuring Lawrence (Kyle Sinclair) and Oliver (Ben Stahl). Lawrence plays the piano and with the butler, brings the humor level WAYYY up. We had seen Kyle Sinclair as "the game" in the production at Centerstage's Oregon Trail. In his own little world, his body movements had us gasping. He continued the magic in Tartuffe. Earlier this season we saw Ben Stahl as Mr. Hyde in the Dukesbay Productions of Dr. Jekyll and Mr. Hyde at Dukesbay and he was scarier than most other performances I've seen. We had already appreciated his work on CenterStage's The Ghost Train, so we weren't too afraid . . . but seeing the two of them trying to outdo each other was hilarious.
The set design and furniture by Tori Dewar is impressive. The 10-foot dining room table is similar to our library table, but so much more massive and in such better condition; we know the costs and searches involved in finding just the right piece of furniture to create a feeling of age, beauty, and value. Artistic Director Trista Duval found it on Craig's list in Lakewood for $75 from a family that didn't want such a statement piece. They finally sold it to her for $50. Now the dilemma is where to store it!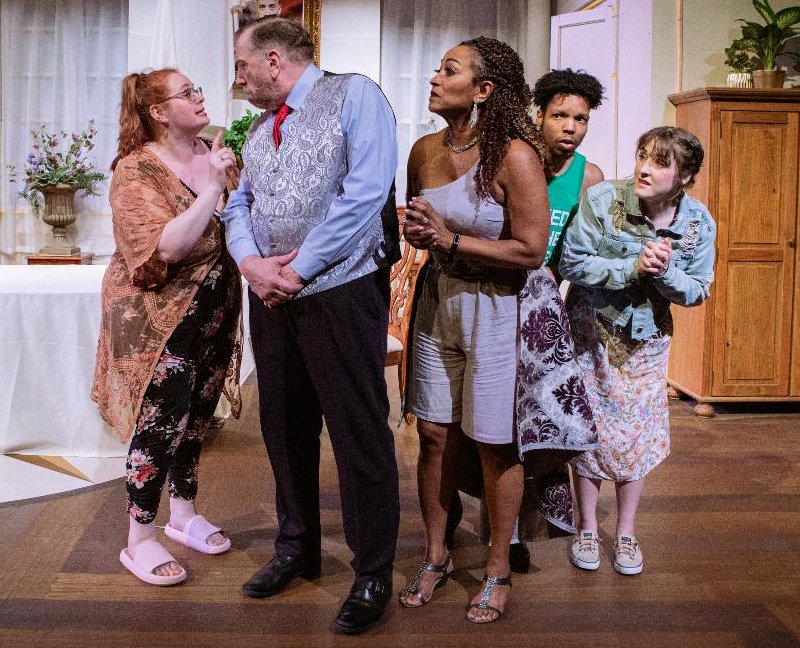 Another standout character was Valere, (David Breyman), daughter Mariane's previously accepted fiancé. David also played in The Oregon Trail, but he really showed his on-stage ability as the Scarecrow in Tacoma Little Theatre's The Wizard of Oz. Another couple of accolades for David were appearing in Seattle's Reboot Theatre (one of our favorite Seattle theaters) and an upcoming part in See How They Run on Vashon Island.
Cleante (Nicole Lockett) is constantly pointing a finger in exasperation at Tartuffe, who is equally exasperated with her. She tells Orgon what to watch out for as played by Craig Rock (he/him) as was Elmire played by Sonia Alexus (she/her) listens along with Damis played by Kaughlin Caver (he/him) and Mariane played by Kaira Hensler (she/her). We enjoyed the work of Craig Rock as he played Putti VanDann in The Diary of Anne Frank at Lakewood Playhouse, and we enjoyed his work even more as Hercule Poirot in Murder on the Orient Express at Tacoma Little Theatre.
As son Damis (Kaughlin Cauver ) begins to lay into Tartuffe, played by Timothy Duval (he/him) along with Orgon we start to see things change, but is there such a thing as change once corruption rules? Tartuffe is one of those productions where your mind keeps asking for replays.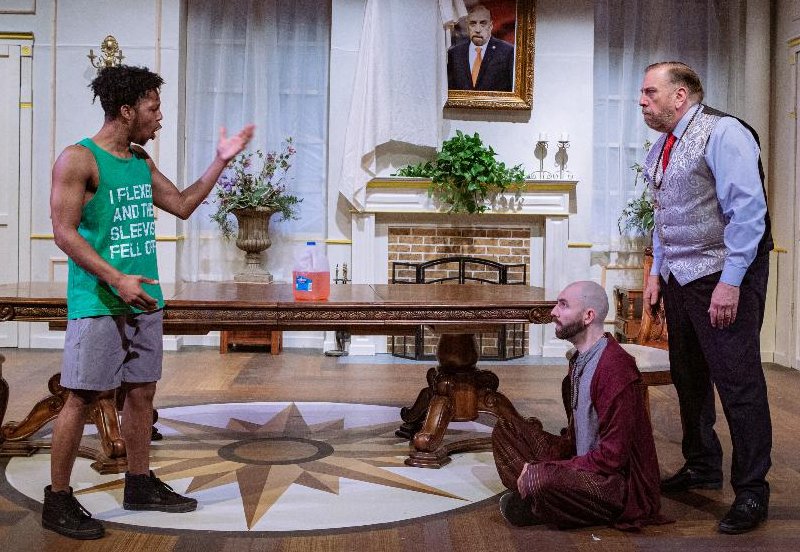 Come see a genuinely funny production.
Tartuffe runs through June 11th with performances on Friday and Saturday at 7:30 and Sundays at 2 p.m.
Purchase your tickets here – https://app.arts-people.com/index.php?show=141434