Lakewood United announcement.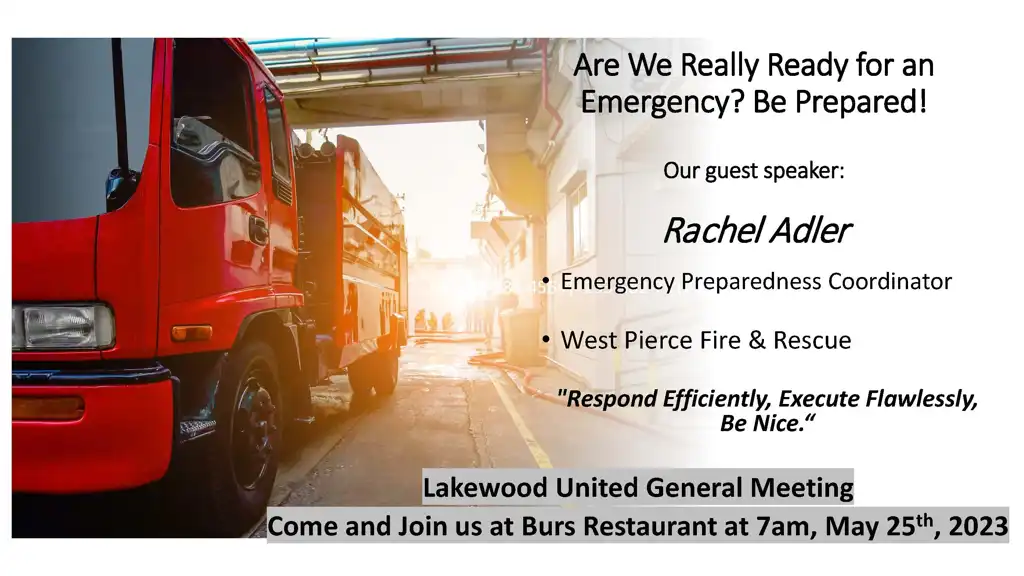 The public is invited to join us on Thursday, May 25, 2023 at 7:00 am at Burs Restaurant – 6151 Steilacoom Blvd. SW – Lakewood.
Guest Speaker: Rachel Adler: WPFR Emergency Preparedness Coordinator
We do not get to choose whether or not a disaster will happen, but we do have the ability to prepare for one and increase our chances of survival. Is our Lakewood community prepared? How will we respond if emergency services are unable to reach us? How do we prepare to take care of our own family for a minimum of two weeks? How can we work in partnership with our neighbors to create a response plan? What if you were told you had 15 minutes to evacuate, what do you take? Are we prepared for the growing threat of urban wildfires that have already occurred in Pierce County?
Please join us as Rachel Adler shares great information West Pierce Fire and Rescue has prepared for our citizens. If you can, bring someone from your neighborhood. This is a community issue that needs awareness and support. Did you know that WPFR offers classes for those wishing to create neighborhood teams? What a great opportunity!
Lakewood United would like to thank our most recent presenter, Diane Formosa, who serves as the Founder and Director of Caring for Kids, a non-profit organization that enhances the lives of youth and families in Lakewood and surrounding communities. Lakewood United members and community members in attendance were proud to hear about the quality support that Caring for Kids provides with an all-volunteer staff.
The positive contributions that Caring for Kids makes on a daily basis are amazing and awe-inspiring.
Diane encouraged us all to get involved to help make a positive impact. She highlighted the vast array of partnerships that have grown exponentially over the years.
Please visit the Caring for Kids Facebook page to see more information about Caring for Kids.
Thank you to all who attended the May 18 Meeting both in-person and online. Those in-person participated in the dialogue that helped to generate great ideas for future support.
Lakewood United News and Meeting Dates:
All meeting and events will also be on Zoom. Please email your request to: LakewoodUnited@gmail.com and a link will be sent to you. Zoom will be muted to all. Use "chat box" to talk.
We have a new website so check it out! lakewoodunited.org
Evening meetings will be at Pierce College on the 1st and 3rd Thursdays of the month starting in May. Morning meetings will be at Burs Restaurant on the 2nd and 4th Thursdays of the month. More information is coming.
Signing-up for a yearly Membership in Lakewood United allows us to keep providing relevant information to our community. Please go to our website to join.
Lakewood United's 2023 Board "Thanks You" for your support!