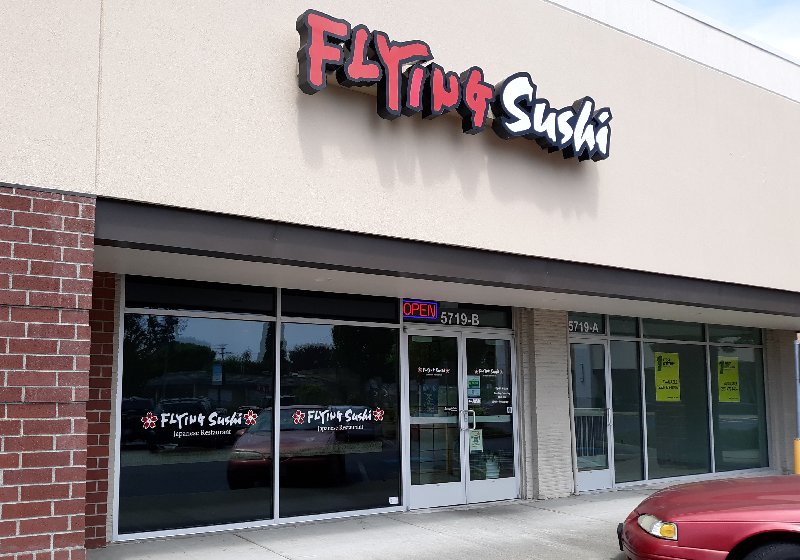 Flying Sushi is not to be confused with Flying Fish, which used to be at the North end of North Westgate Center. Flying Sushi has nothing to do with the rude owners of the previous restaurant. The new owners provide friendly service and excellent food. Now, Flying Sushi is at the south end of North Westgate Center – slightly confusing, but really good food.
I met my buddy Donn for lunch on Wednesday and enjoyed the food and the service so much that Thursday I took my wife Peggy and our grandson Riley to lunch. I had the Bento on both days and my wife and grandson each had the same order with a little variation in the Bento order.
Riley and I both ordered Dr Peppers. They were served with ice and whisked away for a refill as soon as we drank the cola down to a third of the glass. Now, that is service.
The Miso soup was tasty and was easy to drink down with no one else around.
The high light for both Peggy and me was the salmon teriyaki. The two pieces were not bite-size; they were a little over four inches long and very, very delish.
The crispy and hot vegetable tempura, good sized with melt in your mouth magic, was scrumptious.
Both Peggy and Riley had "to go" boxes. I gave Peg two of my tempura pieces, and finished with a clean Bento Box.
The menu options: Noodles, Donburi, Sake, Sashimi, Sushi, Sashimi, Nigiri Sushi, Regular Rolls, Signature Rolls, Temaki, Special Rolls, Kid's Meals, Appetizers, Salad, Sides, Drinks, and Dessert filled out an easy-to-read take-home folded menu. On my mind since looking over the possibilities? The Twinky Tempura is already calling to me: Deep fried twinkies with raspberry jam, and chocolate syrup. Come to yum; rolls and lunch size dishes are available as well.
Flying Sushi, Japanese Restaurant – 5719 N 26th St Ste B – Tacoma, WA 98407 – www.flyingsushiwa.com