Bates Technical College announcement.
TACOMA, Wash. – Bates Technical College's Board of Trustees announced that Dr. Lin Zhou, president of Bates Technical College, will receive the 2023 Chief Executive Officer of the Year Award from the Washington Association of College Trustees (ACT). She was formally honored at the ACT Spring Conference on May 15 in Walla Walla, Wash.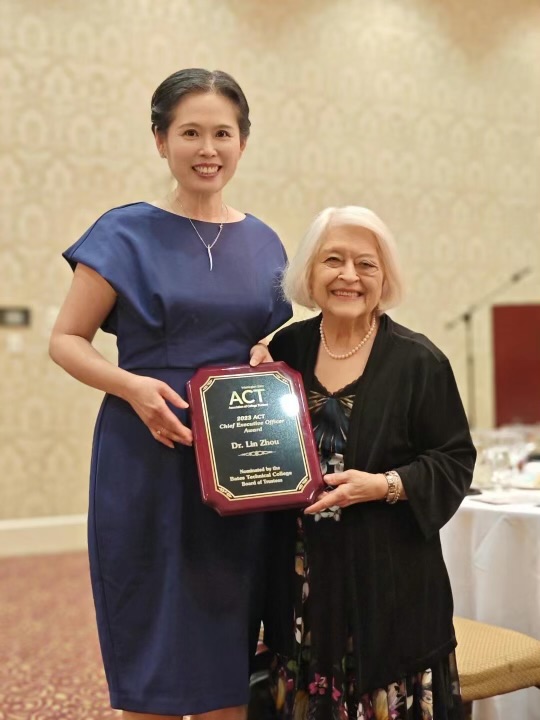 The Chief Executive Officer Award, awarded annually, recognizes an individual who has demonstrated exceptional leadership in furthering the mission of community and technical colleges. Dr. Zhou's nomination packet will be submitted for consideration of national recognition at the Association of Community College Trustees (ACCT) Leadership Congress in Las Vegas.
Bates' board chair Layne Bladow wrote in a letter of support on behalf of the five-member board, "We are extremely impressed by, and grateful for, Dr. Zhou's dedication, leadership abilities, and genuine passion for advancing the mission, vision and values of Bates Technical College. Dr. Zhou has dedicated herself to ensuring the right programs, processes and people are empowered to achieve the mission…This is her hallmark: grounding the college in meaningful diversity, equity, and inclusion efforts, while focusing the full college community on student achievement."
The letter also noted that evidence of Dr. Zhou's strong leadership is in several college initiatives, such as outstanding pandemic crisis management, cyber intrusion recovery, ctcLink (a state-run community and technical college web-based management application) implementation, successful on-site accreditation visit, improving completion rates, and establishing bridges for the "critical link between graduation and employment through partnerships with key employers and community stakeholders."
Dr. Zhou was hired at Bates Technical College in 2013 as the dean of continuing education, apprenticeship and child studies. Since then, she has served as dean of instruction and executive dean before becoming the vice president of institutional effectiveness and student success in 2016. In 2018, the board appointed her president and CEO. Dr. Zhou holds a Ph.D. in education, with an emphasis in community college leadership, from Oregon State University, a master's degree in business administration from City University in Seattle, an associate degree in computer science and networking technology from Lake Washington Institute of Technology, and an associate degree in accounting from Renmin University of China. In 2017, Dr. Zhou participated in Harvard University's Institute for Educational Management, administered by the university's Graduate School of Education.
The college's first female president, Dr. Zhou is also the first female Chinese immigrant to serve as president at a public two-year college in Washington state.
For more information about ACT, please visit www.sbctc.edu/about/college-trustees/. Learn more about Bates Technical College at BatesTech.edu.
About Bates Technical College
Founded in 1940, Bates Technical College offers certificate and degree opportunities in 45+ career education programs. The college serves approximately 3,000 career training students and 7,000 more community members annually in extended learning, distance learning, high school, and other programs. For more information, go to BatesTech.edu, or call 253.680.7000. Bates Technical College is proudly part of the Washington state community and technical college system.