A Clover Park School District story.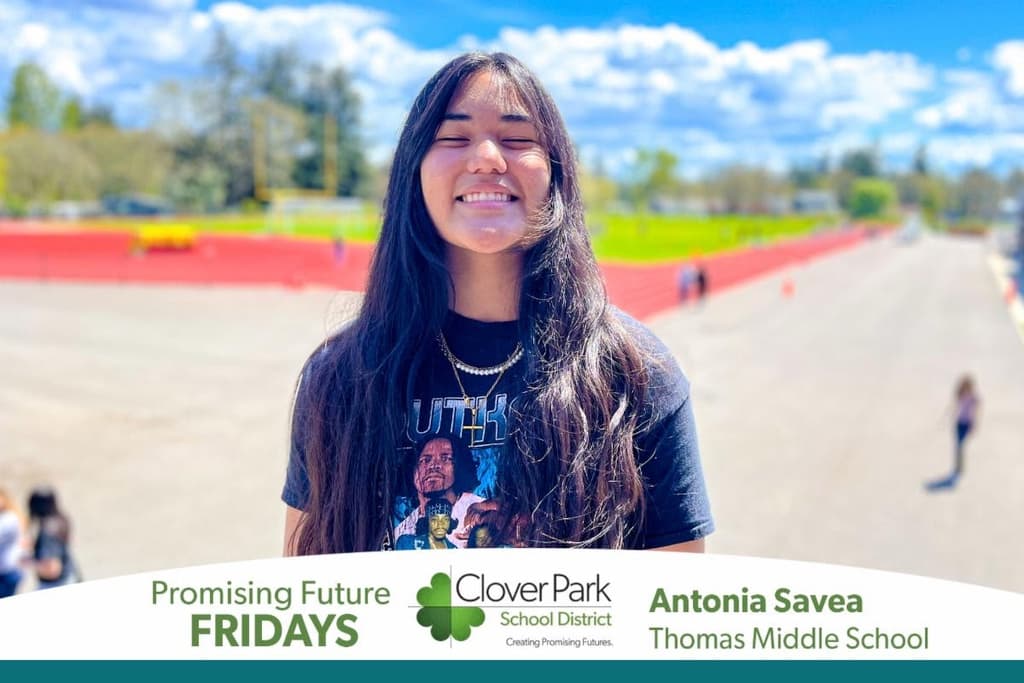 Our Promising Futures featured student this week is Thomas Middle School seventh grader Antonia Savea. 
As a seventh grader, Antonia's circle has grown tremendously. This school year, she joined the volleyball team, the Pacific Islander club, leadership and choir. She has also become more involved in her church. "This year has just been a big change," she said. "I feel like I have more responsibility because I'm doing extracurricular activities that I wasn't doing last year, and I'm making better choices for myself."
One of the major influences in Antonia's newfound involvement at school is her leadership class. She took leadership this year on a whim and the lessons she's learned have struck a chord within her. "The class helped me build my personality a lot," she said. "One of the main quotes we learned is 'be comfortable being uncomfortable.' I hated doing that at first, but it's pushed me to try sports and meet new people."
Antonia's favorite teacher is Ms. Beatie who teaches choir and fosters a supportive classroom environment for students like Antonia who have not studied music before. "My teacher helped me figure out I'm a soprano singer, so my singing has improved," she said. "I also feel very safe and at home with the community of students in our class. We're like a family."
Outside of extracurriculars, Antonia enjoys her honors math class and has seen her skills improve rapidly this year. "Even when I don't get something right, I know I can improve," she said. "There's always an answer, and you just have to figure out the right way to get there."
Antonia is still contemplating her future career path. She knows she wants to help people and may enter the medical field to do so.