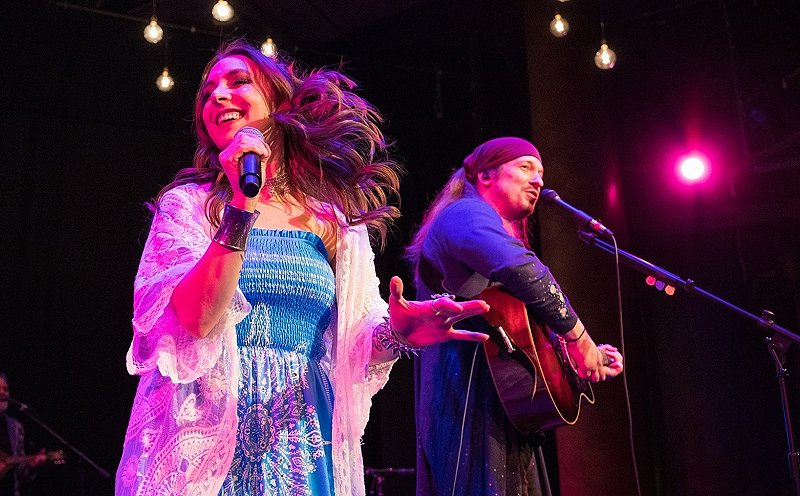 Sugar and the Spitfires (Amy Shephard, Brent Pendleton, Andy Garness, Dave Broyles, and Rick
Jarvela) were our favorite highlight of "Hedwig and the Angry Inch" at Harlequin along with other local musicians (Denim Protégé, Jen Grady and Heather Matthews) back in June of 2022. Just knowing they were coming back on stage at Harlequin, was enough for Peg and I to shout "Hooray!"
For this production the State Theater in downtown Olympia has temporarily changed from a theatre on stage production into an intimate cabaret for an uncensored, exhilarating, and heartrending true story about embracing uncertainty, taking a leap, and loving as if you only had 100 days to live. With magnetic chemistry and anthemic folk-punk music, creators Abigail and Shaun Bengson explore a fundamental question: How do we make the most of the time that we have?"
A great rocking introduction – (left to right) Amy Shephard and Denim Protégé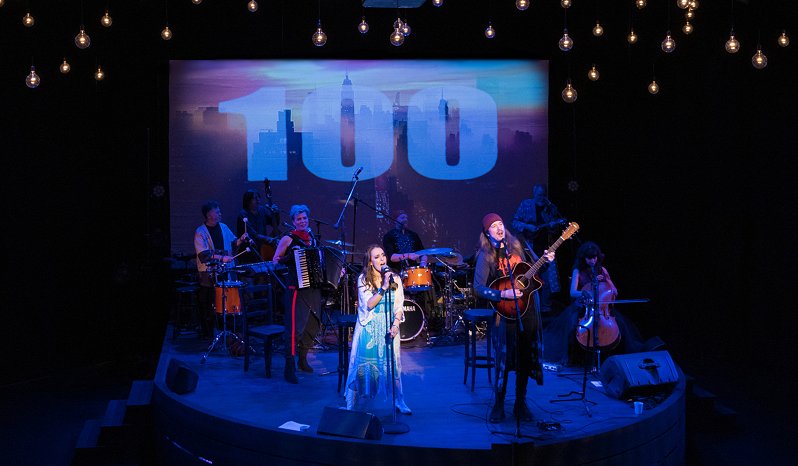 "The Bengsons met in New York City as young musicians and bonded in a booth at a diner in Queens. On their second date, they moved in together. After three weeks, they got married. That was 12 years ago. Hundred Days is the story of their whirlwind romance, a project they wrote together and have performed since 2014." Tampa Bay Times (Published Jan. 23, 2019)
"Hundred Days . . ." debuted in San Francisco and followed up with runs in Ohio, New York, and Florida.
The production of "Hundred Days to life" was created by Abigail and Shaun Bengson and reflects their sound, but for this Washington version, Producing Artistic Director Aaron Lamb wanted our local musicians to be able to bring some of their unique sound to the table.
Amy Shephard, Sugar of Sugar and the Spitfires said, "As soon as I heard the first song I was immediately on board. The music is rather sophisticated and complicated but at the same time it's approachable and carries a universal message. It's been a vocal challenge for me in some ways, but it's been creatively nourishing to lean in and discover new ways of using my voice to convey emotion and story."
Sugar and the Spitfires were already rockin' and rollin' when we took our seats. We were thrilled and ready of whatever was coming. The thrill even grew. The band members were introduced and my ears started to tickle my mind. It's not every day you see a base fiddle (Rick Jarvela) being played with a bow in a rock band. Also, with Heather Matthews on accordion I was asking myself "Are we going to hear a little French Creole Zydeco as well? But the topper was a cello (Jen Grady) seemingly scraping out a whine of a double reed practice chanter of a bagpipe. The sounds were magical.
The band members were introduced and my ears started to tickle my mind.
We only had one complaint . . . okay, actually two but they involve the same problem. The band was on stage and the audience was welcomed. Although there was no direct seating by numbers, there were empty chairs and tables directly next to the stage as well as drinks being served at a bar at the back of the house. I had been parking our car and so missed those important details. I always go front row if I can and a little white wine would have gone down neatly as well. I would have loved to have seen and felt the closeness of the stage and performers just inches away.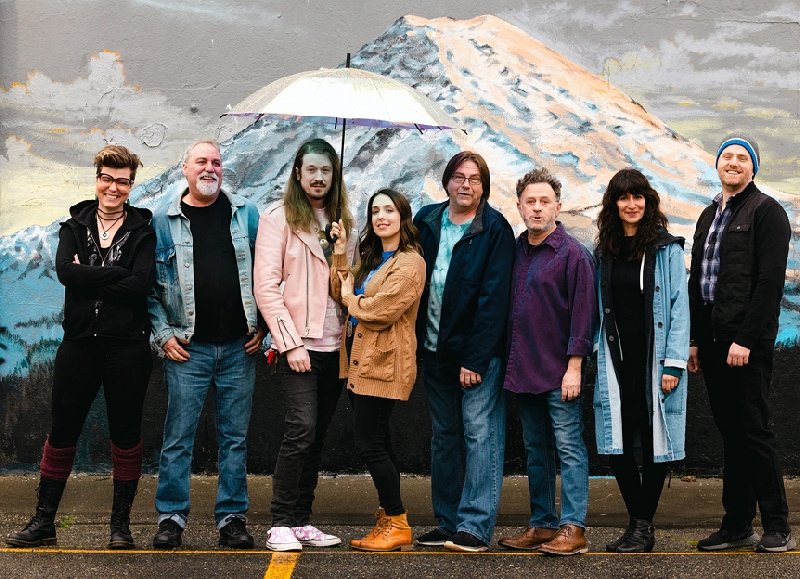 Amy Shepard played the real life character Abigail Bengson and Denim Protégée played Shaun Bengson and Lead Guitar.
This is one of those shows that you want to see more than once . . . especially if you love music. You are encouraged to take as many photos as you like of the performance, but there is no recording of video allowed.
The cast: Heather Matthews, David Broyles, Denim Protégé, Amy Shephard, Rick Jarvela, Brent Pendleton, Jen Grady, Andy Garness (left to right)
THU, MAY 11 – 7:30 PM
PAY WHAT YOU CHOOSE #1
FRI, MAY 12 – 7:30 PM
PAY WHAT YOU CHOOSE #2
SAT, MAY 13 – 7:30 PM
SUN, MAY 14 – 2:00 PM
THU, MAY 18 – 7:30 PM
PAY WHAT YOU CHOOSE #3
FRI, MAY 19 – 7:30 PM
SAT, MAY 20 – 7:30 PM
SUN, MAY 21 – 2:00 PM
PAY WHAT YOU CHOOSE #4
WED, MAY 24 – 2:00 PM
THU, MAY 25 – 7:30 PM
FRI, MAY 26 – 7:30 PM
CLOSING NIGHT
SAT, MAY 27 – 7:30 PM