City of Tacoma announcement.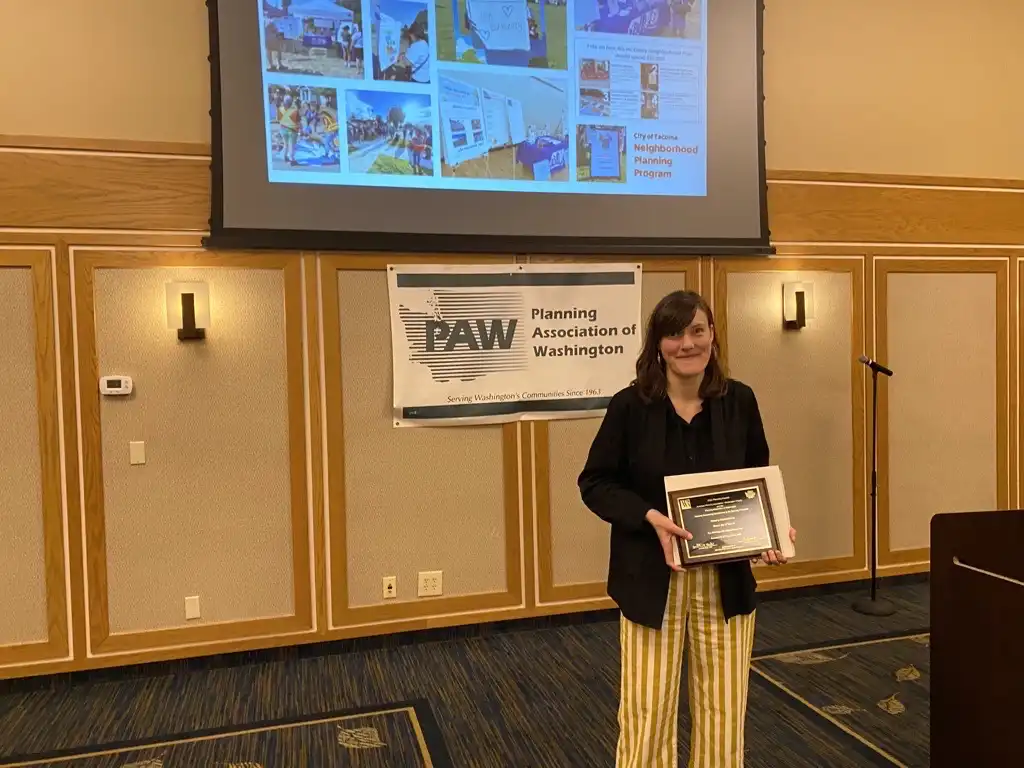 The City of Tacoma Planning and Development Services Long-Range Planning team earned an Excellence in Planning Award in the category of implementation for the McKinley Hill Neighborhood Plan from the American Planning Association (APA) and the Planning Association of Washington (PAW).
The award was presented April 27, at the annual PAW conference in Chelan, Washington.
"We are honored that our colleagues in the APA and PAW recognized the amazing work that has been done toward this plan by the community, our elected officials and our City staff," said Lauren Hoogkamer, City Principal Planner and the Neighborhood Planning Program Manager. "This honor truly belongs to the community, thanks to the hours of work that they put into this process."
The award acknowledges the plan's focus on quick implementation, which has already begun. Implementation of the plan will continue with support from the Neighborhood Planning Program and in partnership with McKinley Hill neighbors.
The plan was developed in partnership with the McKinley Hill neighbors and businesses after more than a year of community engagement, including steering groups, committees, surveys, community events and action mapping. The plan outlines specific goals, recommendations, and actions for the City and its partners to support implementation of the community's vision of the future of McKinley Hill. These actions are outlined in the recently adopted McKinley Hill Neighborhood Plan document, which is available at cityoftacoma.org/McKinleyNP.
With the plan's adoption by the City Council, it formally becomes an implementation strategy of the One Tacoma Comprehensive Plan. Implementation of the recommended goals and actions has already begun, and will continue to move forward in partnership with McKinley Hill neighbors.
The McKinley Hill Neighborhood Plan is the first neighborhood plan through the City's Neighborhood Planning Program, which was launched in January 2022 as a pilot and was officially funded for continuation in the 2023-2024 biennium budget.
The Neighborhood Planning Program supports implementation of the City's larger planning initiatives and goals. For more information about the City's Long Range Planning Division or the Neighborhood Planning Program, visit cityoftacoma.org/PDS.
The purpose of the program is to provide equitable planning and development services at a grassroots level to help communities create strong, vibrant, and diverse neighborhoods. The program currently includes the McKinley and Proctor neighborhoods. The next round of neighborhoods will be announced in later 2023.