Pacific Lutheran University announcement.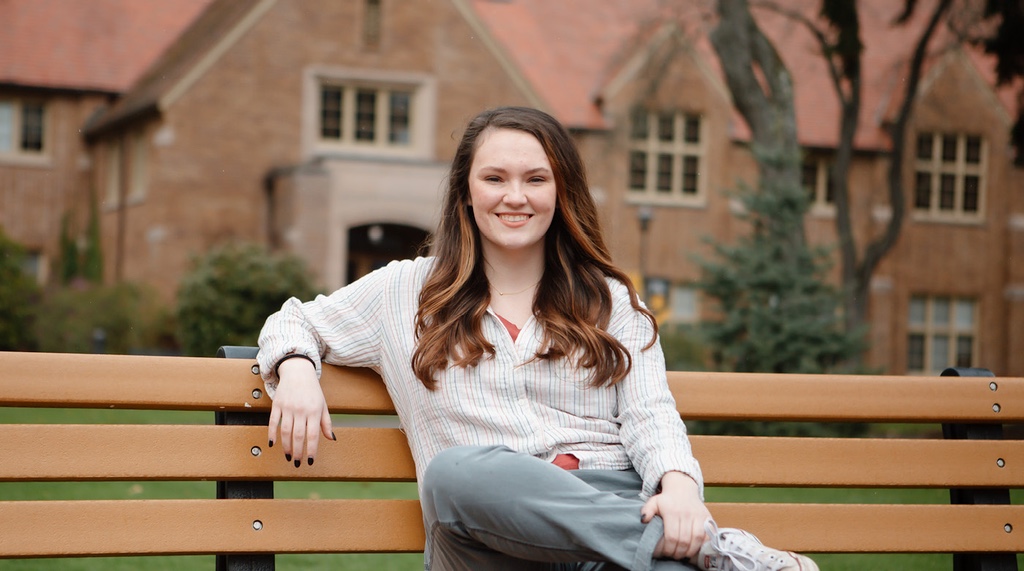 Kara Atkinson '23 earned an associate degree while serving as an Arabic linguist in the United States Army prior to her arrival at PLU. A history major with minors religion and Holocaust and genocide studies, Atkinson's passion for research, academia, and higher education developed at PLU through her collaborative research with professors, her tenure as president of Phi Alpha Theta (PLU's history honors society), and her work as PLU's Vet Corps Navigator.
What led you down the path of becoming an Arabic linguist?
Out of the jobs available to me as a woman in the military in 2014, becoming a linguist was one of the things that I was most interested in. I knew that I would have a chance at getting an associate's degree while I was in the military through the language training program. That was definitely one of the motivating factors, as a first-generation college student.
Do you feel that language acquisition has helped you in the transition to becoming an undergrad student?
Absolutely. The military language school is no joke, so that honed my work ethic. Also, I am able to use my language skills in my research as a history major — it enables me to connect with people in the field, other scholars and primary sources.
Do you feel that you have been supported by PLU as a veteran and first-generation college student?
Absolutely. The Center for Military Student Support helped me through online school and then being a commuter student further down the pipeline of life. My academic advisor, Professor [Gina] Hames, was also very helpful in guiding me through the graduate school process, as it is completely different from an undergraduate application.
What was your process for entering the Benson Summer Research Fellowship Program in 2022, and how did you discover your research topic?
I developed a research proposal and spun it off of my History 301 research. I settled on the topic of agricultural constructive resistance and food sovereignty in Palestine. My own experience knowing Palestinians in the military and examining constructive resistance sheds new light on what is going on over there.
What did you enjoy about collaborating and researching with Professors [Peter] Grosvenor and Hames?
I really appreciate the international relations theory aspect that Dr. Grosvenor was able to provide, as he has been to Palestine. I was able to get feedback and more nuance from him. I don't shy away from peer reviews, because they just make the paper stronger, having multiple sets of eyeballs on it. Dr. Hames assisted me in tailoring some of the writing, because this paper is what I used when applying to graduate school. The paper has also been accepted to be presented at a UW Tacoma conference and at the Phi Alpha Theta regional conference.
Have you continued your research from the fellowship in another way, capstone or otherwise?
I have been really interested in how the Israeli occupation works and how Palestine resists it. For my capstone, I am examining how historiography has changed over time. One of the popular Arabic terms for the ongoing occupation is "al-Nakba al-Mustamera," which translates to "the ongoing catastrophe," in reference to the ethnic cleansing that occurred in 1948. I am going to argue that ethnic cleansing never stopped, it just changed form.
Are there other motivations for pursuing these research topics, outside of your interactions with Palestinians in the military?
I can't deny the human rights violations aspect of what is happening in Palestine, since I am able to follow Arabic speakers and Palestinian farmers on social media, who are just trying to live their lives, choose where they go to school or work and have access to water and food. You can't help but care about hearing people talk about their hopes and dreams after seeing them denied on a first-hand basis.
What type of work do you perform as PLU's Vet Corps Navigator?
I help provide our military-affiliated students (veterans, spouses or dependents) with peer-to-peer mentorship. In their transition to academic life, they have different barriers or obstacles than traditional students do. They have a tendency to also be first-generation students, like me. I have experienced exactly what they are going through, and I can help them build a toolbox to find the same amount of success, if not more, than I have at PLU.
What are the challenges or successes you've found in that role?
We don't have a generated roster of our veteran students, spouses and children. We only know people who are using VA benefits. A lot of people can slip through the cracks unless they reach out for help. We want to extend outreach and increase veteran visibility on campus.
What are you most proud of from your time at PLU?
When I was assembling the Veteran's Day exhibit in the library last November, one student who started in the fall and had a rocky start to the year, who reminds me a lot of myself, was very appreciative of the time and effort put into the exhibit. I felt like I was making a difference by increasing veteran visibility and impacting the lives of the veteran students here.