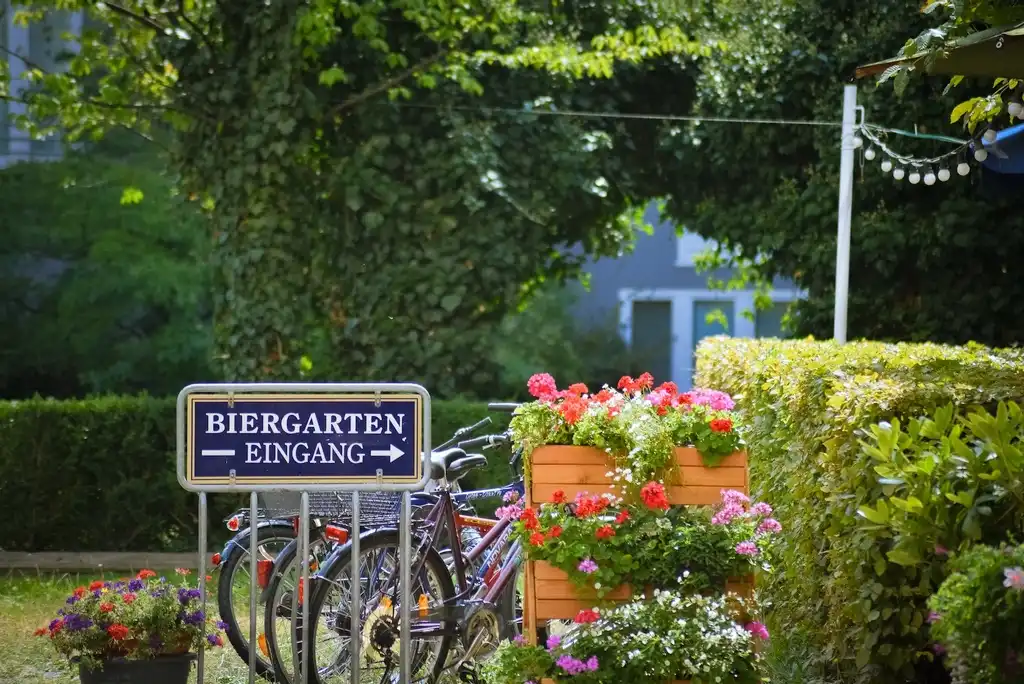 As it is getting warmer, a lot of German-speaking Europeans will flock to a type of restaurant typical for Germany, Austria, and Switzerland. They are open-air, rustic, and cozy. And, of course, you have heard about them, as the German term "Biergarten" has made it into the English language with pretty much the same pronunciation. Yet, the concept hasn't everywhere. It may be due to restrictions on the consumption of alcoholic beverages outdoors or in the face of minors, over here. Also, it may be due to lack of open-air space that such places in American towns and cities may not exist.
The concept of a biergarten – literally a garden in which beer is served – apparently developed from the so-called bierkeller (cellars in which the beer was stored) in Bamberg, Bavaria, in the 17th century. Breweries started placing chairs or benches, and tables into gardens adjacent to their storage cellars, in which they cooled their brews on ice. Chestnut trees were planted in these gardens in order to provide shade and additional cool air; the shallow tree roots didn't jeopardize the stability of surrounding buildings. Guests were permitted to bring their own food. If you happened upon a biergarten with benches rather than chairs, it was a given to share the table with total strangers. To this day, it's the custom in such biergartens.
Of course, a concept like this would spread. Obviously, beer was also brewed in other parts of the German-speaking world, and Berlin's first biergarten opened about 150 years ago. Same concept, different brews. And I remember that my Silesian grandmother told me about such places way in the countryside as well. Sometimes, they were also called "Gartenwirtschaft" (pronounce 'gartn-weer-tshuft), i. e. garden pub.
Of course, these days, biergartens (the German plural would be Biergärten, pronounce 'beer-gare-tn) serve far more beverages than just beer. Since children are welcome as guests as well, you find non-alcoholic beverages galore on their menus. And if you are a wine afficionado, you will often find your choice of reds and whites, as well. Not to talk of food. Many a restaurant in the German-speaking nations has an additional "Gastgarten" (pronounce 'gust-gartn), i. e. a garden for guests, serving pretty much the same food outdoors as indoors. Meanwhile, you will find biergartens of different cuisines, as well – such as Greek or Italian.
Many have been the times I enjoyed biergartens in Germany and Austria back in the day. There is nothing more exhilarating than sitting in the shade of trees in the evening after a hot day and to enjoy food and beverages at full service. Plus, you are permitted to take your time as long as you want. Nobody comes to your table and hands you the check unless you ask for it.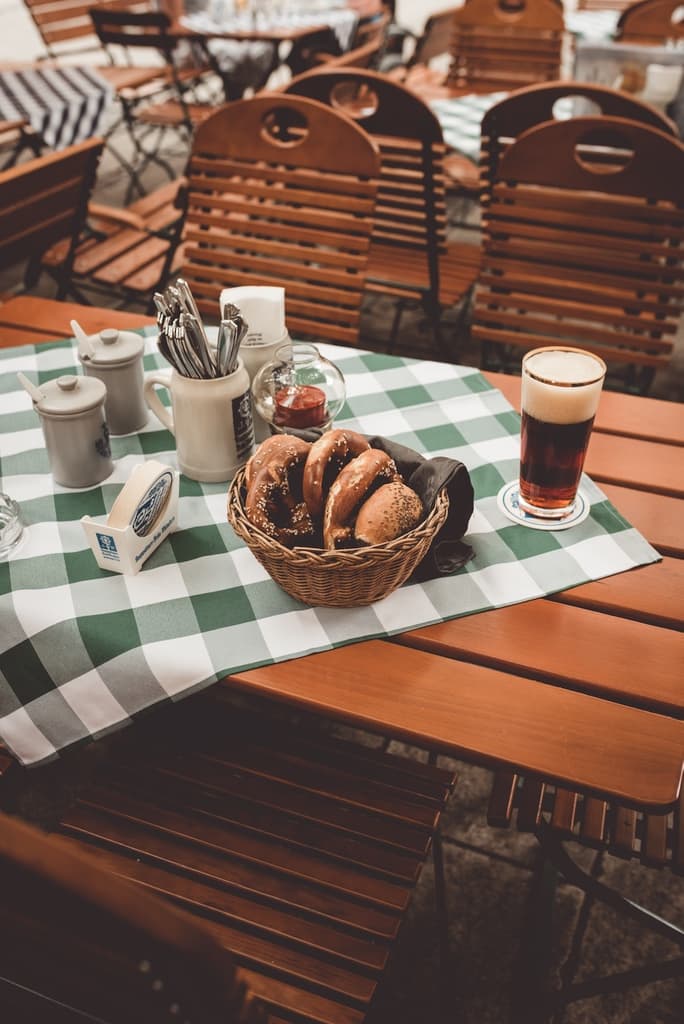 What I think is a specifically Southern German pop-up biergarten is a so-called "Hocketse" (pronounce 'ho-ka-tsa) or "Hock". It derives from the verb "hocken", which in Southern German dialects simply means to sit; in Norther Germany it means to crouch – no way that anybody would do THAT! These pop-up biergartens occur when there is a village or town festival, usually with long benches and tables and often with different booths from which to get food and beverages. As these are community events, they usually take place in village or town squares that are most often surrounded or centered by trees.
Whether it is one of the fancier or one of the rustic biergartens, I can't say that I miss the wasps going for the food on my plate or the beer in my glass. But I sure miss the experience sometimes, this unique composition of food, beverages, and nature playing to all my senses.