Symphony Tacoma announcement.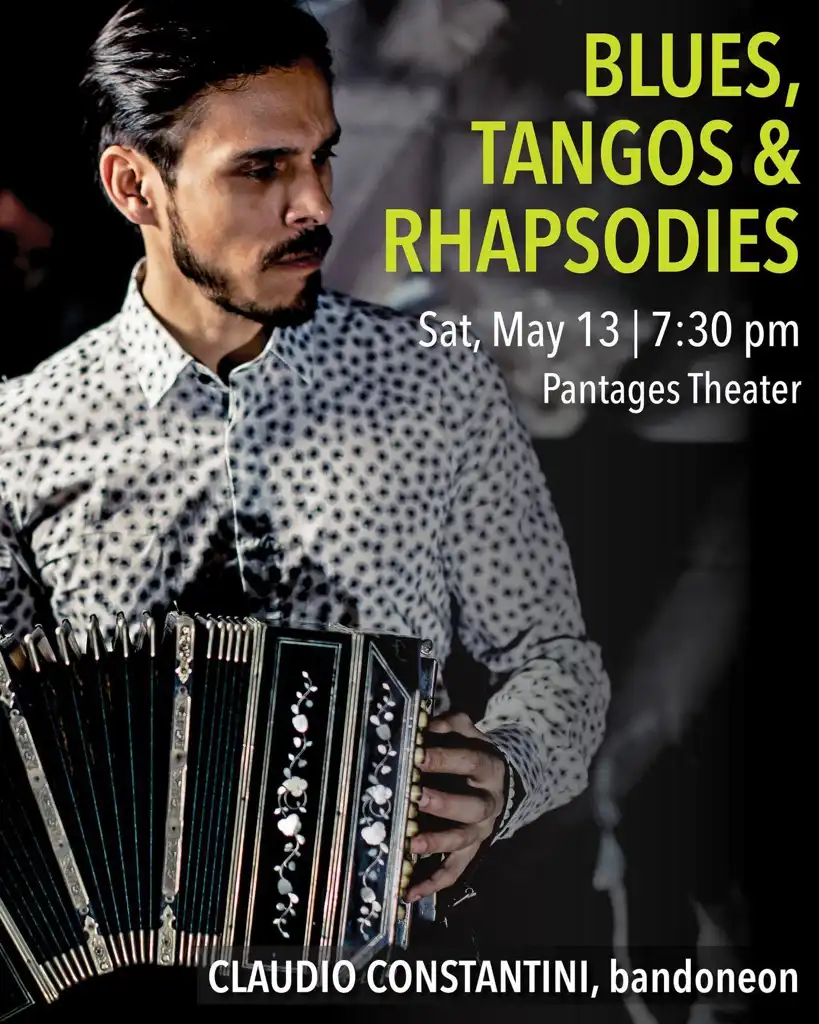 Symphony Tacoma is proud to present Classics VI: Blues, Tangos, & Rhapsodies. Multi-Instrumentalist and Composer Claudio Constantini will share his unique style that fuses classical, contemporary and Latin music genres in his performance of two pieces—his own tango-inspired Concerto for Bandoneon and Gershwin's gem of symphonic jazz, Rhapsody in Blue.
Commissioned in 2021 to commemorate the 100th birth anniversary of the great Argentinean bandoneonist and composer Astor Piazzolla, Constantini's Concerto for Bandoneon takes inspiration from the great mixture of musical influences. "With this concerto, I aim to show the great beauty and versatility of this noble instrument," Constantini says, "at the same time paying homage to one of my greatest musical inspirations… he transcended the tango genre and managed to successfully insert his music in the concert scene around the globe."
Gershwin's Rhapsody in Blue is a piece that not only defines Gershwin; for many, it also defines America. The original piece, Rhapsody, was not ready in time for its scheduled premiere, resulting in Gershwin improvising, with the conductor only knowing when to cue the orchestra. Piano solos alternate with orchestral interludes, the Rhapsody is beloved by audiences all over the world.
Florence Price was one of the most versatile and accomplished American musicians of her generation. She was the first female African American classical composer to gain national fame. Price's Ethiopia's Shadow in America traces the American experience of enslaved Africans. The first movement depicts their arrival, the second portrays the development of faith, and the third shows adaptation into modern society. The work firmly places Price alongside other figures associated with the Harlem Renaissance, including William Grant Still, Langston Hughes and Duke Ellington.
Rounding out the evening will be Gershwin's An American in Paris. Though reviews were mixed when originally premiered, time has proven An American in Paris to be a staple of the orchestral repertoire. "The opening gay section is followed by a rich blues with a strong rhythmic undercurrent," Gershwin says. "This blues rises to a climax, followed by a coda in which the spirit of the music return to the vivacity and bubbly exuberance of the opening part…. at the conclusion, the street noises and French atmosphere are triumphant."
Tickets for the concert on May 13th are on sale now through the Symphony Tacoma Box Office. Prices range from $24 to $85. To purchase tickets or season subscriptions, visit symphonytacoma.org or call 253-272-7264 ext. 1.
ABOUT THE ARTIST:
Be it in any of his facets as a multi-instrumentalist, composer or arranger, Claudio Constantini excels as a communicator and creator of new paths in music. Each of his works and interpretations bears traces of a unique artistic personality imbued with striking elegance and command in all the genres he embraces.
Born and raised in Lima, Peru into a musician's family Mr. Constantini's unique style is defined by its sold classical roots paired with a passion for popular music genres, among which Latin American music and improvisation play a key roe. As a Bandoneonist he explores music of different backgrounds, focusing on three main genres; Argentinean tango, Classical music and jazz. He was nominated for a Latin Grammy in 2019 for his album "America". He also celebrated Piazzolla's centenary of birth in 2021 with more than 30 performances in some of the most distinguished halls and festivals, alternating between bandoneon and piano with equal mastery. He currently resides in Spain.