Pacific Lutheran University announcement.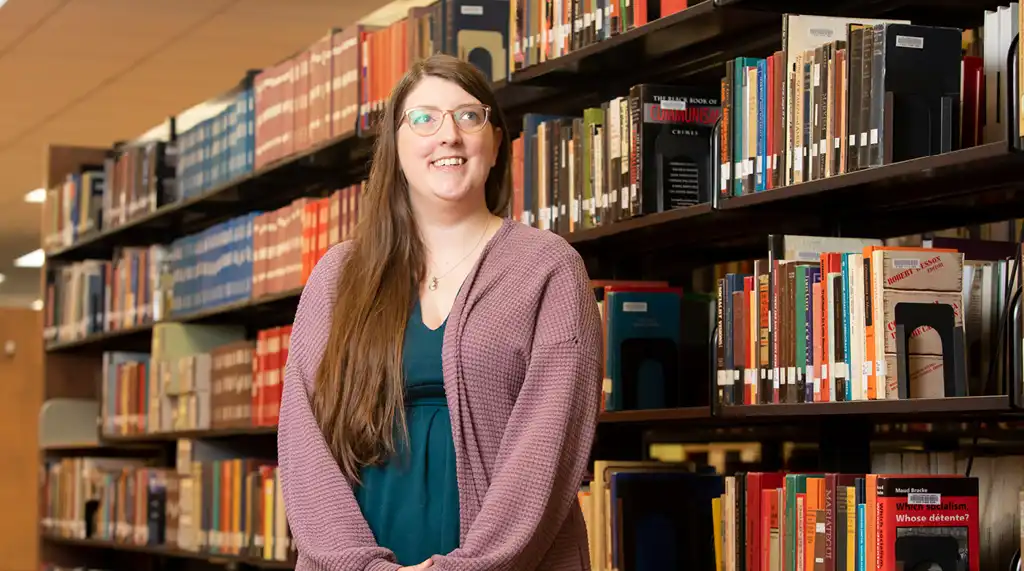 Sometimes you're drawn to a career path, and other times you discover it by serendipity, as Lauren Loftis, Archivist & Special Collections Librarian at Pacific Lutheran University, did.
"I carelessly stumbled into it. In fact, the first time I entered an archive was when I was an undergrad, and it was specifically so I could ask the archivist what an archive even was," Loftis said. "In what I now refer to as a happy accident, I somehow left that meeting with a job."
And that is when her love for the library and archives blossomed.
She scanned hundreds of documents and digitized government documents, pamphlets, scrapbooks, photographs and more. But as tedious as the work seemed, it was important. She was responsible for preserving documents relating to the forced relocation of Japanese Americans during World War II — she typed every name and every family number to ensure the information related to the Heart Mountain Relocation Center (1944) was discoverable.
"My interest in research — specifically, how to ensure that research can even occur — led me here," Loftis said. "Now, the work I do is much more interesting than scanning and typing, but ultimately I am still drawn to the intersection of inquiry and lived experience, as well as the humanity sprinkled throughout the collections I handle."
We talked to her about her career.
What attracted you to PLU?
Before joining PLU, I worked as the Archivist & Digital Initiatives Librarian at Simmons University in Boston. When I saw the job posting for my current position, I thought it would be a great opportunity. I liked the way the library search committee talked about the role, and I was really drawn to PLU's mission — especially in the way it places leadership in the context of service, inquiry and care. Combine all this with the fact that I'm a Washingtonian, born and raised, and it seemed like a no-brainer.
Why is the library special?
For me, libraries are special because they are places of possibility, both physically and conceptually, and I think that Mortvedt Library is a great example of that. On any given day, I'll see students writing equations on our whiteboards, relaxing in the lobby between classes or working with one of my colleagues to conduct research for a project — and all that's not even counting the way that people engage with our online resources. I never know what brings someone to the library, but the library is a space for community, and as such also serves to reflect the interests of our community. I think there's power in that.
Are there particular PLU archives that are extra exciting to you?
I am an absolute sucker for student newspapers, and The Mast is no exception. I could spend an absurd amount of time going into the reasons why, but it ultimately comes down to the fact that they are, without a doubt, one of the most useful resources at our disposal when trying to research anything related to PLU's history. After all, the paper doesn't just tell us when things happened at PLU, but also how the community responded. Their pages contain lost traditions, small, ongoing class sagas and editorials and letters to the editor that provide insight into what mattered to the community. That's the type of thing that personally always gets me excited, but I'm always up for telling anyone who asks about some of the oddities in our collection, which, fun fact, includes an oxygen mask.
In today's world with the internet, why are libraries still relevant and needed?
There are a couple of different angles I could approach this from — libraries as space, the resources available, information literacy — but I think what it all boils down to is that libraries, and, by extension, librarians, exist to make sure that information is accessible and discoverable. In the end, libraries function as inquiry resources. As such, we exist beside the internet as a way to help make it more useful, not in opposition to it.
There is a lot more available at the library than books. Tell us more.
With the help of students and my colleague in the library, Holly Senn, we curate wonderful displays that highlight library resources in a larger context. Some recent topics have been Women in Translation, LGBTQ+ Authors and Their Works, Veterans Day, Black Art Matters and Books in Honor of Women's History Month.