Lakewood Playhouse announcement.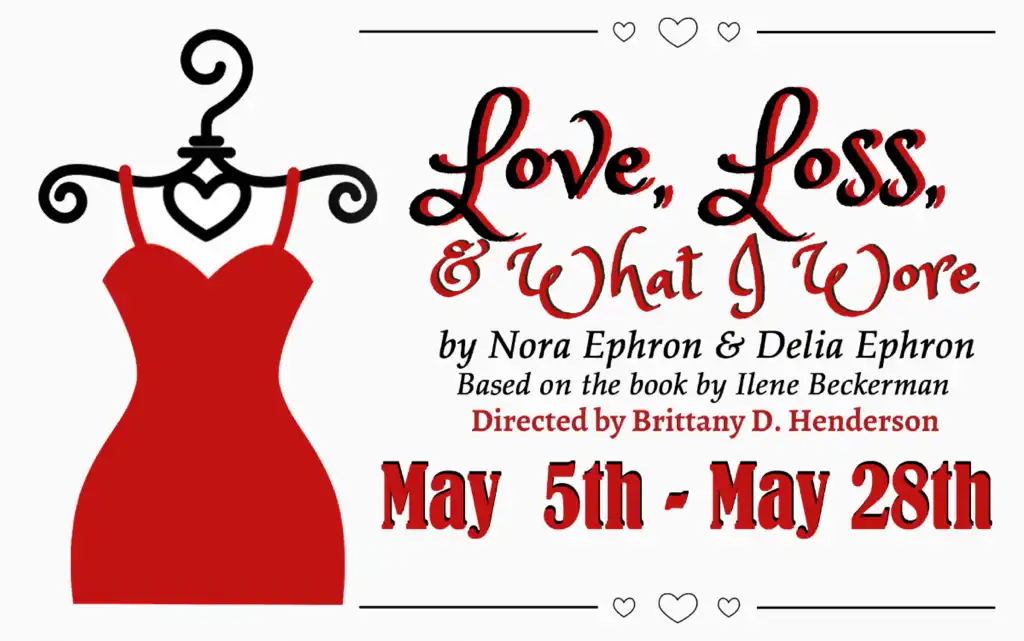 Based on the book by Ilene Beckerman
Opening on May 5, 2023 and closing on May 28, 2023
A play of monologues and ensemble pieces about women, clothes and memory covering all the important subjects—mothers, prom dresses, mothers, buying bras, mothers, hating purses and why we only wear black. Based on the bestselling book by Ilene Beckerman.
Performances
​​Friday, May 5th @ 7:30 pm
Saturday, May 6th @ 7:30 pm
Sunday, May 7th @ 2:00 pm
Friday, May 12th @ 7:30 pm
Saturday, May 13th @ 7:30 pm
Sunday, May 14th @ 2:00 pm
Friday, May 19th @ 7:30 pm
Saturday, May 20th @ 7:30 pm
Sunday, May 21st @ 2:00 pm
Friday, May 26th @ 7:30 pm
Saturday, May 27th @ 7:30 pm
Sunday, May 28th @ 2:00 pm
Our Cast
Laurie O'Brien
​Gingy
Karen Noyes
Gingy's Mother/Rosie/Mary's Mother/Woman
Nikki Hammonds
Nancy/Older Sister/Dora/Mary
Julia Wyman
Alex/Merill/Younger Sister/Nora
Jacqui Cain
Alex's Mother/Stephanie/Lynne/Eve's Shrink/Geralyn
Angie Shephard
Nancy's Mother/Holly/Annie/Doctor
Ashley Evergreen
Nancy(TGS)/Liz/Eve/Lisa
Laurice Roberts
Pam/Heather/Amanda