Pacific Lutheran University announcement.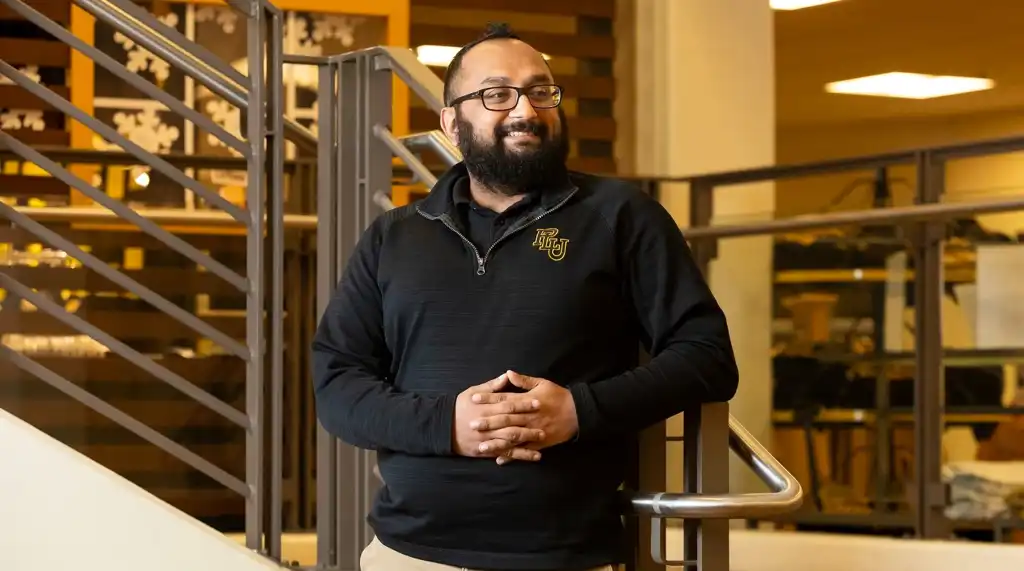 Dhavel Patel found his calling when he was a computer engineering major at California State Polytechnic University, Pomona. Spoiler alert — it had little to do with binary digits, buffer or bandwidth.
"I was drawn to student affairs because when I was a college student, I liked helping my peers grow and learn. Also, as a computer engineering major, I was not a good computer engineer and really had no passion for it," he said. "So, I chose to follow this path as it aligned closely with my vocational calling."
Patel took the helm of associate director for Campus Life operations at PLU in February 2022, following 2½ years as community director for Stuen and Ordal.
He earned a Bachelor of Science in computer engineering, but shifted gears and earned his master's degree in higher education administration at the University of Kansas before arriving at PLU.
"What sealed it for me to come work at PLU was, and still is, the students," he said. "The students at PLU take the mission to heart and care for each other in a way that I never saw at the previous universities that I worked at or attended."
About 85 percent of first-year students live on campus — so there are a lot of people and needs to consider, not to mention just helping families through the transition. Patel oversees the entire on-campus housing process, and supports students who want to live at home or have other special needs or requests. Inclusion, equity, safety, comfort and belonging are the foundations of PLU campus life.
In addition, he also supports the campus community directors, the folks who work at the Campus Life front desk and the office staff.
Patel found a way to use his technology skills and higher education knowledge, along with his desire to uplift others, and forge his own career path at PLU. We chatted with him to learn more.
What do you love most about your job?
Because my position is systems-focused, I get to look at and help contribute to PLU improving the student experience on campus.
How do the PLU residential life teams support students with mental, physical and social health?
Our whole Campus Life department does a lot to support students. Through our learning communities, we provide students opportunities to meet other students with similar identities and/or interests. Our office plans new-student orientation to help new students transition to PLU. We also are in charge of clubs and organizations on campus, so we help foster the student leadership experiences of many students. We also have commuter programs as a part of our department, so we work with commuter students to help them find community and connections on campus. Lastly, our office is part of the university's on-call crisis-response structure, and we work to help students find the help they need both in the moment but also long-term when in crisis.
What does a typical day at your job look like?
That is kind of hard to describe with every day being different. But for the most part, it is a lot of administrative time for email, running reports and gathering data and working/planning meetings. And all of that depends on where we are in the school year. Right now, it is looking at housing for next year and making recommendations for housing adjustments here and there based on occupancy projections of the incoming cohort. Also, with that comes the promotion of the room-selection event for continuing students.
What are some of the challenges?
Technology! Technology is great until it isn't. Sometimes it can cause errors in housing assignments or a student's bill, which can be stressful for students. While it is usually a simple fix, it can be hard to find unique errors until students bring them to our attention.
How does residential life at a smaller school like PLU differ from larger universities?
We are really focused on the student experience and have a higher level of customer service, which causes us to work in close partnership with many departments on campus. At larger universities, if a student has an issue and it doesn't pertain to on-campus living, those housing departments see it as someone else's job to help the student. At PLU, we understand that residential life has a major role in the ecology of care that we provide to our students, and we are great partners in helping students connect to the right resources on campus.