Symphony Tacoma announcement.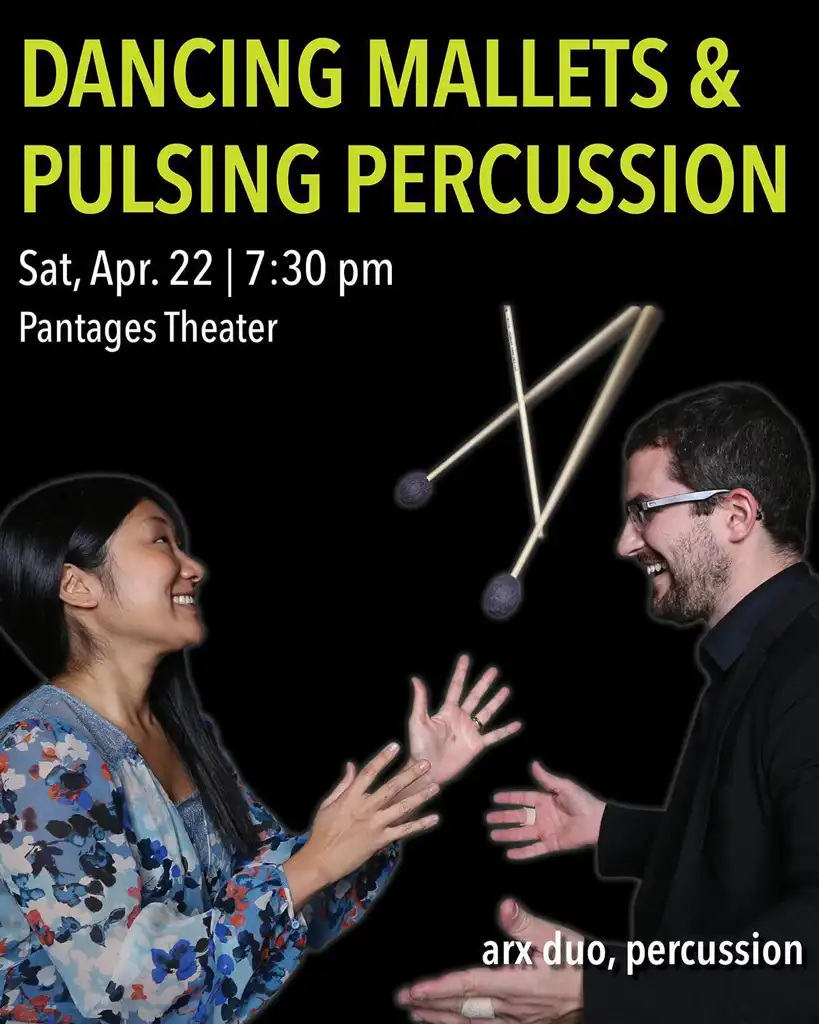 Tacoma, WA— Symphony Tacoma is proud to present Classics V: Dancing Mallets & Pulsing Percussion. arx duo will perform, including the world premiere of Nick DiBernardino's Double Percussion Concerto, on Saturday, April 22, 2023 at 7:30 PM in the Pantages Theater.
DiBernardino's newest commission is a dream project, inspired by the qualities of arx duo in which he admires. "I have known arx for almost a decade and love many things about them," he says, "their infectiously engaging personalities, and their commitment to imagining percussion instruments as seamlessly integrated members of the orchestra. Above all, I admire arx for their commitment to drawing together everyone in the room…"
Percussionists Garrett Arney and Mari Yoshinaga make arx duo. Working closely with a large variety of composers and ensembles, arx duo is a 501(c)3 not-for-profit organization that expands the percussion repertoire by commissioning, performing and workshop pieces from artists all over the world. arx duo has served as educators at many universities including Peabody Conservatory, Michigan State University, and currently serve as faculty for the Curtis Institute of Music Young Artists Summer Program
Beginning the program will be Bartók's Romanian Folk Dances. Originally composed for solo piano in 1915, Bartók developed an interest in his native folk music in his early 20s, noting, "I consider it my goal in life to continue my study of Romanian folk music, at least in Transylvania, and carry it to its end …". Bartok traveled to Transylvania numerous times, where he recorded and transcribed the music of the local population. These folk tunes provided the tunes, rhythms and harmonies that inspired his own compositions.
Beethoven's renowned Symphony No. 7 will close out the program, one of his best works according to Beethoven himself. The piece's four movements leave a poetic impression on listeners, favoring so well it had to be repeated in concert four days later. Each movement varies- from an extensive, slow introduction, leading you into the most graceful, haunting ten minutes of music ever composed. This is followed by a frenzied scherzo movement, and finishing with incredibly high energy. While critics wondered if Beethoven was intoxicated at the time of the composition, French writer and Beethoven's biographer, Romain Rolland, responded, "It was indeed the work of an intoxicated man, but one intoxicated with poetry and genius."
Tickets for this concert are on sale now through the Symphony Tacoma Box Office. Prices range from $24 to $85. To purchase tickets or season subscriptions, visit symphonytacoma.org or call 253-272-7264 ext. 1.
ABOUT THE ARTISTS:
Garrett Arney and Mari Yoshinaga are arx duo. Holding the belief that "music and performance inspire many people to be creative and open-minded," they are dedicated to expanding the percussion chamber music repertoire by creating and presenting new works, educating and inspiring young artists, and engaging audiences in their performances. Their repertoire ranges from established masters to today's newest compositional voices.
arx duo has premiered performances around the globe, conducted workshops on three continents, and worked with a variety of composers and artists to bring new creations to life. Just before the COVID-19 pandemic, the duo had given their Royal Albert Hall debut in London with 2018 British composer of the year, Dominic Murcott's "Harmonic Canon."
The name "arx duo" comes from the artists' desire to forge new connections and artistic pathways or "arcs" within the genre, expanding the opportunities for their music to reach new audiences.