Written by Peg Doman.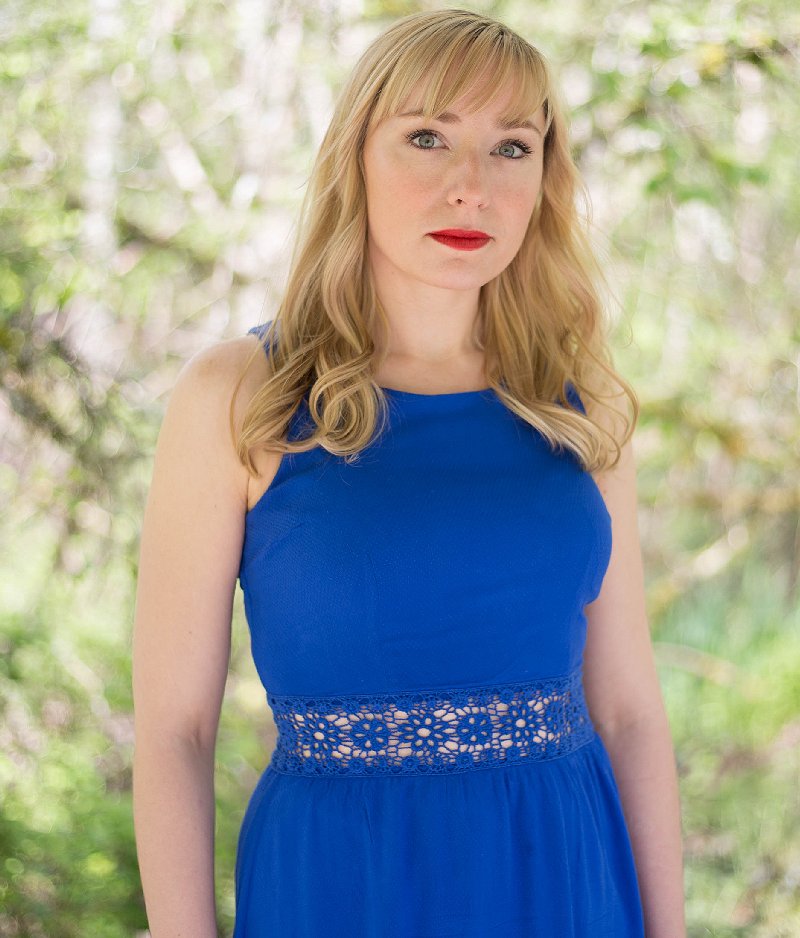 When I first talked over the phone with Trista, I realized she was one of the most energic and vivacious person I've ever met. She talks quickly; after all, she has so much information to share.
I asked her how she got into theatre arts: grade school plays, high school or university productions, church performances or what. Her answer: when she was in eighth grade, she had a friend in a teen production and she just hung around, doing what she could and enjoying every minute. In Trista's words, she realized, "Oh, these are my people!" She never went back.
Earning roles in other productions, she immersed herself in theatre life. After her first role, she was quite addicted. Continuing in school productions, she got singing roles as well and was ecstatic. Her first paying gig was as Polly, the daughter in a regional theatre production of Neil Simon's "The Gingerbread Lady". Trista earned $270 as a professional!
After high school, she attended two universities, one for Musical Theater and Elon University for Musical Performance. After graduating, she travelled around for many roles from Seattle to Florida. She had intended to go to Southern California where her sister lived but was so busy, she never got there.
She met her husband, Tom Duval-Wilkinson, in March and married the following January. Since he's from the northwest they moved to Seattle. Trista fell very ill, from an acute allergic reaction in her vocal cords that caused cord damage. Since Tom's from the northwest they moved to Seattle. Trista went from one ENT to another; most told her to rest her cords and keep them hydrated. (She was already doing that). Finally, she met a doctor who understood the issues performers face. She was offered a surgery that may heal the problem ‒ or not. Trista decided to have it and spent the following decade in vocal training. During the recovery she was offered roles from respected Seattle area theatres – The Village in Issaquah and Seattle's 5th Avenue – that she had to turn down until she completely healed.
As she entered this stage of her career, she realized that she'd been given a gift: this was the opportunity for her to polish up other facets of her training: as a vocal coach, researching playwrights as well as new and old productions, directing and team building. For five years, working for small arts non-profits as a trainer, she proved her competency and made many connections.
Her first role after healing was as the Good Fairy in Little Red Riding Hood in Centerstage's annual pantomime (panto). A panto is usually a fairy tale or children's story with singing, physical humor and generally silly stuff. They are a Christmas tradition in British working men's clubs at Christmas time. They are particularly for children, but there are always slightly naughty bits that go over the kids' heads that adults adore. She also was in Tacoma Musical Playhouse's Scarlet Pimpernel and in Centerstage's Dirty Rotten Scoundrels. Singing again!
When Centerstage's Managing and Artistic Director, Alan Bryce, decided to retire, the opportunity to become an Artistic Director opened up. Trista and current Managing Director Angela Bayler were extensively interviewed by the Board and other interested parties and hired. The team works very well together.
As Artistic Director, Trista is in charge of selecting plays for the season. She reads hundreds of plays a year and selects what she thinks will work well for Centerstage. She's particularly concerned with opportunities to include plays about other cultures and groups. For example, coming up next is El Coqui Espectacular and the Bottle of Doom, a new production by Matt Barbot. It's about a Nuyrorican cartoonist who creates a superhero who, in the tradition of all superheroes, goes about the New York boroughs bringing justice. His brother Joe who had recently been let go from a project because he was not Puerto Rican "enough", helps him. With a young photographer Yesica, who follows them around and records their endeavors, they decide to make a grand entrance at the New York Puerto Rican Parade. Besides, it's just fun to say El Coqui Espectacular. It's kind of like being an almost four-year-old who is introduced to an enticing new word. It plays March 24 through April 16. We'll be there!
Trista's next endeavor is helping other theatre professionals build their experience and trajectory. Actors and directors all have University degrees. Other participants have formal training programs to gain experience. Unless the person hones his/her skills and knows how to present themselves, they have much less chance to get ahead.
Talking with Trista Duval, Centerstage Artistic Director, was a blast. It was fun, informative and revealing about some problems theatre people can face and how to improve their lives. Thanks, Trista!
For information about the current season and tickets, go to centerstagetheatre.com.