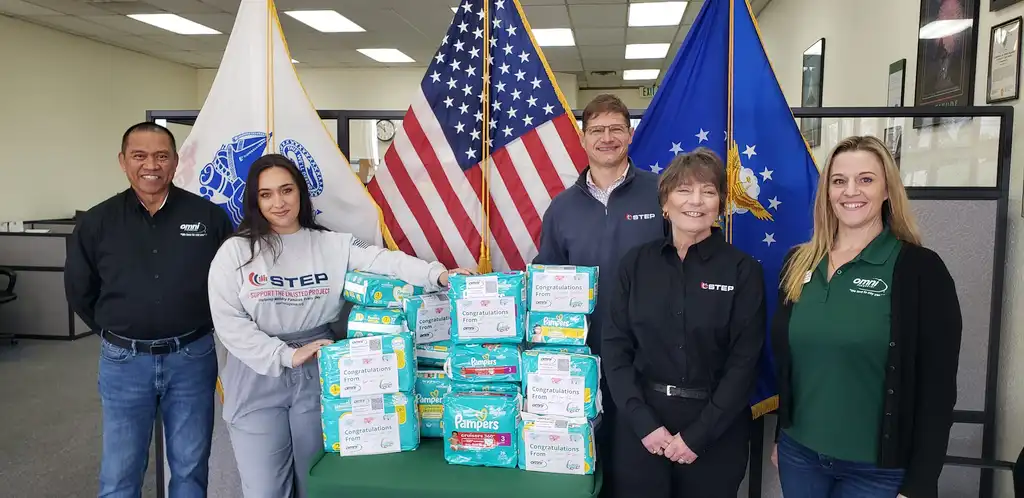 Submitted by Support the Enlisted Project (STEP).
Support the Enlisted Project (STEP) and Omni Financial have officially started the annual Baby on Board diaper and formula drive for military families in Washington.
More than 6,000 babies are born to military families in Washington each year. STEP's mission is to provide financial assistance to junior enlisted military families, E1-E6, and recently transitioned veterans who are facing financial crisis. Because the cost of living in Washington state is higher than most, the budgeting challenges of a growing family put extra pressure on military service personnel. The diaper and formula drive and distribution helps alleviate some of that stress by providing critically needed supplies.
The Baby on Board diaper and formula drive runs through April 15. Individuals and groups are encouraged to support infants and toddlers born to military families by donating supplies at the following locations:
DuPont
ACU – 1495 Wilmington
Gig Harbor
Alternative Back Care – 3309 56th St SW, Suite 102
Timberland Bank – 3015 Judson
Graham
ACU – 9921 224th St E
JBLM
ACU – 2201 N 12th St
ACU – 11574 A Street
ACU – 9035 Jackson Avenue, Madigan

Lacey
ACU – 8308 Quinault Dr NE

Lakewood
Omni Financial – 11013 Bridgeport Way SW
US Bank – 9310 Bridgeport
ACU – 6310 Mt. Tacoma Drive SW

Olympia
2850 Harrison Ave

Port Orchard
Lenny's Classic Barber Shop – 2419 Bethel Rd SE
VFW Post 2669 – 3100 SE Mile Hill Drive

Puyallup
Timberland Bank – 12814 Meridian
Veterans United – 10514 156th St E, #104
Spanaway
ACU – 17007 Pacific Avenue

Tacoma
Alternative Back Care – 2315 6th Street
ACU – 1917 S 72nd St. Suite 25/26
ACU – 2602 N Proctor St #103
Timberland Bank – 7805 Hosmer St
University Place
ACU – 4323 Bridgeport Way W
Yelm
ACU – 415 Yelm Avenue East
ACU – 17100 WA – 507 SE, Walmart
Individuals may also shop online at https://www.teamstepusa.org/babyonboard. Donations are also accepted for the purchase of larger baby items, like car seats, cribs, and mattresses, among other things, as needed.
Please help our young, enlisted service men and women and their families by supporting the Baby on Board diaper and formula drive with Support the Enlisted Project (STEP).
Photos: Jaime Eligio and Eula Miller of Omni Financial make a donation to TEAM STEP, Tony Teravainen, Linda Disney, and Kia Thompson, to kick off the Baby on Board Diaper and Formula Drive in Lakewood, Washington.