Submitted by Janne Hutchins, LASA.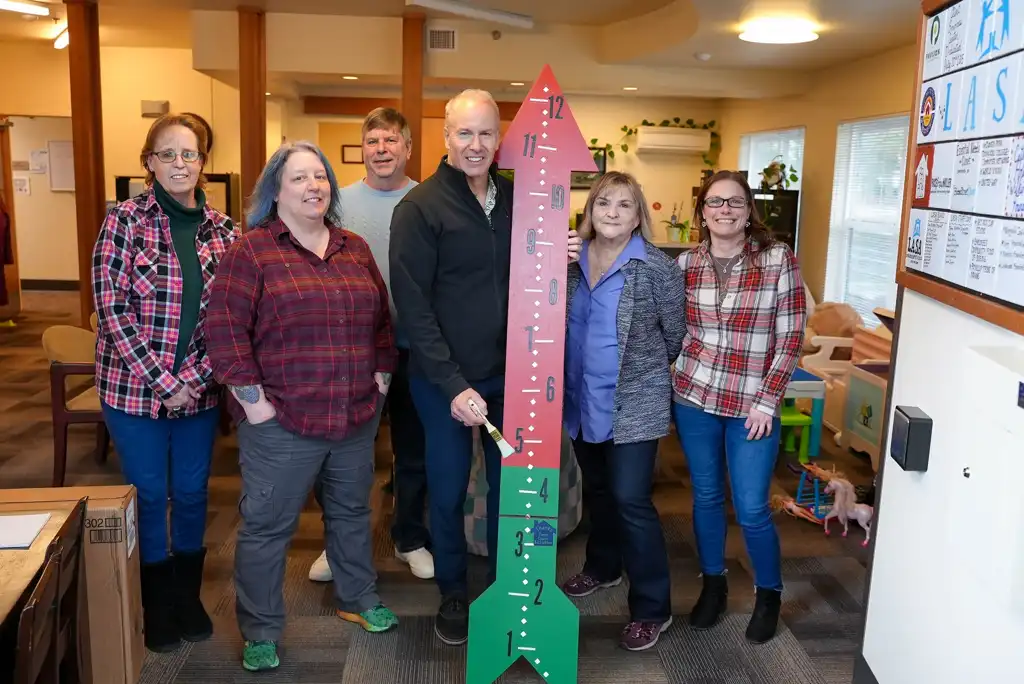 Lakewood, WA: LASA is pleased to announce an award of $1 million towards the building of Gravelly Lake Commons, an affordable housing project. The award was granted to LASA by the City of Lakewood out of ARPA funds.
Pictured is City of Lakewood Mayor Jason Whalen painting in LASA's fundraising arrow which marks progress towards their $10.5 million goal. In an earlier award, LASA received $3.5 million from Pierce County Human Services in ARPA (American Rescue Plan Act) funds.
LASA is a private nonprofit organization celebrating over thirty years of preventing homelessness. LASA developed a four-phase approach to meet their mission to prevent homelessness and recurrent homelessness.
Phase 1:
Develop the Client Services Center along with 15 units of housing for families who have experienced homelessness. The units provide one-, two-, and three-bedroom units for different sized families along with a case manager to provide services to help the family stabilize.
Phase 2:
Add a Hygiene Center to services offered at LASA's Client Services Center. The Hygiene Center will include two shower units and three washers and dryers. Part of this phase was to add a multipurpose room built adjacent to LASA's Client Services Center which would double as a warming and cooling center in extreme weather. This part of the project must be postponed because of the steep increase in construction costs.
Phase 3:
Build 25 units of one-, two-, and three-bedroom apartments at the intersection of 59th Street and Fairlawn Drive. The project will be known as Gravelly Lake Commons and the units will be set aside for households at the 30 to 60% AMI with appropriate rents. Gravelly Lake Commons is budgeted at $10.5 million and will not start until the rest of the capital for the project is pledged.
Phase 4:
Build an additional 25 to 30 units of housing along with an Affordable Child Care Center.
LASA's Executive Director, Janne Hutchins, stated that the City of Lakewood has been instrumental in working with us to secure funds for this project. While we appreciate the $1 million towards our goal, they have also helped us with both state and federal set aside requests. These set asides, if granted, will bring in an additional $3 million.
"The Lakewood City Council is committed to seeing more affordable housing built in our city. We demonstrated this support by committing $1 million of our federal ARPA allocation to help with LASA's fundraising goal," said Lakewood Mayor Jason Whalen. "The city has a long history of supporting LASA and we are proud to continue that support with this financial contribution."
Gravelly Lake Commons isn't the only project LASA is working on. LASA recently went to bid on their Hygiene Center and hope to break ground by summer. To support the Hygiene Center and learn more about LASA's programs and the proposed Gravelly Lake Commons project, you are invited to attend our annual FriendRaising Breakfast which will be held April 26 Wed 7:30 AM at the McGavick Conference Center at Clover Park Technical College. Go to www.LASApierce.org to register.