Submitted by RAIN Incubator.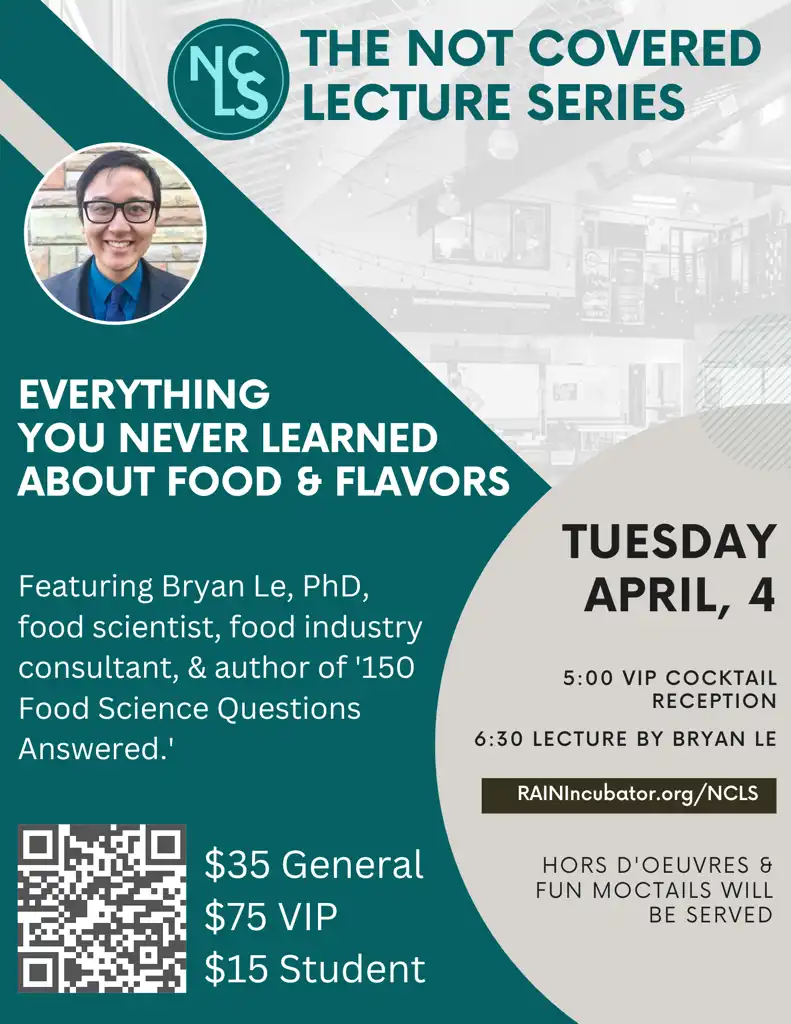 This week, Tacoma-based biotech incubator, RAIN, announced the launch of the 'Not Covered Lecture Series.' Kendra Lopez, RAIN's Marketing Director, said the series would dive into topics not usually covered in traditional scientific education. Topics include food science, skincare chemistry, a deep dive into microplastics and more.
The first lecture in the series will feature Food Scientist Dr. Bryan Quoc Le on April 4, at RAIN Incubator, in downtown Tacoma.
Dr. Le is a food scientist, food industry consultant, and author of 150 Food Science Questions Answered. He currently serves as an independent scientific consultant. Dr. Le also serves as an advisor for the UK-based sustainable venture builder Carbon13, as a consultant for the Spain-based international network of food experts Mycelium, and as a research scholar at the Ronin Institute for Independent Scholarship.
"Our hope is that these 'unconventional' topics can span the gamut of scientific curiosity in a way that's palatable and accessible to those without a scientific background. Our goal is to expose our community to science and discuss all the ways in which we interact with biotech, chemistry and biology every single day," said Jennifer McKee-Johnson, PhD, who serves as the incubator's scientific director.
Tickets for the April 4th event can be purchased at rainincubator.org/ncls
About RAIN. RAIN Incubator's mission is to attract, train and retain biotech companies in Pierce County. RAIN was founded in 2017 with the mission of building a biotech hub in Pierce County and providing accessible pathways to entering the sciences. Through science and ingenuity, RAIN works collaboratively to create prosperity and well-being in the community. https://www.rainincubator.org/
Not Covered Lecture Series: Everything you never learned about…
The Not Covered Lecture Series was created by RAIN Incubator to dive into everyday topics like makeup chemistry, food science, vitamins and in an accessible, fun and interesting way.