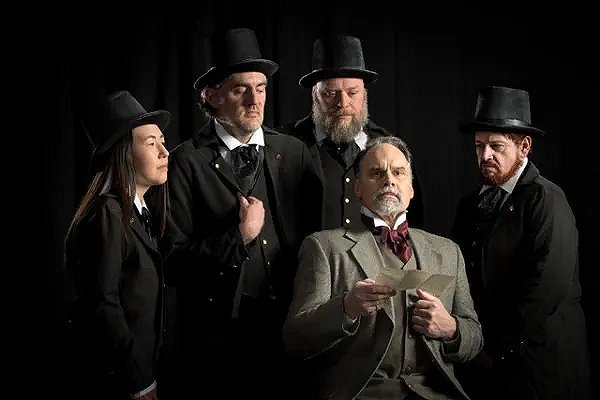 The Dukesbay Theatre is in downtown Tacoma and several floors up from the very popular Grand Cinema. For more details and ticket purchases: dukesbay.org/
Our review team of three were delighted Thursday evening at Dukesbay's production of Dr. Jekyll & Mr. Hyde. The play was adapted by Jeffrey Hatcher from the novella "Strange Case of Dr. Jekyll and Mr. Hyde" by Robert Louis Stevenson. We were there to review and enjoy. We encourage you to purchase tickets now and get you into the very limited seating at Dukesbay. There are no bad seats at Dukesbay. Seating is up close and exciting.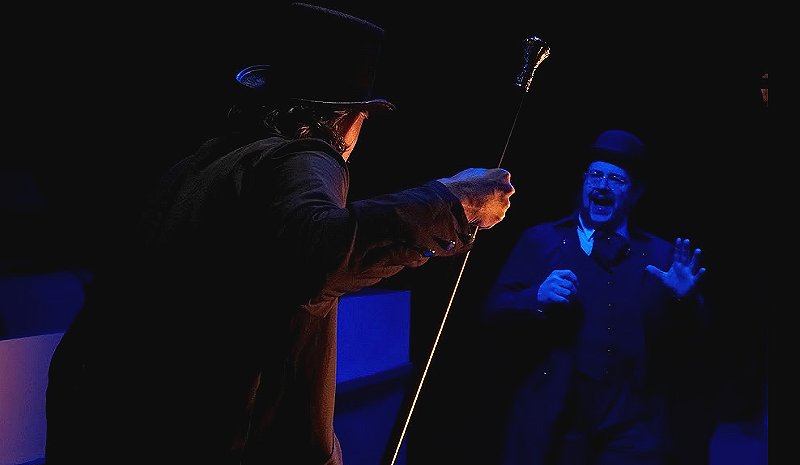 Mark Thomason, who did the lighting design, took photographs Thursday evening of the final dress rehearsal. We loved the set, the acting, the directing (Randy Clark) and the actors. At Dukesbay everything is personal. There are two very, very limited rows of seats facing each other with "in the round" staging. At each end of the stage are three rows of seats. The completely filled theatre might have room for only dozens of viewers. Don't wait. Like us, you may want to see the production more than once.
Dr. Henry Jekyll was played by W. Scott Pinkston
Edward Hyde/Utterson was played by Jeffery Weaver
Edward Hyde/Carew/Enfield/Sanderson/Inspector was played by Scott C. Brown
Edward Hyde/Lanyon/Police Doctor was played by Ben Stahl
Edward Hyde/Poole/Porter/Maid was played by Jasmine Jaqua
Elizabeth Jelkes was played by Christine Choate
Surgical Student was played by Sofia Pieralde
Surgical Student was played by Ryn Smith
Randy Clark was the director. He saw this production some time ago at Seattle's ACT theatre and knew he had to have it performed here in Tacoma at Dukesbay. Thank you, Randy.
The Stage Manager was Tracy Engels. There was constant movement throughout the production: doors being beat in or slammed. Scenic/sound Design was run by Niclas Olson. Even though the stage was small and much of the events took place at night, the darkness brought out the whispers and the yells . . . and fear. The Scenic Painter was Jennifer York, who is a very busy person during the play season.
The Fight Choreography (Chevi Chung) and the fight Captain (Scott C. Brown) delivered big time. Be prepared for the end of the first act. Remarkable.

The rest of the staff all did their jobs as well and put together an excellent evening of performances.
W. Scott Pinkston (Jekyll) has been very active. We just saw him in Centerstage's The Hatmaker's Wife and have also seen him in different productions at Tacoma Little Theatre and many of his roles at Lakewood Playhouse.
We saw Jeffery Weaver (Hyde #1) last year at Java Tacoma, also produced at Dukesbay. He got to play Hyde #1. In addition to Doctor Jekyll, four of the actors got a chance to play Hyde as well. That sounds strange, but believe me . . . it worked.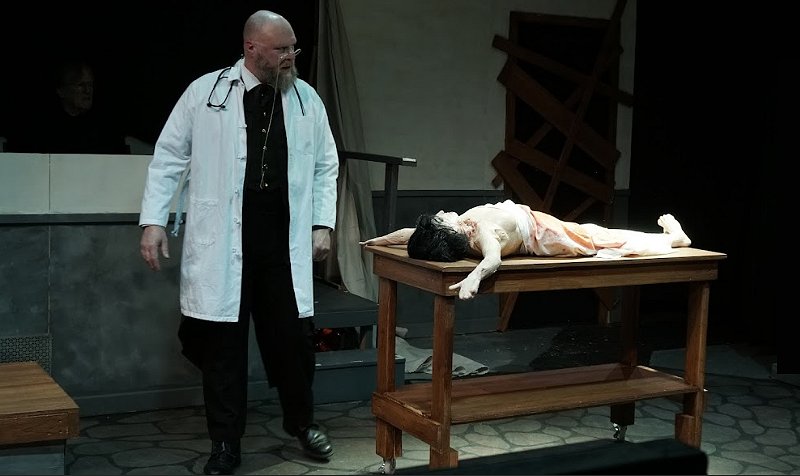 Scott C. Brown (Hyde #2) has played a number of parts from Seattle to Olympia. He was deeply involved in the fight scene and gave a remarkable performance. He's also a decent tap dancer.
Ben Stahl (Hyde #3) has performed both Shakespeare and Frankenstein. He enjoyed the challenge of performing multiple characters.
Jasmine Jaqua (Hyde #4) did a wonderful performance of multiple characters. We saw her earlier in the Dukesbay Theatre production of "God Said This."
Christine Choate played the part of Elizabeth. We've seen her in at least two productions at Lakewood Playhouse. In Dr. Jekyll she was the only character that actually felt love and pity for Mr. Hyde. You need to ask "Why"?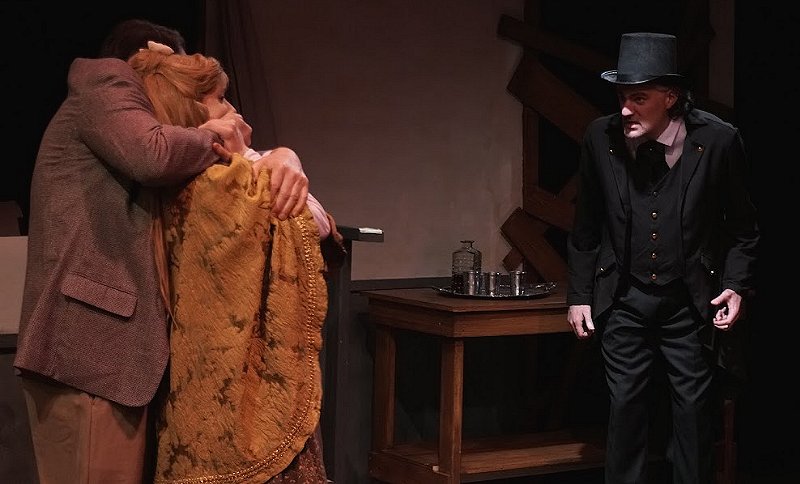 The team of Aya Hashiguchi Clark and Randy Clark are co-producers. Dukesbay is their dream. Dukesbay has a mission: "To promote independent theatre in Tacoma and to give a voice to artists from all ethnicities."
DR. JEKYLL & MR. HYDE
Adapted by Jeffrey Hatcher
Directed by Randy Clark
March 10 – 26, 2023 | The Dukesbay Theater
508 Sixth Ave. #10, Tacoma, WA 98402
Fridays and Saturdays at 7:30pm, Sundays at 2:00pm
Tickets are $15 | For tickets: dukesbayjekyllandhyde.eventbrite.com