A Clover Park School District story.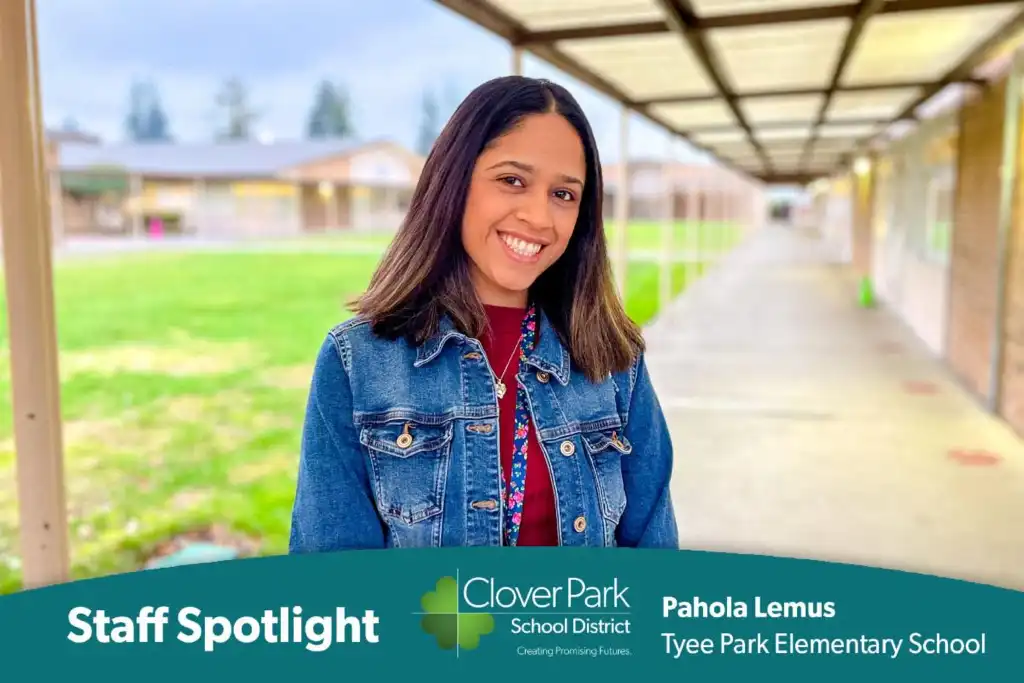 Our Cover Park Staff District Staff Spotlight this week features Tyee Park Elementary School first grade teacher Pahola Lemus.
This is Pahola's second year as a teacher, and so far, she has enjoyed it immensely. "I really love the diversity and culture here," she said. "I actually went to Southgate Elementary School, Hudtloff Middle School and attended Clover Park High School for two years when I was younger, so I'm very familiar with the students and community here."
Pahola has always been social and knew she wanted to pursue a career where she would be able to talk to others, learn about different perspectives and communicate about problems to find solutions. She found the perfect partners for this with her first grade students. "You'll be teaching a lesson and they'll say something that is way out of the box, which is funny, but also shows how imaginative and expressive they are at such a young age," she said.
Though communication is an important tool in Pahola's skillset, she finds math to be the most rewarding subject to teach. "Math is not as much of a barrier for students from different backgrounds," she said. "Sometimes reading and comprehension can be very challenging for students who do not use English as a first language, but math is universal."
One of Pahola's greatest strengths is her fluency in both English and Spanish, which is the first language of many CPSD students. Her goal as an educator is to break barriers for all her students and ensure they each have the tools they need to succeed.
"I love the moments where kids tell me, 'I can't do this,' before understanding something they've struggled with," she said. "I get to see the light bulb turn on that lets them know they can learn anything they put their mind to."