Asia Pacific Cultural Center announcement.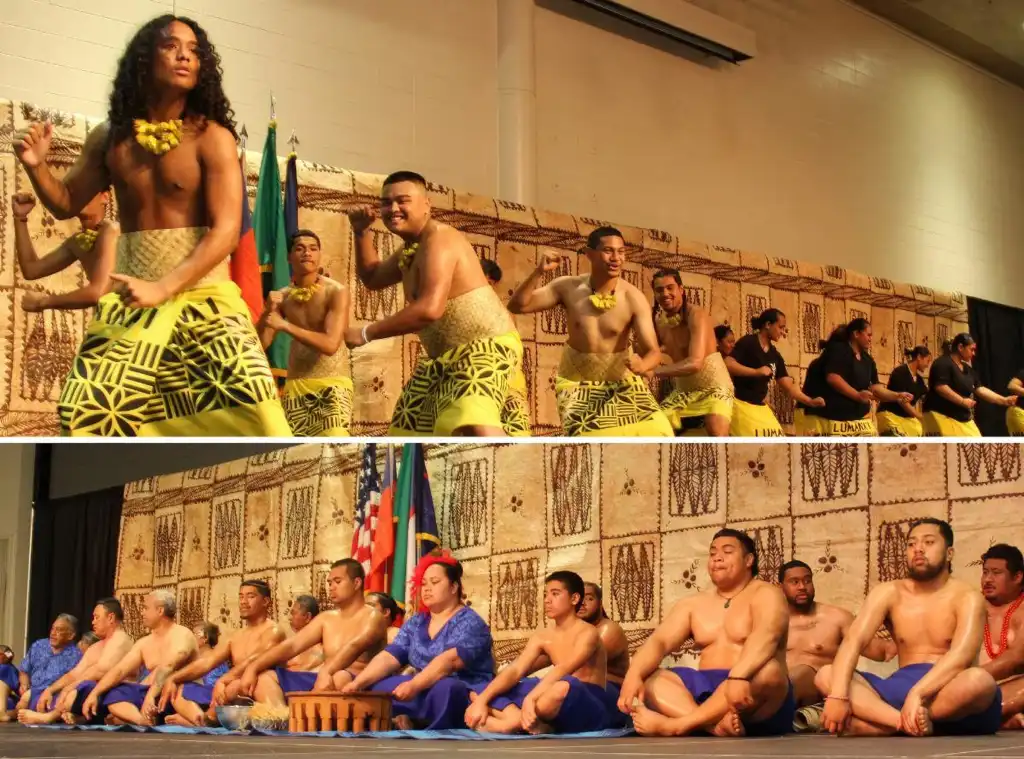 Be sure to come early, so you don't miss the exciting Opening Ceremony and Host Nation of Samoa at the 25th Annual Asia Pacific New Year Celebration.
We need to make a lot of noise to welcome the Year of the Rabbit, and our Samoan Performers will do just that! We will also have a very special Drum of Nations performance during the Opening Ceremony, a collaboration of several groups showcasing percussion instruments and rhythms from the different cultures, joining together in unison for a unique musical presentation. Many special VIP guests will be in the audience, including elected officials, Consul Generals, and community leaders who will take part in these festivities. Buy some food and listen to all the performances on the two stages while walking around and visiting all the booths. You will get to try your name written in Korean calligraphy, folding Japanese origami, and making Thai crafts, to name a few. There will be so much to see and do!
Main Stage:
11:00am-12:00pm Opening Ceremony
12:00pm-2:00pm Host Nation Samoa
2:00 pm Cambodia – KLACA: Khmer Language Arts & Culture Academy
2:20 pm Mongolia – Zje Mongoli Music Ensemble
2:40 pm Indonesia – ICA: Indonesia Cultural Association
3:00 pm Philippines – FCA (Filipino Community Alliance)
3:20 pm Hawaii – Hula Halau'O Keala'akua Naniloa Mana'oakamai
3:40 pm India – Aradhya dance academy
4:00 pm Guam – Imahe
4:20 pm China – Evergreen Chinese Academy, Tianyuan Tenison Northwest Wushu
Academy, and Tina's Dance Studio
4:40 pm Korea – Miyong Margolis Dance Collective
5:00 pm Taiwan – Seattle Folk Dance Club and Portland Chinese Yoyo
5:20 pm Vietnam – Tuan An Tran Huu
5:40 pm Okinawa – Okinawa Kenjin Kai
6:00 pm Tahiti – Ke Liko A'e O Lei Lehua E Kapuaokalani
Cultural Demonstration Stage:
11:00 am Vietnam – Opening Blessing Dance by Vietnamese Dance Team
11:05 am Samoa – 222 The Way of Warriors
11:30 am Okinawa – Danhn's Okami Dojo
12:00 pm Vietnam – Vovinam Martial
12:30 pm Japan – Crain's Isshin-ryu
1:00 pm Cambodia – Muay Thai/Kun Khmer
1:30 pm Korea – Body and Brain Yoga
2:00 pm China – Northwest Wushu Academy/ Evergreen Chinese Academy
2:30 pm Indonesia/Philippines – Amerindo Self-Defense System
3:00 pm Korea – Kwon Martial Arts Academy
3:30 pm Thailand – Muay Thai Srisuk
4:00 pm Brazil – Gracie Jiu-Jitsu
4:30 pm Everyone, please go to the MAIN STAGE area!!
The 25th Annual Asia Pacific New Year Celebration is a FREE, family-friendly cultural event held at the Tacoma Dome Exhibition Hall on February 25, 2023. See you there!