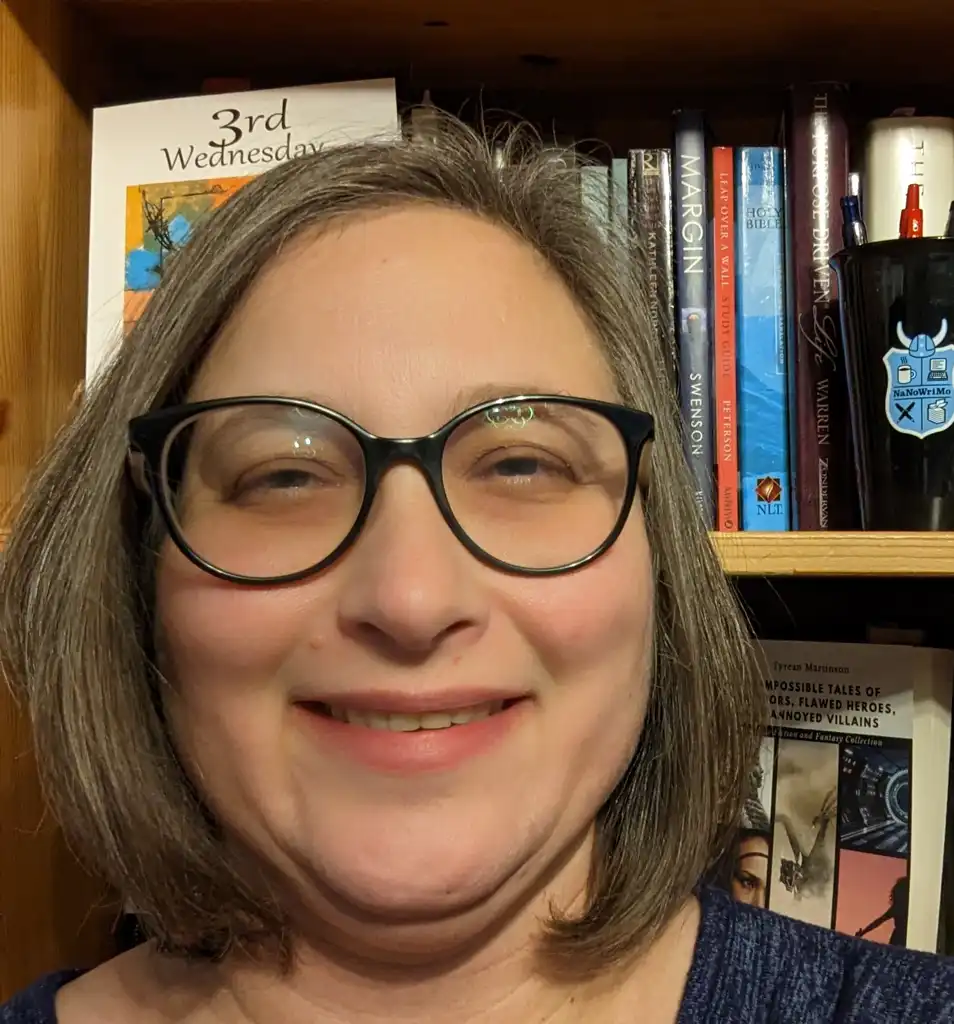 Author Tyrean Martinson lives in Gig Harbor, Washington, and works three freelance jobs, as a writing teacher and coach for homeschool students, public school students, and adults, as a property manager, and as an author of short and long works. She has been making up stories and song lyrics for as long as she can remember. Her first publication was a poem in the "Western Front" at Western Washington University in 1992. Tyrean went after indie publishing on purpose and published "Champion in the Darkness" in 2013. It wasn't her first book, which was a sci-fi novel she wrote in a Commercial Fiction class at UW's extension program in 2001. Tyrean belongs to the Insecure Writer's Support Group online, the Northwest Christian Writers' Association, Realm Makers (Christian Speculative Fiction), the Society of Children's Book Writers and Illustrators, and the Greater Gig Harbor Literary Society. Her hobbies include reading, walking, superhero films, travel, volunteering at One Hope Church, and playing card/board games with her family.
Which genres do you cover?
Tyrean Martinson: I write fantasy, science fiction, adventure, short stories in a variety of genres, poetry, essays, devotionals, song lyrics, and non-fiction books about writing. I am also making slow-going type progress on a non-fiction book about fantasy creatures and their cultural roots.
Which is the latest book you had published, and what is about?
Tyrean Martinson: "Nexus" is book 2 of The Rayatana Series, a science fiction series of novellas for teens which include an alien spaceship disguised as a movie theater, fight scenes, and some serious thoughts about racism, justice, and mercy. The series is a mixture of beloved science fiction tropes, adventure, and thought-provoking interactions between human and alien cultures. In a way, it's a tribute to my childhood love of both "Star Trek" and "Star Wars." In 2023, I'll be releasing two books: "25 Impossible Tales of Survivors, Flawed Heroes, and Annoyed Villains: A Science Fiction and Fantasy Collection" and "Resonance," The Rayatana Book 3.
At which book events can readers find you?
Tyrean Martinson: The Gig Harbor Art Festival, events at the Senior Center, the Greater Gig Harbor Book Flood (at BBQ2U), Write in the Harbor, Tacoma Community College's Winter Continuing Education Class Schedule, events at the Senior Center, some Creative Colloquy open mics, the author table at BBQ2U, and more events to come! Plus, I'll also be attending Realm Makers 2023.
Which book event connecting you with readers is your favorite and why?
The Gig Harbor Art Festival was my favorite event for connecting with readers because the festival atmosphere was lively, and I shared a table with some great authors. I also enjoyed Write in the Harbor for connecting with writers who also read.
Do you have any specific messages to your readers and, if so, which are they?
Tyrean Martinson: Courage is the act of standing firm, speaking up, or even taking a step forward in the middle of doubt or fear. It takes courage to have faith, to stay the course in the middle of any of life's storms, and to battle doubts, or, in a fictional setting, to battle giants, dragons, or cruel rulers intent on taking over the galaxy. These are key messages in my writing and those messages are founded in my faith and in my life experiences. It may seem circular, but I think courage is inspired by faith and having faith takes courage.
Which writer(s) keep(s) inspiring you and why?
Tyrean Martinson: I read or reread a book by C.S. Lewis nearly every year and I reread "The Hobbit" by J.R.R. Tolkien every other year. Their works inspired me as an elementary school student and still inspire me today. In addition to Lewis and Tolkien, I have an ongoing list of contemporary writers who inspire me like Scott Reintgen, Jessica Day George, CJ Redwine, and Marissa Meyer.
Do you have specific writing habits?
Tyrean Martinson: Yes. I write in my journal every day, usually in the morning. I store ideas, inspiration, scripture verses, prayers, poems, lists, reflections, and mind maps in there. In addition to journaling, I write between 100 and 5,000 words a day, but I vary this because of life events and the amount of energy I have on any given day. I'm a project "jumper" which means I'm working on three to five major projects every week, with notes, spreadsheets, and vision boards to keep track of characters, settings, and themes. If I try to work straight through a single project, I hit a wall of writer's block.
What are you currently working on?
Tyrean Martinson: I'm finalizing the formatting and cover art for "25 Impossible Tales of Survivors, Flawed Heroes, and Annoyed Villains: A Science Fiction and Fantasy Collection," revising "You, the Dragon and I, the Ranger" (a fantasy novel with experimental viewpoints), rewriting "Resonance," Rayatana Book 3, writing "Dark Blade: Tempered" (book 2 of the Dark Blade Kindle Vella series), and playing with the beginnings of a new, top secret series with early chapters, character vignettes, basic plot points, and vision boards.
Which book are you currently reading simply for entertainment?
Tyrean Martinson: I'm rereading "Harry Potter and the Sorcerer's Stone."
What advice would you give any aspiring author?
Tyrean Martinson: Lean into your individual strengths and pace. If you are a writer who likes to draft a novel over ten years, enjoy it. If you like to stay with one project at a time, enjoy it. If you're like me and you project jump and fast draft, and then slow down with revisions, enjoy it. Discover how you write, then celebrate your stories, ideas, and strengths. Don't let anyone tell you how you write is wrong, even if it doesn't make sense to them.
You can find Tyrean Martinson's books on her websites https://tyreanstales.com/ and https://linktr.ee/Tyrean, at Invitation Bookstore in Gig Harbor, and at most online retailers including https://www.amazon.com/Tyrean-Martinson/e/B00BCKPHZK .