A Clover Park School District story.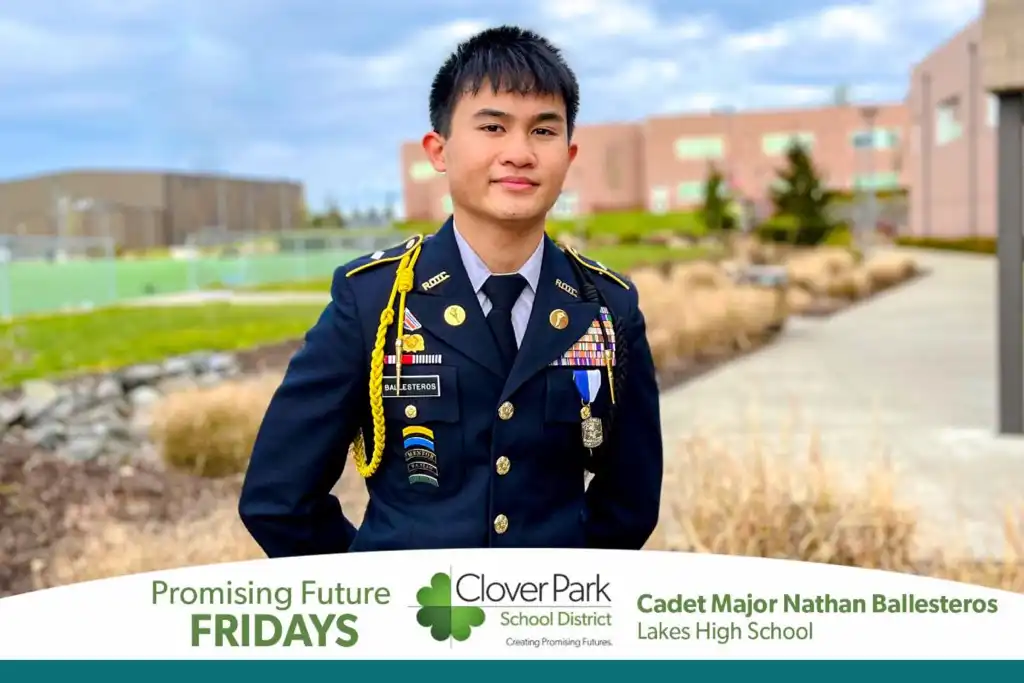 Our Clover Park School District Promising Futures Friday featured student this week is Lakes High School senior Cadet Major Nathan Ballesteros who will be attending the U.S. Military Academy at West Point next fall.
Nathan has achieved great things at Lakes High School since, but his senior year has been extra special. "The most surprising thing that's happened this year has definitely been my acceptance into West Point," he said. "I'm very excited and a little nervous to attend, but I am going to prepare over the summer for it, and I'll be ready."
Nathan is a dedicated member of the Career and Technical Education (CTE) course JROTC, and last April he began the long process of applying to West Point. This included evaluation forms from his teachers, an interview with his field force representative, a medical test, a physical fitness test, a presidential nomination from his father who is service connected, and interviews and nominations from Washington state Senator Patty Murray and 10th District Representative Marilyn Strickland.
"I had my letters of recommendation completed by junior year and instead of having the typical single recommendation, I had four," he said. "It was still such a long process and I had to write 14 essays, but I actually enjoyed it."
Nathan is an overachieving student and athlete at Lakes who enjoys math and history. At West Point, he wants to further these interests by majoring in Defense and Strategic Studies and minoring in Cyber Security. "Majoring in these fields of study will give me a lot of options for long term careers and different paths, like joining the FBI or CIA," he said.
Nathan decided to join JROTC because his father was able to immigrate to the United States from the Philippines through his service in the military, and Nathan has always wanted to give back to the country that allowed his family to overcome hardships.
"I feel like the branch of the U.S. Army is a cloth from which I've been cut and it's made me the resilient and adaptable person I am today," he said. "There's a bond and community that you can't find anywhere else."