A Clover Park School District story.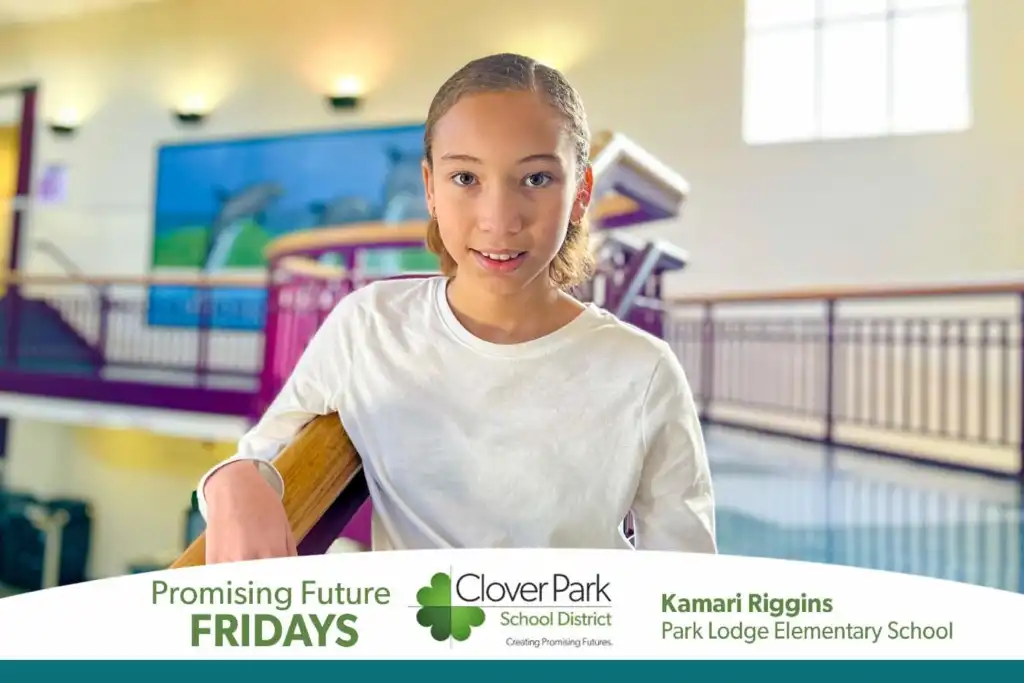 Our CPSD Promising Futures featured student this week is Park Lodge Elementary School fifth grader Kamari Riggins.
Kamari is a leader at Park Lodge and an anti-bullying advocate who always supports her classmates. "I really like being at Park Lodge because it's such a good place," she said. "I try to make sure my actions don't make my teacher's job more difficult, and I love spending time with my friends here."
Math used to be a challenging subject for Kamari, but she is excelling this year. "We're working on adding, subtracting, multiplying and dividing fractions with different denominators," she said. "I've liked learning those things, and I've also liked reading because we've been reviewing grammar, like conjunctions," she said.
As fifth graders, Kamari and her class are enjoying the newfound responsibility they have earned at school. "This year we get to help the teachers and specialists at school events, during lunch or in classes like PE," she said. "We might also get kindergarten buddies, which I'm excited for because I want to help kindergartners wherever they're struggling, so they can do better in the future."
Kamari wants to continue impacting her community as she gets older and has ambitious plans for her future. "Lately, I've been thinking about becoming president of the United States," she said. "Even if I become vice president or something else in the executive branch, I want to help change the world and improve things like world hunger. I think that's the best position I could be in to do that."