Submitted by Lakewold Gardens.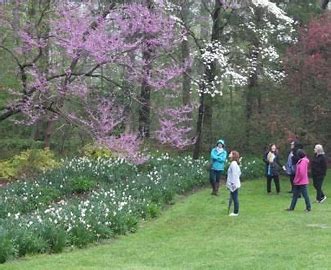 Community does not happen by accident; it is intentionally created. Developing a sense of place and belonging is a powerful stabilizing force in the lives of all people. Lakewold Gardens provides this – as the garden always accepts you as you are and often leaves you feeling better than when you arrived. Gardens honor our need to learn and explore the world around us. In the creation of gardens, like in all art forms, we celebrate what it means to be human.
Many of us who live or work on the lakes may have formative memories that involve nature. For example, a special tree or fort building in the woods as a child. We may even have a hard time imagining not being connected to nature. However, a surprising number of our guests come from urban areas without access to green spaces. As a result, many lack confidence navigating the garden unassisted. Demand for guided experiences continues to grow and we cannot deliver these vital services without volunteer support.
Lakewold is in the process of revitalizing our community docent program and we ask you to consider joining us in welcoming new guests to the garden.
No two docents need guide a tour the same way. It is not required that our volunteer docents have deep knowledge of all the plants on the property, only that they have desire to share their curiosity about the natural world, art, or history. Some docents guide guests through the garden asking them to stop and listen to the bird song, or smell deeply of the witch-hazel now flowering on the woodland edge. Others have guest touch the bark of their favorite tree or the new fuzzy buds of the saucer magnolia. Some share stories about history and geography of historic prairies on which we live. Art docents talk to guests about the local art featured on rotation in the Wagner house.
Docenting is about creating a memorable experience. All that is required to excel as a docent, is a desire share something you love about Lakewold. In doing so, you are likely to tap into our shared humanity and provide our guests an opportunity to be in the moment, outside, and at peace in a world that has so much going on.
Docent training will begin soon, for additional information or to sign up contact Julie Lee, Volunteer Coordinator at jlee@lakewoldgardens.org or 253-584-4106 x 152.