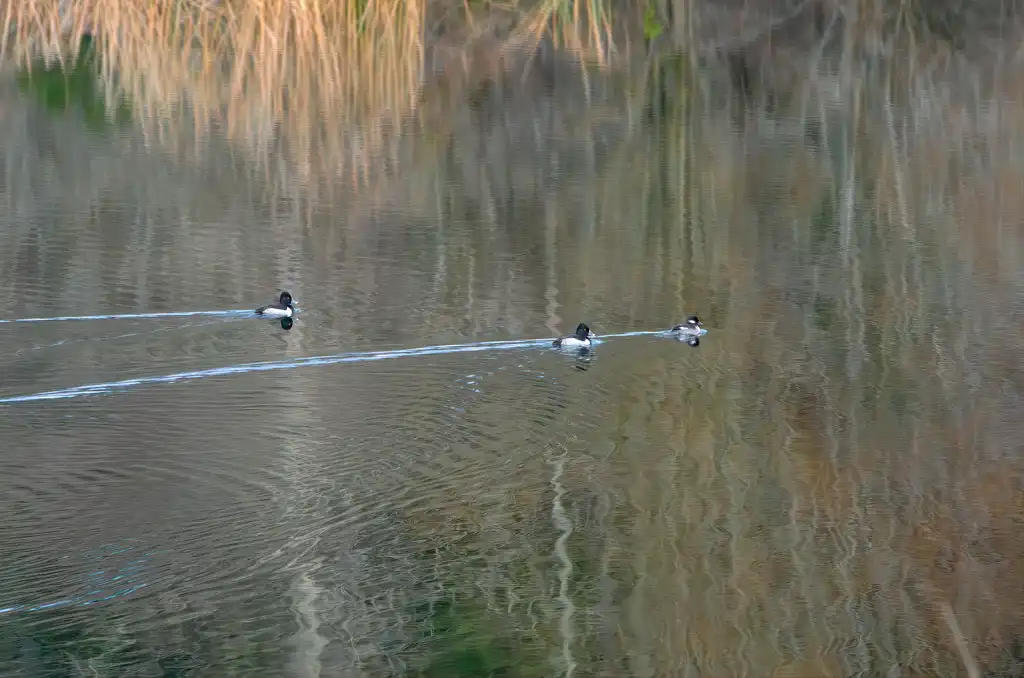 The youngster was out in front, paddling furiously, plowing the otherwise placid surface into a mini frenzy of ripples into which dad, trailing a bit behind, slowly but effortlessly kept pace, while grandpa lagged a bit.
Later the little fellow would be taught how to dive, to leap forward in an arc to plunge beneath the surface using only his little paddles for propulsion, paddles at the moment he proudly employed in churning the otherwise reflective surface into a semi storm of bubbles.
Come to think of it, he'd better learn his diving lessons well.
Not just to dive down to dine on submerged plants and aquatic invertebrates, but to survive.
His list of predators was as expansive as the ever-widening ripples on the water.
Ravens, crows, snapping turtles, muskrats, skunks, great horned owls, mink, bald eagles, peregrine falcons, pike, bass, red fox, raccoons, and dogs could make a meal out of him. His watery world was a dangerous place.
In the merest of seconds – a shadow momentarily cast that briefly blocks the sun; a turbulent swirl from below the surface that suggests terror from the depths – his future could be very much in doubt.
Learn your life lessons well little duck in order to survive. It is a hard, and ofttimes unforgiving, world.