Symphony Tacoma announcement.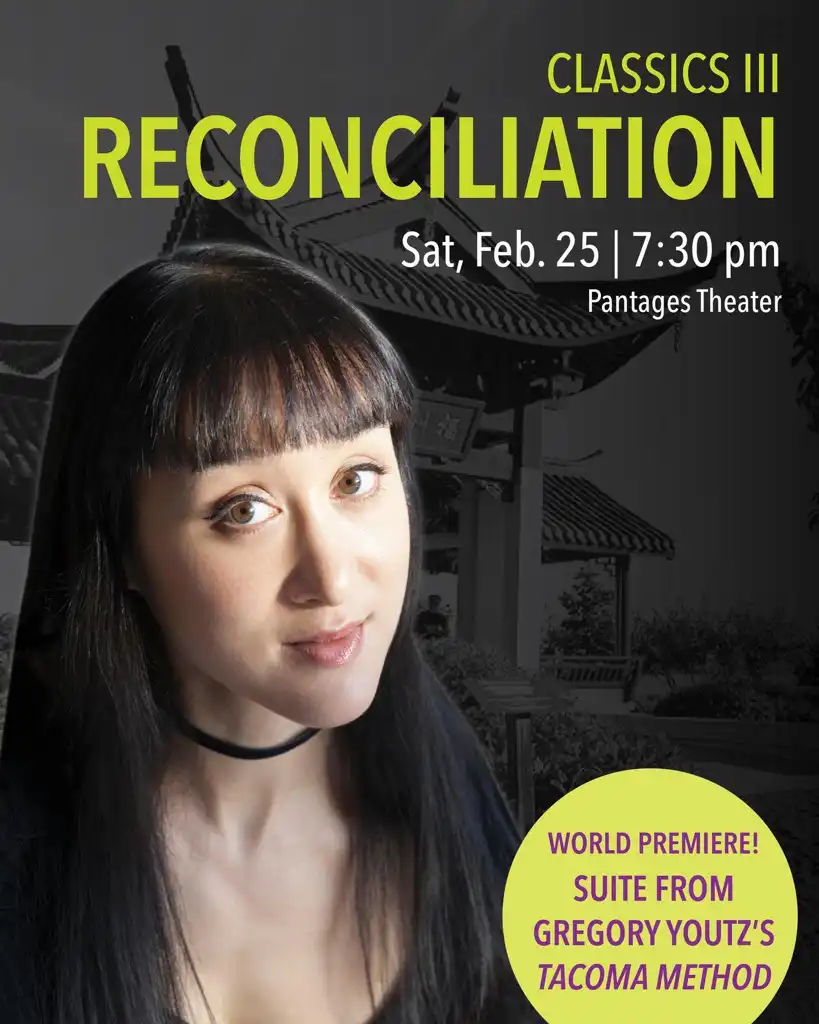 Tacoma, WA — Symphony Tacoma's February concert presents selections from Tacoma Method, a new opera by Dr. Gregory Youtz, along with celebrated works by Britten and Brahms. The concert will take place on Saturday, February 25, 2023 at 7:30 pm in Tacoma's Pantages Theater.
Tacoma Method sheds light on perhaps the most tragic chapter of Tacoma's history. Written by composer Gregory Youtz, a music professor at Pacific Lutheran University, and librettist Zhang Er, a Beijing born-and-raised Chinese poet now teaching at Evergreen College Tacoma, the opera shares stories from the 1885 expulsion of Chinese pioneers from Tacoma. Zhang Er thoroughly researched the incident and discovered a wealth of historical material from which to write a libretto. Her extensive knowledge of late-19th-century Chinese culture enabled her to flesh out the nature of the principal characters.
The series of four movements selected for this performance begins with a Prelude that opens serenely with recorded natural sounds, then builds in a giant crescendo as more and more machines enter the scene. The second excerpt, Rooster of Gold, introduces the characters of Mr. and Mrs. May as they celebrate Chinese New Year, with hope for a bountiful year (1885 was the Chinese Year of the Golden Rooster). The third excerpt travels to the historical Meeting at the Alpha Opera House in which city leaders debate the expulsion plot. Finally, in This Is My Home, we hear Mrs. May sing about her determination to stay in Tacoma despite the pressures to leave.
Accompanying the orchestra will be New York-based mezzo-soprano Hai-Ting Chinn and vocalists from Symphony Tacoma Voices. Historical photos will be projected on stage to help tell the story. The full Tacoma Method opera will be performed by Tacoma Opera at the Rialto Theater on March 31–April 2, 2023.
Preceding the concert, concert ticket holders are invited to attend the Inside Scoop pre-concert talk at 6 pm in Studio 2 adjacent to the Pantages Theater. This event features a panel discussion about the development and production of Tacoma Method moderated by Lotus Perry, Chinese Reconciliation Project Foundation Board Member and Chinese Language Instructor at University of Puget Sound. Panelists include:
Gregory Youtz, Composer
Zhang Er, Librettist
Hai-Ting Chinn, soloist
Theresa Pan Hosley, Chinese Reconciliation Project Foundation
Doug Andreassen, Tacoma Historical Society
Lim Forgey, Tacoma Opera
Karina Bharne, Symphony Tacoma
Sarah Ioannides, Symphony Tacoma
Andrew Gomez, University of Puget Sound Associate Professor of History
Also on the concert program is Britten's Four Sea Interludes from the opera Peter Grimes. The story is based on an early nineteenth-century narrative poem by George Crabbe that tells the dark story of gossip and persecution. Grimes, a surly, ill-natured fisherman, is suspected of murdering his young apprentices on an isolated seaside fishing village. These excerpts bring the drama and setting of the opera into the concert hall with each piece depicting the sea in various moods—Dawn, Sunday Morning, Moonlight and Storm.
Rounding out the program is Brahms' deeply passionate Symphony No. 4. More than any other late-19th-century composer, Brahms kept intense classical elements in his music in the height of the Romantic era. Written in the "tragic" vein, this work recalls Beethoven's Fifth Symphony of 80 years earlier. The "triumph over tragedy" theme characterized by Tchaikovsky and Beethoven is also present, but in a more subtle tone.
Fittingly, Brahms conducted the symphony at his final public appearance. In the end stage of terminal liver cancer, the great composer stood before a reverential audience that knew it was the last time they would see him. Biographer Florence May recounted the occasion: "Tears ran down [Brahms'] cheeks as he stood there, shrunken in form, with lined countenance, strained expression, white hair hanging lank, and through the audience there was a feeling as of a stifled sob, for each knew that he was saying farewell."
Tickets for this concert are on sale now through the Symphony Tacoma Box Office. Prices range from $24 to $85. To purchase tickets or season subscriptions, visit symphonytacoma.org or call 253-272-7264.