Submitted by Lakewood Rotary.
For two years now, Lakewood Rotary has established 7 Little Free Pantries in Lakewood. The Little Free Pantries provide 24/7 barrier-free access to free food for Lakewood citizens, which supplements Lakewood's wonderful food banks.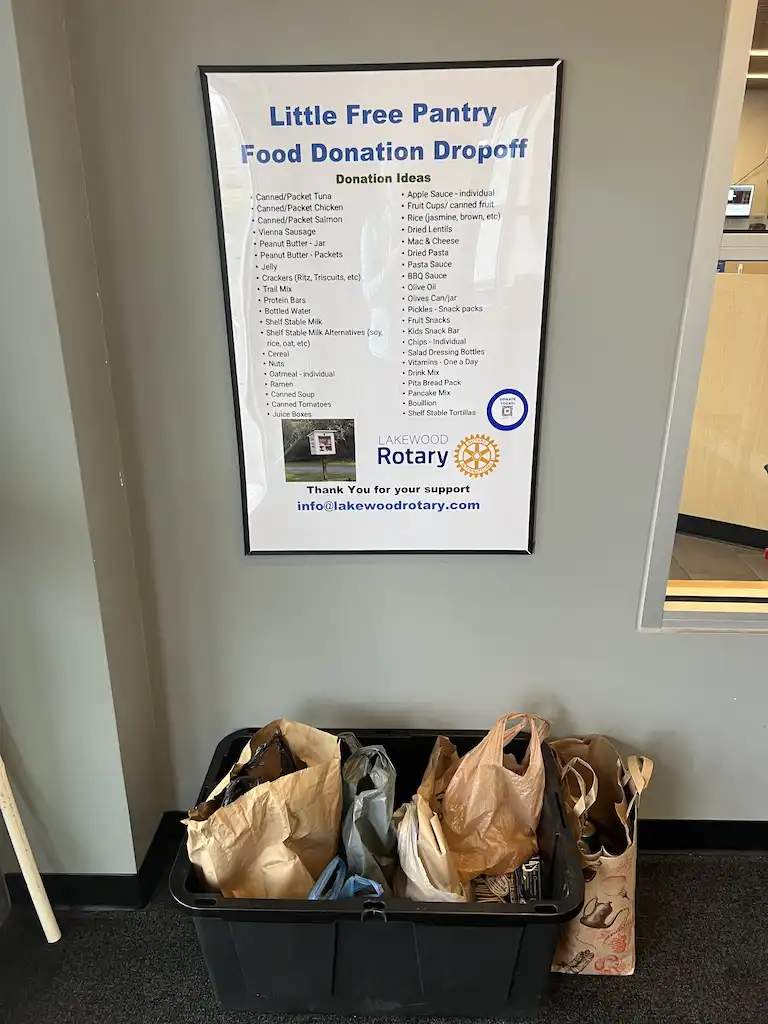 As the need for food has grown, Lakewood Rotary has turned to numerous businesses and organizations to help by providing space as a food drop-off donation sites. Lakewood Rotarians then collect the donated food from these sites and distribute it to the Little Free Pantries throughout Lakewood.
The Lakewood YMCA has become a critical piece in this system. The Y's staff and members have been incredibly generous. In fact, the Lakewood YMCA is now the pantries' top food donation site.
"We want to send a big thank you to Lakewood Y, its staff, and members for their amazing generosity," said Little Free Pantry Rotarian chair Rose Stevens. "The outpouring of food donated at the Lakewood Y has been a lifeline for many hungry children and families who depend on the Lakewood Rotary Little Free Pantries to supplement what they get from the local food banks."
Other Lakewood businesses and organizations have also been part of this effort. Lakeview Power & Light was an early food donation site. Moon Rise Café, which is owned by a Clover Park Rotarian, also has a box for food donations, as does Crunch Fitness in the Lakewood Towne Center. Revive Yoga (open limited hours) has joined the Little Free Pantry effort, and in addition to a food donation drop-off box, it is now promoting food donation on its bingo card challenge.
Two Lakewood churches—Little Church on the Prairie and Lakewood Presbyterian—have been supporters of the Little Free Pantries from their inception. Lakewood Presbyterian was the location of the first Lakewood Little Free Pantry, and it now provides storage space for donated food.
The Lakewood Rotarians themselves bring food donations for the pantries once a month to their meetings. Similarly, Partners of Lakewood Rotary also collects food for the pantries at their meetings.
The Little Free Pantry project got its start with a Covid grant from The Greater Tacoma Community Foundation. Lakewood Rotary has used the grant money to fund the building of the pantries and initially stock them with food.
Bob Zawilski, who has spearheaded the Lakewood Rotary Little Free Pantry project, commented about the community involvement: "The food donation sites have been a critical piece in helping Lakewood Rotary have enough food for our 7 pantries. We greatly appreciate every church, business, and organization that is helping us help others."
If you would like to donate to the Little Free Pantry project, go to https://square.link/u/8FIfA9es.
If your business or organization is willing to be a food donation drop-off site, please contact Bob Zawilski at info@lakewoodrotary.com.