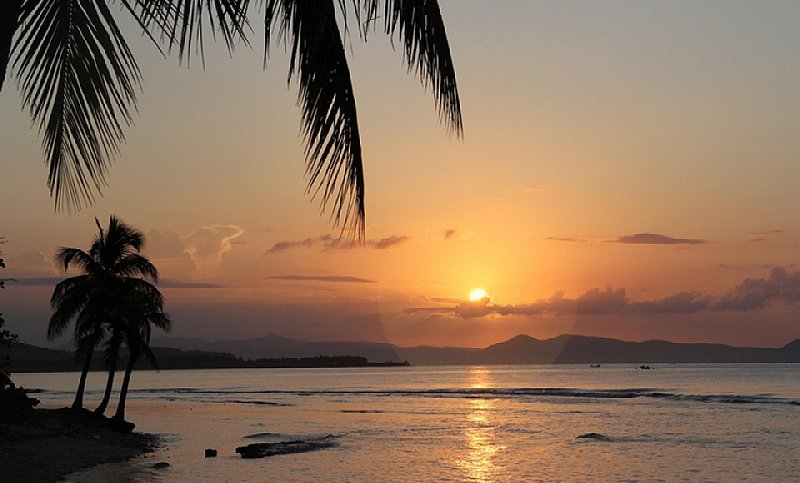 The island is Haiti. I love this quote about Haiti, which fits for most of the world, but perhaps Haiti the most: "Gods always behave like the people who make them." – Zora Neale Hurston, Tell My Horse: Voodoo and Life in Haiti and Jamaica
Many musical theatre goers may not have heard of Once On This Island, but the team of Ahrens and Flaherty have produced these award-winning productions among others which many will recognize: Ragtime, Seussical, A Man of No Importance, Dessa Rose, The Glorious Ones, Rocky, and Anastasia.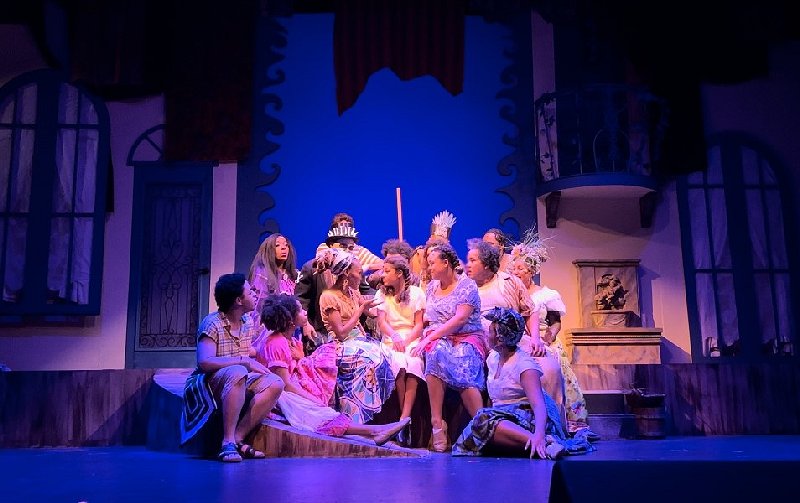 The play begins with a severe island storm and a scared young girl (Clover Curry). The other islanders gather around and tell her a story of storm, rescue, fate, magic and the four Gods: Asaka, Mother of the Earth, Agwe, God of Water, Erzulie, Goddess of Love, and Papa Ge, the Demon of Death.
The set becomes alive with the singing and dancing as the story continues.
The young child now known as Ti Moune (Jadyn Muralt) grows up and becomes a young woman.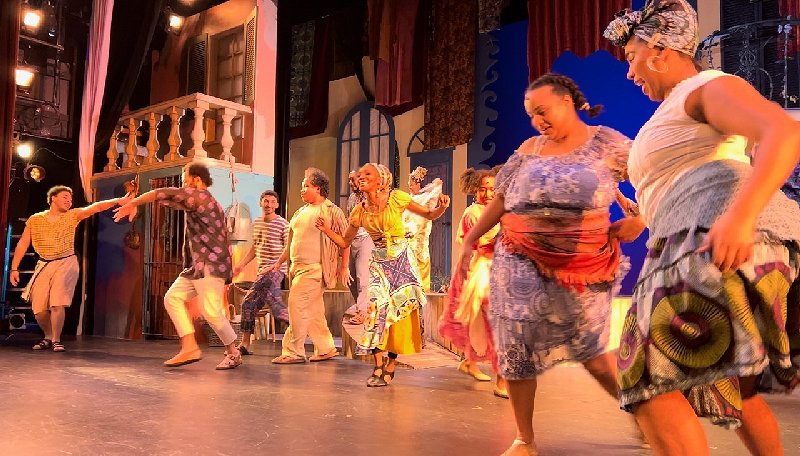 Ti Moune becomes the nurse for a survivor of a road accident, Daniel, (Jeffery Wallace II) during a storm. Mama Eurlie (Lanita Hudson Walters) worries because she knows that Ti Moune will only be hurt by the handsome stranger. We have seen Lanita in several productions at Tacoma Musical Playhouse and Lakewood Playhouse. She has a very, very nice voice and dances very well. We love her work.
While Ti Moune nurses Daniel back to health, we see the gods Agwe (Russell Campbell) and Asaka (Chanel Finnie) looking down on the efforts and considering the possibilities.
One of my favorite scenes involved an automobile or a carriage. We're not sure what it is, but it flies through the crowds and streets characterized with umbrellas spinning like wheels with whistles and moving with the beat. Very clever and fun to watch. You'll enjoy the music, the joy, and possibly dance in your seats.
It's always great to see actors returning for the latest productions. Russell Campbell was a stand-out in The Full Monty. Deshanna Brown was outstanding in Beehive, the 60s Musical as Jasmine. Lanita Hudson Walters added a nice adult touch to All Shook Up as well as appearing in Kinky Boots. And one of our favorite singer/dancers remains Loucas T. Curry (seen here with Jadyn Muralt) who appeared in Smokey Joe's Café and A Chorus Line at TLT as well as In the Heights, and Joseph and The Amazing Technicolor Dreamcoat at TMP. His body moves easily to the beat.
I don't have a recording from Tacoma Musical Playhouse, but this is one of the beautiful songs from the production"
– Some Girls –
A big "Thank You" to founder Jon Douglas Rake, Director/Choreographer Harry Turpin, Music Director Daniel Wolfert, Dramaturge Shana Emile, Lighting Director John Chenault, and Set Designers Jeffery Wallace II, Dinnis Kurtz, Erik Furuheim and Shana Emile.
A word of promise and advice: If you see a free "tour" mentioned about an upcoming TMP production jump on it; take advantage of the offer. We finally made ourselves available. The tour was actually an introduction, discussion, and a preview with open performances by members involved with Tacoma Musical Playhouse. The Dramaturg Shana Emile, gave us a bit of history about Haiti and the Gods; her family being from Haiti, she clarified many elements of the story. The audience was introduced to the various directors, many of the players, and then we were entertained by two production numbers. We even got to see the set before it was finished and made absolutely beautiful. I guessed that there were over two hundred people in the audience. Questions and comments were encouraged. Everyone left excited to see the performance.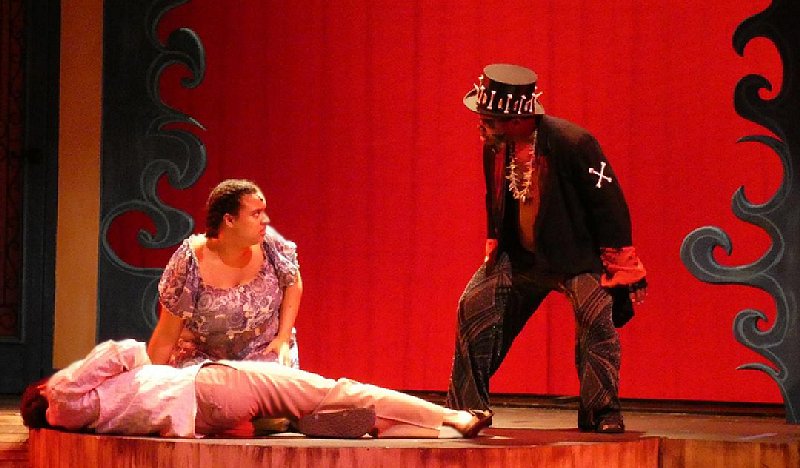 For tickets please visit – tmp.org/index.php/showsandtickets/
The well-honed and talented cast did a wonderful job. As the Haitians say "An empty sack can't stand up." At TMP there was no empty sack, but there was an almost universal standing ovation. You can't beat that for great entertainment!