Clover Park School District announcement.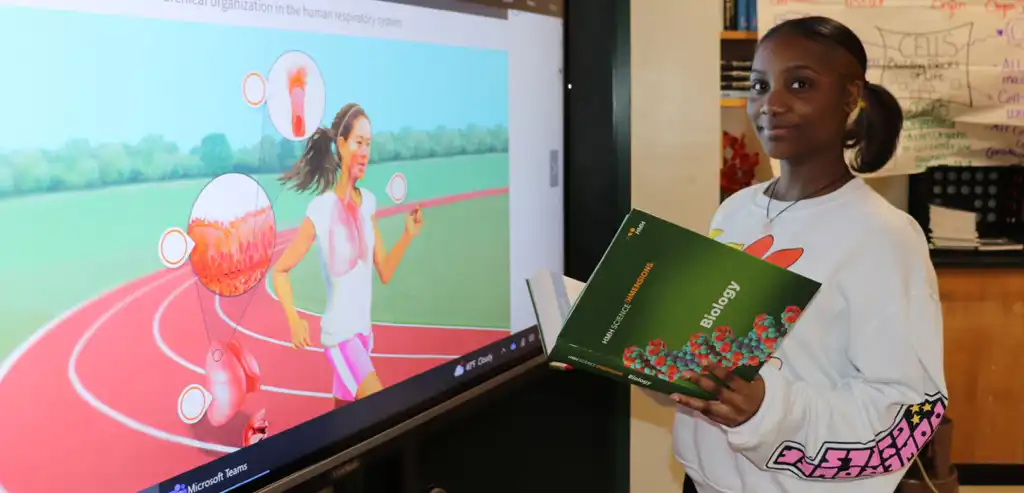 Clover Park High School (CPHS) sophomore Nakeithsia Gilliam looks through her microscope for a moment, checks her textbook and makes a note. It's just as she expected. Nakeithsia came prepared to ace her biology lab because of the electronic resources that supplement the course's new textbook.
"It shows you how everything works and helps me understand what I'm learning and why," she said. "When you can understand something, it's easier and helps you feel freer to learn."
CPSD implemented new high school science curriculum for seven courses this school year. In addition to better matching the state's Next Generation Science Standards, the new curricula make science more engaging and interactive.
Students still have access to traditional paper textbooks, but the online e-textbook makes the new materials really shine. As students read through their assigned chapters online, the e-book checks in with quizzes to make sure they understand the material.
If they answer incorrectly, the e-book will put them back on the right track.
"The quizzes highlight lesson objectives and vocabulary," said CPHS biology teacher Casey Juhasz. "It forces them to have to stop and think about what they just read, which has led to higher engagement and assignment completion."
The e-textbooks also include links to additional information and videos that help students go deeper on certain subjects than a paper-based textbook would allow. It also gives teachers more leeway by allowing them to provide additional resources to the entire class or individual students.
Each school year, CPSD updates curriculum for one content area. High school science was on the schedule for this year along with updated ninth grade health curriculum and materials.
Selecting a new curriculum begins by reviewing the state's Learning Standards, which serve as a roadmap to preparing students to be college and career ready after high school. Staff also examine student needs in various content areas and then gather input from parents and teachers.
"This new curriculum gives students what they need to be successful, which is the first priority when we look to adopt any new learning materials," said CPSD Teacher on Special Assignment of Science Dan George. "There is a wide variety of activities and labs teachers can utilize to help their students understand concepts better. It's really a big toolkit for teachers."
In addition to the interactive features, the new e-textbooks make learning more inclusive by offering a Spanish translation that can help multilingual learner students and their families better understand the material in their first language.