Clover Park School District announcement.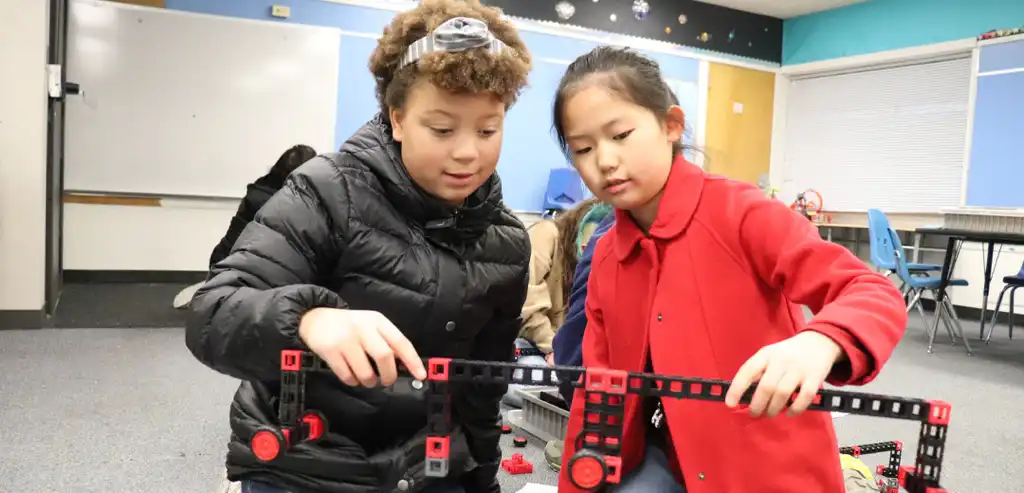 Students in Margarita Reid's extended science after-school group at Idlewild Elementary School are learning to code without even touching a computer. Fashioning a pulley system out of black and red blocks, students are learning the fundamentals of engineering while having fun.
Students are using Kid Spark kits, which are designed for kids from kindergarten through fifth grade. The kits include activities that step students through the process of learning the basics of engineering and
computer science.
CPSD purchased the kits as part of a recently awarded five-year, $1.3 million grant to support computer science education by the Department of Defense Education Activity (DoDEA).
As students advance to more difficult tasks with the kits, they start learning basic coding, which introduces them to the world of computer science and the possibilities it offers for their future careers.
"Much of the theory behind working with computer science at younger ages is about engaging student interest in the subject," said CPSD Supervisor of Math and Technology Michael Vincent. "They'll
have more awareness that they enjoy coding and understand the fun and creativity it offers, so as they
advance to middle school and high school, they explore it more in depth with electives."
The DoDEA grant specifically focuses on seven schools: Thomas Middle School, Harrison Preparatory School, Lakes High School and Custer, Dower, Lake Louise and Oakbrook elementary schools. However, the materials and training the grant provides will help expand computer science education throughout the district.
Schools not covered by the grant can benefit by sending their staff to computer science trainings and by borrowing the supplies purchased with DoDEA funds when they are not being used at the grant-identified schools.
The grant will also support increased staffing for computer science classes at the middle and high school levels while also providing supplies to use in class.
"By the time students are five or six years old, they are starting to determine what they're good at and what they enjoy," said CPSD Computer Consultant Teacher Amy Ulen. "By helping them develop that STEM identity and computational thinking skills early on, they've learned to be problem solvers, even if they don't go into a STEM career."
Schools will add computer science by supplementing current reading and math curriculum and weaving computer science activities into specialist time.
"It's exciting because it's going to mean more tangible experiences for students," Vincent said. "Students will have memorable experiences that stick with them and put them on a path toward vast career opportunities."