A Clover Park School District story.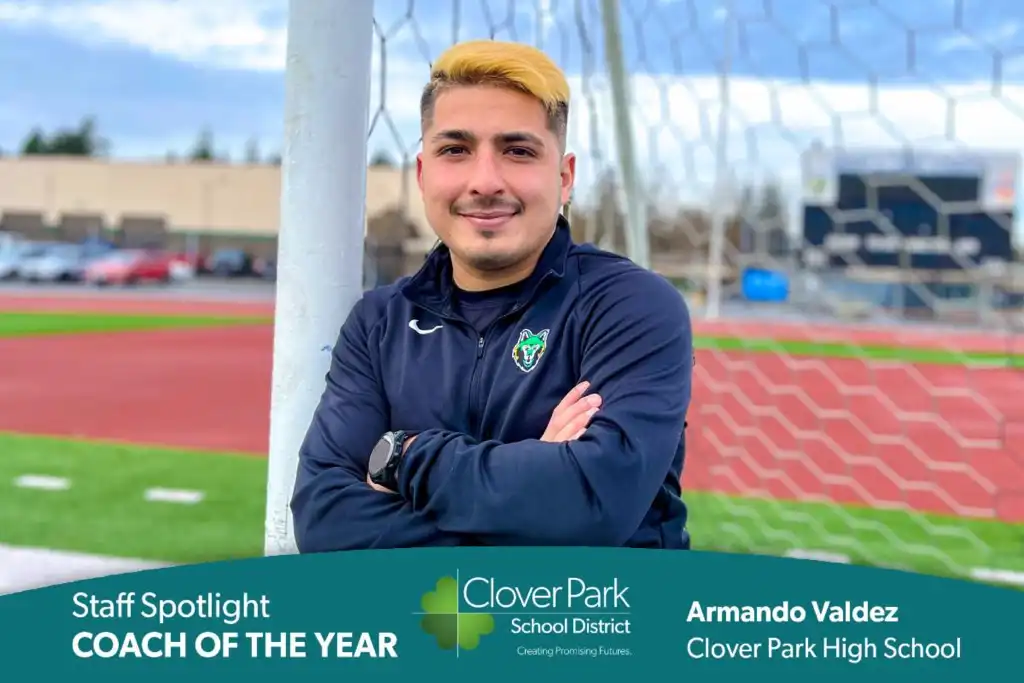 Our Clover Park School District Staff Spotlight this week features Clover Park High School girls soccer coach Armando Valdez, who was selected as the 2022 SPSL 2A coach of the year!
Armando, a 2014 CPHS graduate, was born and raised in Lakewood. After spending time away from this community during college, he felt a calling to return. "I want to help students whose experiences I shared when I was here," he said. "I realized that for me, there's a bigger purpose than teaching kids a game. It's about helping people shape who they are."
Since Armando grew up with similar experiences to his players, he knows the obstacles that may be in their way. He hopes that he can serve as a light to help guide them beyond their circumstances. "Instead of falling into bad habits or hanging around bad influences, they can learn about structure and that they have everything they need to meet their potential," he said. "It feels really nice for my team and myself to know the CPHS and Lakewood community is supporting us the whole way."
After Armando became head coach, he was able to recruit enough players for the soccer team to have both a varsity and junior varsity team, something that hasn't happened in five years. "I knew I'd have to encourage a sense of commitment in students who weren't used to seeing positive results from their efforts," he said. "We were able to create a safe and fun environment that other students want to be a part of and that's better than any accolade."
For the first time in 15 years, the team won five games and qualified for districts! Armando and his team proved this season that hard work, structure and a care for your teammates leads to great results.