Office of Jani Hitchen, Pierce County Council, District 6 announcement.
Pierce County is installing a new sewer interceptor in Parkland near state Route 7/Pacific Avenue as part of the Parkland/Brookdale Interceptor project. The new 72-inch diameter pipe will extend from the intersection of 131st Street East and A Street South to an existing sewer interceptor at 129th Street South and C Street South. A sewer interceptor is a major sewer line that receives wastewater flows from multiple collection lines, which is then directed to a wastewater treatment facility or another interceptor.
Project schedule
Road closures on sections of C Street South and Tule Lake Road will go into effect starting Thursday, July 7, 2022. The roads will be closed for through traffic, but access for local traffic and emergency vehicles will be maintained at all times. Detour signs will be placed for drivers and pedestrians.
This project will include seven different work zones. The contractor will be working on both sides of Route 7 simultaneously to complete work when groundwater levels are seasonally low. Work hours consist of six 10-hour days per week, Monday through Saturday. There will be no work on observed holidays. Drivers should also expect two weekend closures at Route 7 and 129th Street South in the fall. More details will be provided at a later date. The targeted project completion date is February 2023.
Section Closure dates Location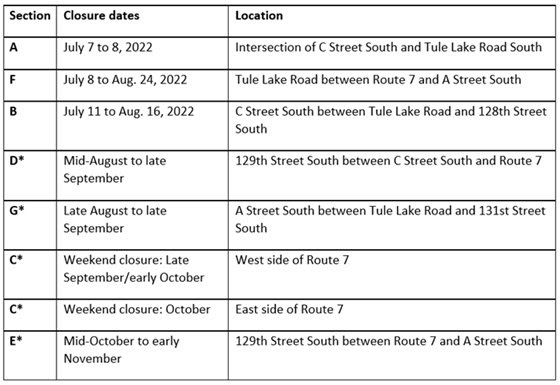 *Tentative schedule. May be subject to change. Some work, including final pavement restoration, will be completed after all other phased activities are complete. Final restoration work is weather dependent.
About the project
The authorized budget for this project is approximately $8.6 million and is funded by revenue from connection charges and monthly sewer rates. This is the third phase of a multi-phased project to increase the capacity of the existing sewer interceptor to handle population growth beyond 2024. The project also replaces aging infrastructure with corrosion-resistant materials that will last longer in the wastewater environment.
The Parkland/Brookdale Interceptor is one of Pierce County's largest sanitary sewer pipelines in a network of sewer pipes and pump stations that convey wastewater from unincorporated Pierce County to the Chambers Creek Regional Wastewater Treatment Plant. Learn more about the project and sign up for email updates at PierceCountyWa.gov/ParklandBrookdale3.