Submitted by Madonna Hanna.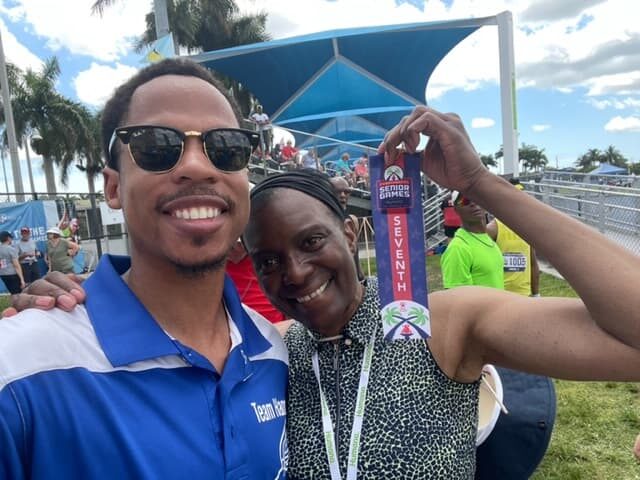 Tacoma's Madonna Hanna competed in the recent Nation Senior Games in Fort Lauderdale, Florida. Madonna, 68, is coached by elite Tacoma sprinter Marcus Chamber. Chamber was supposed to be competing in Puerto Rico, but elected to travel to Florida with Hanna instead.
Results
4×100 meter relay – Silver. Hanna ran the 2nd leg and reports her teammates with excited to be coached by an elite professional.
100 meter dash – 7th. Hanna ran a new personal best (16.62 seconds) in her first finals.
50 meter dash – 10th. New personal best (8.9 seconds).
Here is an article that captures my moment of learning that l made the Finals: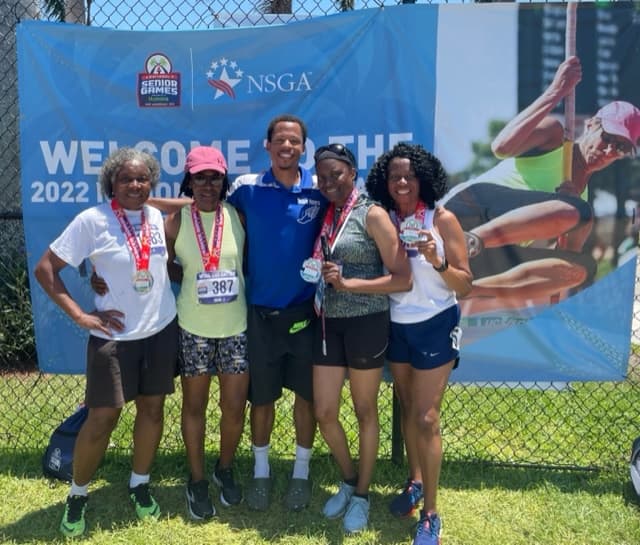 geezerjocknews.com/blogs/news/she-didnt-win-a-gold-she-acted-like-she-did-mah-va-lous-madonna
The backstory of this unlikely inter-generational duo is inspirational.
Before the age of 57 Madonna Hanna had absolutely no track and field experience, but she decided on a whim to take up sprinting. Her husband Steven, a retired teacher turned massage therapist coached Madonna to her first medals in the Washington State and then National Senior games.
Before passing away from cancer in 2018, Steven told Madonna to keep running! After Steven's passing, Marcus Chambers stepped in to coach Madonna as a favor to another elite Tacoma track star, and mutual friend, Martha Mendenhall (high jumper, multiple USA Track and Field Masters Champion.)
This one time favor turned into to a three year long coaching stint resulting in four Washington Senior Games medals and a spectacular outing in Fort Lauderdale for  the "Dynamic Duo" Madonna and Marcus.