Tacoma Community College announcement.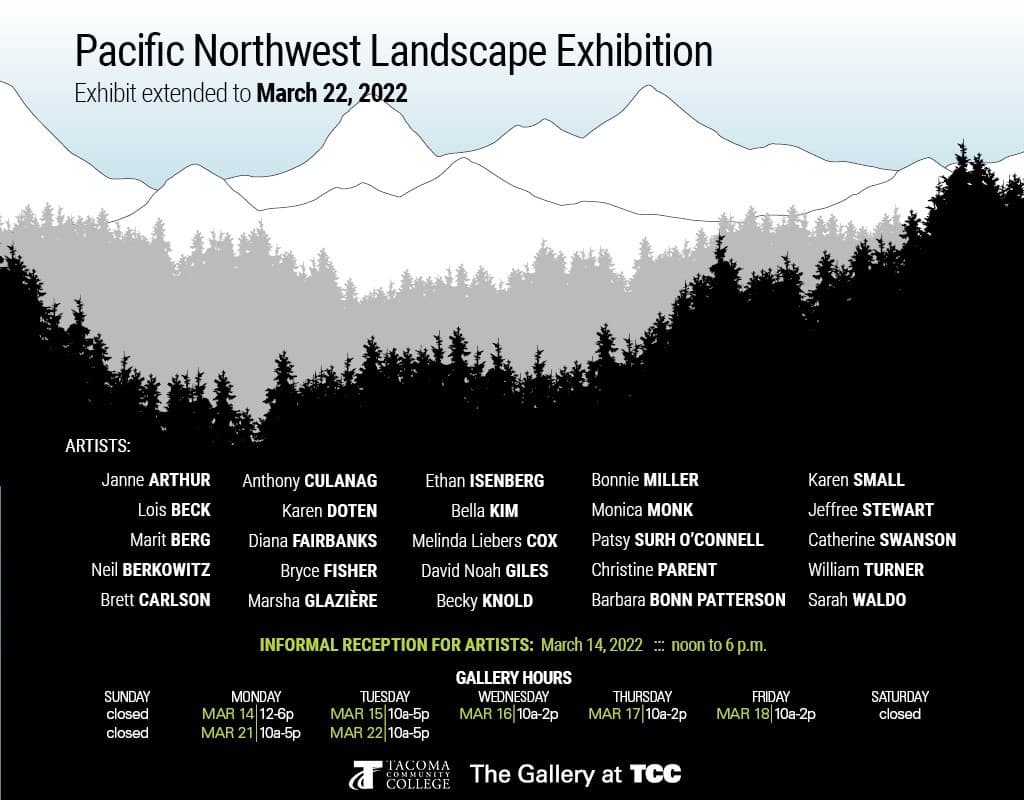 The Gallery at Tacoma Community College (Building 4 at TCC's Tacoma campus) will host an informal reception for the artists of the "Pacific Northwest Landscapes" Exhibit Noon – 6 p.m. Monday, March 14. Everyone is welcome to attend!
The exhibit has been extended until March 22 so that people have the chance to experience it in person. The Gallery is open Monday – Tuesday, 10 a.m. – 5 p.m. and Wednesday – Friday, 10 a.m. – 2 p.m. on days the college is open. Please note that guests who are not TCC students or employees must check complete an online health check before visiting campus.
Find information about The Gallery, upcoming exhibits and the TCC Art History Book Club here.
Pacific Northwest Landscape Exhibit Artists include:
Janne Arthur
Lois Beck
Marit Berg
Neil Berkowitz
Brett Carlson
Anthony Culanag
Karen Doten
Diana Fairbanks
Bryce Fisher
Marsha Glaziere
Ethan Isenberg
Bella Kim
Melinda Liebers Cox
David Noah Giles
Becky Knold
Bonnie Miller
Monica Monk
Patsy Surh O'Connell
Christine Parent
Barbara Bonn Patterson
Karen Small
Jeffree Stewart
Catherine Swanson
William Turner
Sarah Waldo