Historic Fort Steilacoom announcement.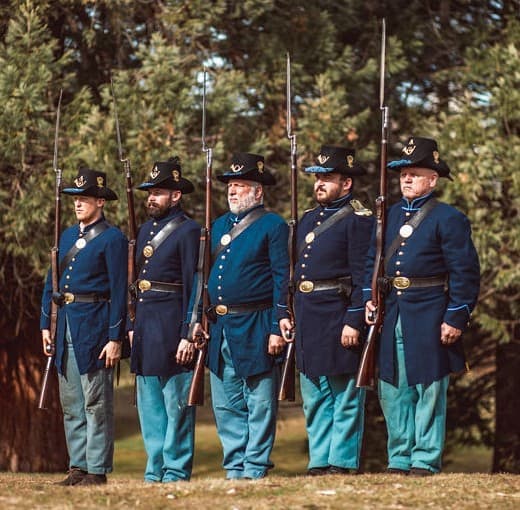 The national Blue Star Museums program invites the nation's active-duty military personnel and their families to enjoy museums free of charge every summer – while at Fort Steilacoom Museum in Lakewood, the benefit is offered year-round, and tours are free in 2022.
"Fort Steilacoom was the original U.S. military post in Puget Sound, with a proud heritage that connects us to Joint Base Lewis-McChord and other military locations in Washington. The museum's volunteers believe it's important that any active duty service members and their families have full access to its history and legacy," said museum board president Walter Neary.
Admission for people who are not serving in the military is at most $5 a person, with families welcome for $10. The goal is to keep the museum affordable for everyone. Anyone is welcome to book tours on the first Sundays of the month at the fort's Eventbrite listing. The next scheduled tours include the Sundays of Feb. 6, March 6 and April 3 between 1 and 4 p.m.
Fort Steilacoom is a history museum where guests of all ages can explore the military life of enlisted soldiers, officers, the families of soldiers, civilians that worked for the garrison and those that visited from the community.
The men and women at and around Fort Steilacoom from 1849 to 1868 played a key role in many notable events, which include the Puget Sound Treaty War and the Pig War. Troops and officers from the Fort surveyed and helped build roads to Bellingham, Vancouver and Walla Walla, creating vital transportation routes in use today and greatly contributing to the settlement of the Pacific Northwest.
For more information, visit www.historicfortsteilacoom.org or connect with the fort at www.facebook.com/HistoricFortSteilacoom Donations are appreciated, because these four buildings cost money to keep up. The Historic Fort Steilacoom Association is entirely volunteer.
Historic Fort Steilacoom is located on the grounds of Western State Hospital at 9601 Steilacoom Blvd SW, Lakewood, WA 98498.
You can learn more about the Blue Star Museums program on their website.