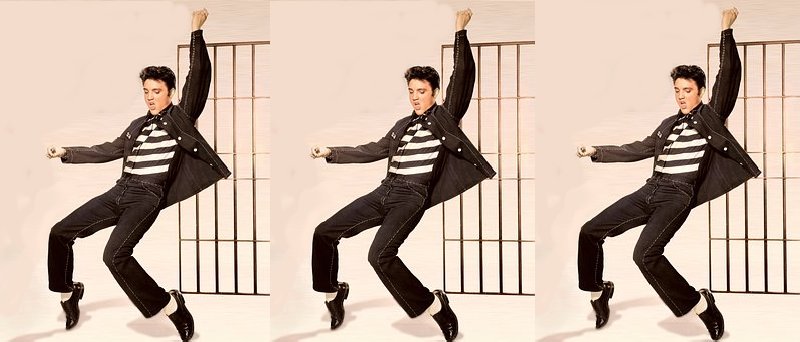 "All Shook Up" has 17 scenes, and 25 songs. We were there on opening night. Imagine having every song that Elvis recorded to pick from. According to the Elvis Presley Official Fan Club Elvis recorded approximately 784 songs. Would you play them in order? That would just be a playlist, although the faithful would probably enjoy it, most would get bored after a while. What Joe Dipietro did was cherry pick the songs, re-arrange them and build a new story that gives us the essence of Elvis, and the joy of his music. Elvis could take someone else's music and sing it . . . and it would become his song.
The curtain opens and jump starts the musical and the audience with "Jailhouse Rock" featuring Chad, the Elvis character, performed by Jordan Melin. This was not his first time on stage but his first time at TMP. "Jailhouse Rock" was written by the iconic rock and roll team of Jerry Leiber and Mike Stoller. Their other hits written for Elvis included "All Shook Up", "Hound Dog" and "Fools Fall in Love."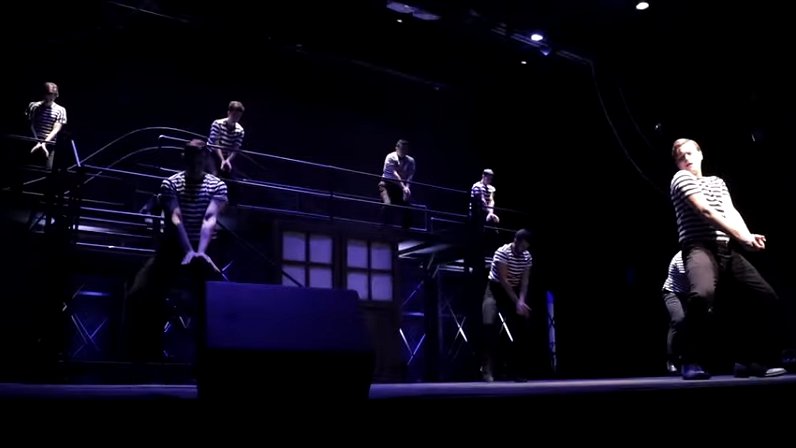 Kudos for Set Designer/Master Stage Carpenter Dennis Kurtz. In many productions, you worry about the walls wobbling when the doors open and close, but when you have catwalks and ladders being climbed and danced on by numerous adult men, you feel anxiety. You don't want them hurt or even worried. That means sound construction. Very nice job, Dennis.
Managing Artistic Director Jon Douglas Rake directed this production. I like his reasoning; he said, "The story is not about Elvis at all, though it's very much in the spirit of Elvis movies, with each song serving the story in some way." Anyone who loves the music made famous by Elvis will feel a rush of fun, and in some cases, nostalgia. Fans of Shakespeare will also get their money's worth as they'll notice a familiar tale. As we listen and remember the music of Elvis, we also get a storyline that closely follows Shakespeare's gender-bending play "Twelfth Night".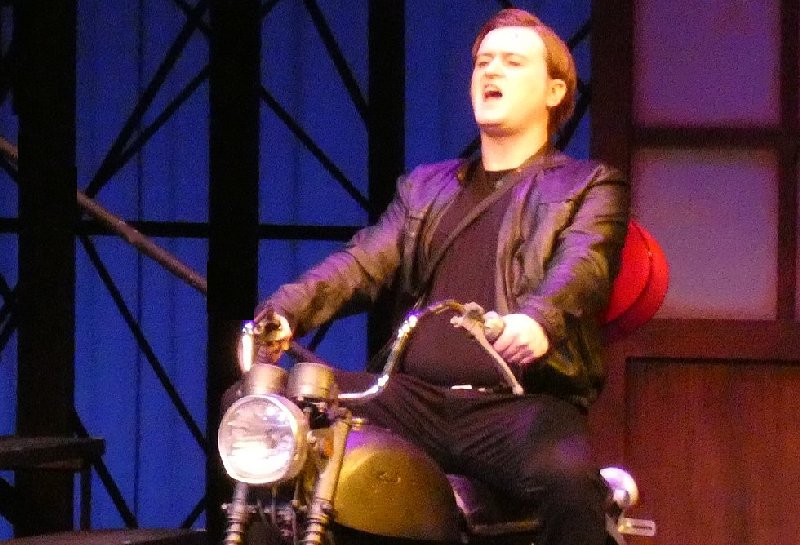 It's tough to be cool in a small town, but sometimes the winds of change usher in the unexpected . . . an anti-hero that somehow elevates all those about them.
Natalie Haller (Ceili Caruso) plays a not shy girl who never really learned to be girly but still had the yearnings to have a boyfriend. Her mother had died when she was young and her dad Jim (Alex Merilo) had done the best he could, but a young girl needs a mother or another mature female to help her through this puzzling time. She has a good friend Dennis (Alex Domine), shorter than she but nonetheless her very good friend, who has a real crush on her. She's unaware of this when this bombshell, Chad (Jordan Melin) comes into town on his motorcycle that needs some repair. He asks the gaggle of kids hanging around where he could find a repairman and Natalie pops up, "I can do it". She's in coveralls, the grease monkey's uniform. He doesn't even realize that she's a girl. All, ALL the girls notice him, this motorcycle riding, jeans and leather jacket, blue-suede shoes wearing James Dean look-alike. And thus begins the story.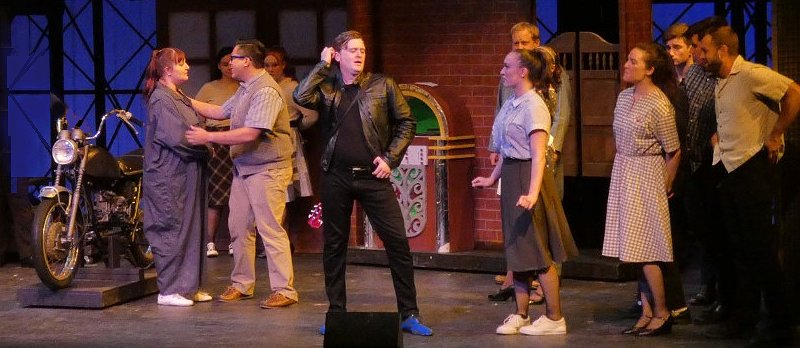 Everyone in town notices him; even the mature women notice. And the ride begins. Great Elvis songs, dancing and singing and partying begins. A story of angst, desire and some gender confusion. What I most enjoyed about this production is the pure joyfulness. From the first curtain up to the last bit of rousing applause, I enjoyed every tiny little bit of it. My favorite dance routine was when Natalie comes out in tap shoes and is joined by an ensemble of dancers, all in tap shoes. Tap is so much fun, great fun.
Peg says, "The energy, the singing, the dancing, the costumes, the sets, all of these reminded me of being a teenager, just waiting to be grown up enough to do more exciting things. Natalie embodies the burst of feeling when she realizes she realizes she really "likes" a boy; yearning for the first kiss, the first heartbreak, and the mad joy of going dancing and losing yourself in the beat, the lyrics and the pure joy. What's not to like?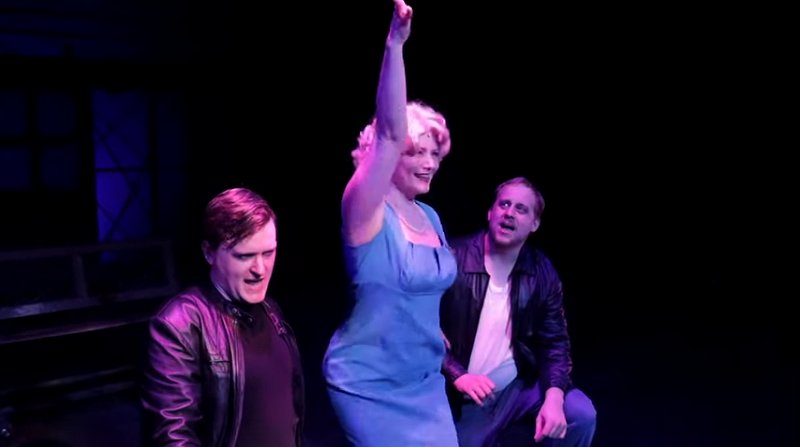 Soon the whole town is in an uproar with the older women shocked and intrigued, and, like Shakespeare says, there is "Much Ado About Nothing". Chad likes Sandra, the museum curator (Meaghan Heath), an "older" woman who gives us the iconic look of a 1950s Marilyn Monroe, the mayor's son wants to skip his senior year at military school so he can date a waitress, Natalie's father is looking for someone when his best choice is right in front of him. This is just real-ish life on parade.
Snack bar owner Sylvia, (Lanita Hudson Walters) is finally recognized as a dream come true to Jim, Natalie's father. Walter's voice broke just a little bit with "There's Always Me." It came across nicely, but she had already belted out quite a few numbers by then. We loved her singing. In the end friends and potential lovers get sorted out via dancing and songs that Elvis made famous.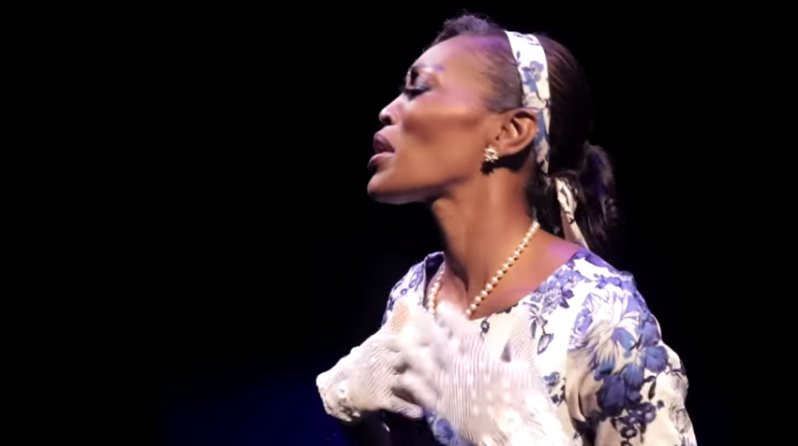 One of our favorite actors (this was our first time seeing him) was Alex Domine. He played Dennis, who had been in love with Natalie for most of his life. Alex played the character so well. We felt sorry for him when he was dejected and thrilled for him in his explosion of glee. What a great smile and he has a good voice and dancing skills.
The pairing of Celi Caruso as Natalie and Jordan Melin as Chad was perfect. They played off each other really well, and Jordan had the Elvis mannerisms down so well.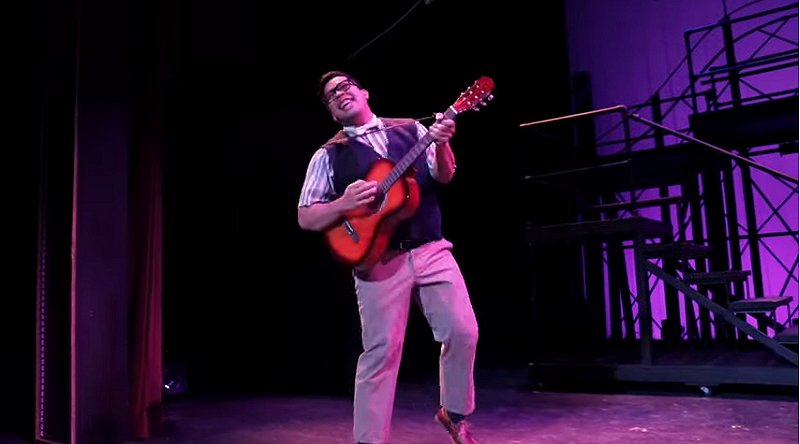 In the end I don't know how many minutes the applause went on. People gave a standing ovation several to the excellent cast and choreographer Christina Naficy. This was a birthday present to my sister Deedee. She loves the singing and dancing of Elvis. Originally, we were going to buy tickets for her a year and a half ago, but Covid delayed the present. Deedee had a front row seat with Peg and me just three rows back from her. Opening night had well over two hundred seats sold.
People are still leery of crowds. Peg and I have had our Covid shots as well as a booster. Everyone needs to wear a mask and provide a record of vaccination. All Shook Up should entertain everyone who attends, even if you're not an Elvis fan. The story was so charming and the singers/dancers were superb. In one number men and women statues in body paint that came down from their pedestals to dance, so innovative.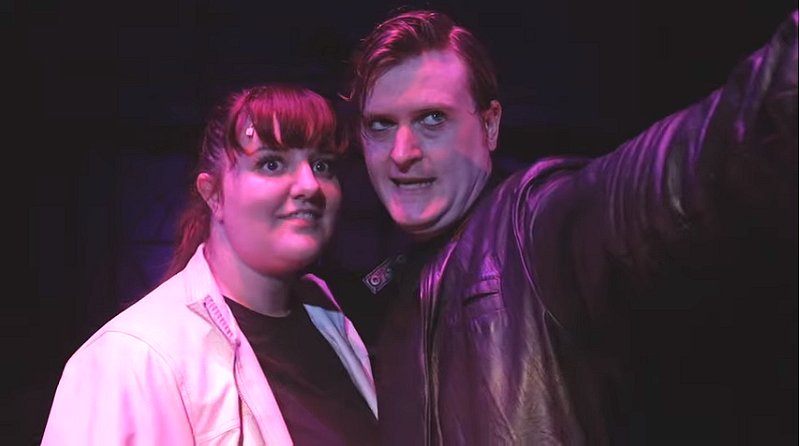 Peg and I like to look over the cast and see where they come from, where they got their training, and their hopes and dreams. Even in the ensemble some people stick out. Accolades to Richard Cubi, he caught our eye. He did everything precisely. He had every movement down pat and we liked to see him smile.
All Shook Up runs through October 10th. For tickets and more information, go to tmp.org/