Submitted by Larry Leveen.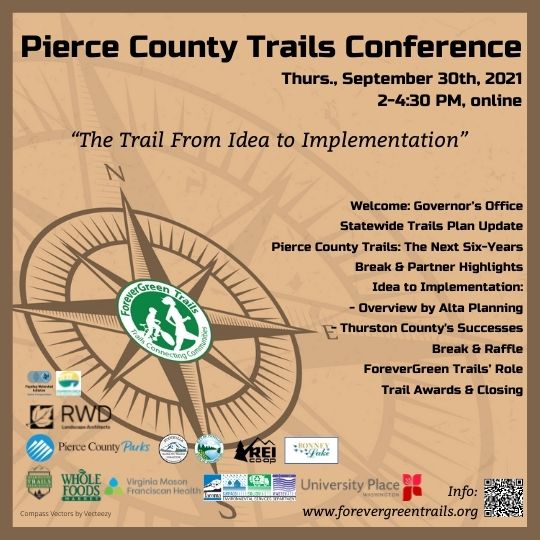 ForeverGreen Trails is pleased to announce that the 16th annual Pierce County Trails Conference will be held on Thursday, September 30th, 2022 from 2 PM to 4:30 PM. The conference will be held online, and the theme is "The Trail From Idea to Implementation".
"Trails are crucial parts of a community. They provide safe and affordable means of healthy active recreation and mobility for all ages and abilities. Unfortunately, trail development is slow and many communities, particularly those with lower income or higher proportions of people of color completely lack access to nearby trails." says Larry Leveen, Executive Director of ForeverGreen Trails. "This conference will explore the trail development process and provide lessons and strategies to accelerate the construction of our planned regional trail network." Trail project updates from all over the county will also be shared at the conference as well as Trail Awards for outstanding achievements. "The conference is a great opportunity for networking and sharing ideas and information about trail planning, construction, and promotion," according to Terry Reid, President of ForeverGreen Trails. "It's relevant for anyone interested in outdoor activity and the health, mobility, and economic benefits of trails."
Registration for the Pierce County Trails Conference starts at $25 and includes an entry into a raffle. Prizes include outdoor gear gift certificates, wine, coffee, and more. Additional raffle entries are available during registration. Scholarships are available for those in need. Further details and registration can be accessed on ForeverGreen's website at https://www.forevergreentrails.org/pierce-county-trails-conference.
ForeverGreen Trails is a 501(c)3 nonprofit organization based in Tacoma, WA, and is the leading voice for trails in Pierce County. Created in 2000 by a group of community stakeholders, it serves residents across the county through advocacy, education, policymaking, and facilitating the overall implementation of a regional-wide trails network. Its work is supported by individual donations and sponsorships from several businesses, organizations, and local governments.