A press release from City of Puyallup.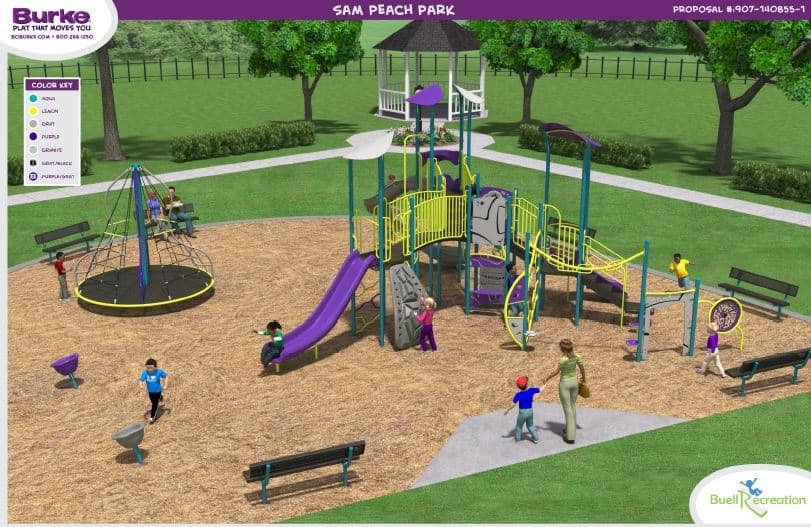 Puyallup, WA – Puyallup Parks and Recreation is delighted to announce that Sam Peach Park will be receiving playground upgrades this fall. Located at 1621 10th Ave NW, this charming neighborhood park will soon have brand new playground equipment.
Dedicated in 2000, the Park was named in honor of Sam Peach, a longtime community advocate and former Mayor of Puyallup. The playground, which was built at the same time, has served local families well over the years. However, after twenty years of usage, the equipment is starting to show its age.
Sarah Harris, Parks and Recreation Director, comments on the decision to replace the equipment. "In my experience, playground equipment needs to be replaced every eighteen to twenty years, depending on how much usage the structure gets," says Harris. "After about twenty years, the cost to repair the equipment starts to get expensive. Plus, it becomes difficult to find replacement parts for older equipment. That was the case with Sam Peach. So, we decided to move forward with replacing the equipment and essentially build a brand-new playground."
Most of the playground equipment is scheduled for replacement, except for a few swings that will remain. Included in the new playground is a Friendship Swing, a popular way to connect parents and children. Friendship Swings are special tandem swings, which are designed to allow parents (or grandparents) to sit with their young ones.
The main playground structure, which serves youth 5-12 years of age, will be replaced and feature three slides, multiple climbing features, and interactive play panels. Other features of the new playground include a Rev 8 Spinner, which is a hybrid of a Merry-Go-Round with climbing equipment. For small children, two Kidforce Spinner Cups will be installed around the playground perimeter.
The cost of the new playground equipment is just over $124,000 and is funded by the Department's Capital Improvement Budget. The new equipment is estimated to be installed in late Fall 2021.
For more information about the Sam Peach Park playground upgrades, please contact Sarah Harris at Sarah@puyallupwa.gov or visit the City's website www.CityofPuyallup.org.