A press release from Pierce County.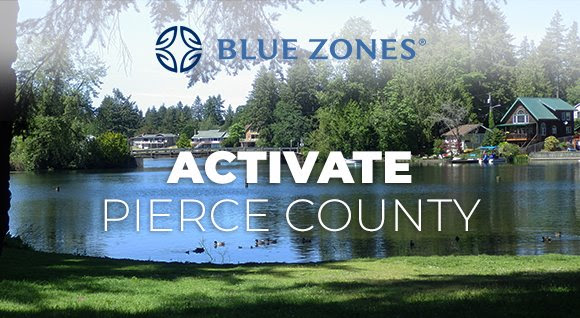 Communities across the U.S. are significantly lowering healthcare costs, improving productivity, fostering economic development and enjoying a higher quality of life through the Blue Zones Project.
Pierce County Executive Bruce Dammeier, leaders from MultiCare Health System and Virginia Mason Franciscan Health, and other local leaders are working with a Blue Zones team to begin a community assessment in the Parkland/Spanaway area of Pierce County. We would love to hear your thoughts about the opportunities and challenges we face in making Parkland/Spanaway a healthier place to live, learn, work, and grow.
A virtual kick-off will take place on Monday, Sept. 27 (6:30-8:00 pm). Click here to register.
Blue Zones is a community-wide well-being improvement initiative designed to make healthy choices easier. We do this by encouraging sustainable changes in the built environment, food environment, and social networks, often suggesting policy changes throughout a community including such places as worksites, schools, restaurants, grocery stores, faith-based communities, convenience stores and neighborhoods.
By helping people live longer and better by making the healthy choice the easy choice, communities can lower healthcare costs, improve productivity, access grants and funding available locally and nationally, and enjoy a higher quality of life as they live, work, learn, worship and grow. 
The program is based on principles identified during an ongoing twenty-year worldwide longevity study commissioned by National Geographic, and detailed in the New York Times best-seller, The Blue Zones:Lessons for Living Longer from the People Who've Lived the Longest, and TheBlue Zones Solution by Dan Buettner.  
Learn more about the Blue Zones project approach and mission.
We hope to see you via Zoom on the 27th!