A press release from Metro Parks Tacoma.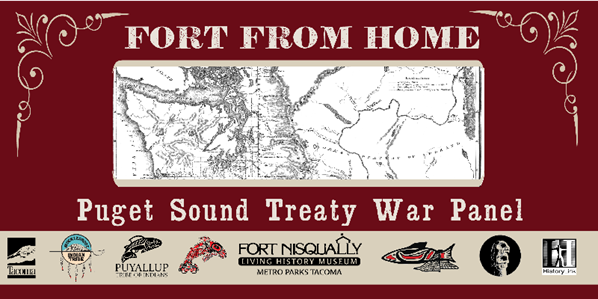 On Thursday, September 9 at 6 p.m., Fort Nisqually Living History Museum will host the third in a series of free virtual panel discussions with diverse communities impacted by the Puget Sound Treaty War.
Historians from the Muckleshoot, Nisqually, Puyallup, Steilacoom, and Squaxin Island Tribes will be joining Fort Nisqually to discuss the immediate causes that led to the outbreak of war, who was involved and why, and the immediate impacts on tribal communities. The panel will be moderated by Jennifer Ott, Assistant Director of Historylink.org.
Stories from the war have been covered elsewhere, but seldom from the perspective of the Native people involved and their descendants. The program seeks to set the record straight by advancing the voices and knowledge of tribal members from stories that have been passed down through the generations.
"We encourage participants to do some research before attending," says Fort Nisqually Living History Museum Event Coordinator, Elizabeth Rudrud. "Tribal partner websites include a wealth of information on these topics. Visiting these sites ahead of time will contextualize our discussion – both for folks just learning about these events but even for historians of the era."
The Puget Sound Treaty War (1855-1856) was an armed conflict between soldiers of the regular U.S. Army, Washington Territorial volunteers and tribes involved in the Medicine Creek Treaty. The treaty, the first of several consecutive treaties negotiated by Governor Isaac Stevens in quick succession, sought the relocation of local tribes to reservations in exchange for cash payments and the preservation of hunting and fishing rights. The treaty was a catalyst for the conflict.
The panel series received the 2021 Award for Outstanding Achievement in Broadening Perspectives in Preservation from Tacoma Landmarks Preservation Commission Historic Preservation Office and is supported by the City of Tacoma.
Tickets for the September panel discussion are FREE and can be found online at fortnisqually.org.