A news story from City of University Place.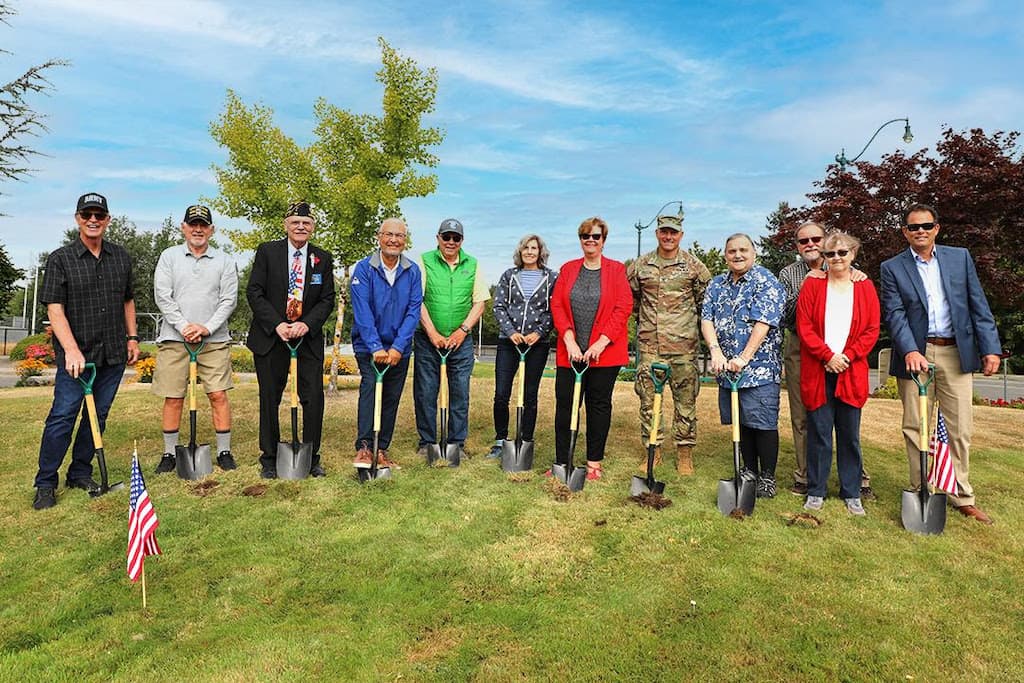 Mayor Caroline Belleci was joined on Aug. 19 by U.P. veterans and Col. D. Shane Finison, commander of the 16th Combat Air Brigade at JBLM, for a groundbreaking ceremony for the new Veterans Plaza at Cirque Park.
The University Place Veterans Plaza Committee has been working on this project for more than 12 years and has been actively raising funds to support it. Their goal is to have the project complete and ready for dedication on Veterans Day, Nov. 11, 2021.
"It's nice to be recognized for your service, but a key part of us wanting to have this project is to also remember the families of all the veterans," said Bob Schwartz, a U.P. resident and veteran who headed up the Veterans Committee. "It is tough to be a military spouse and family. This will be a place to honor their sacrifice and the memory of all the veterans and their service."
Schwartz noted the project has taken a long time to come to fruition but the Veterans Committee has now raised enough money to begin construction and make it a reality. That kind of effort and perseverance was not lost on Col. Finison.
"To have a place like this and to see that service from those all across the nation is appreciated gives us a piece of home no matter where we are," he said. "It means a lot to us to see that U.P. is honoring those who are willing to serve our nation."
Learn more about University Place Veterans Plaza and ways to contribute—including with in-kind services—on their website: upveteransmemorial.org/.