A press release from Metro Parks Tacoma.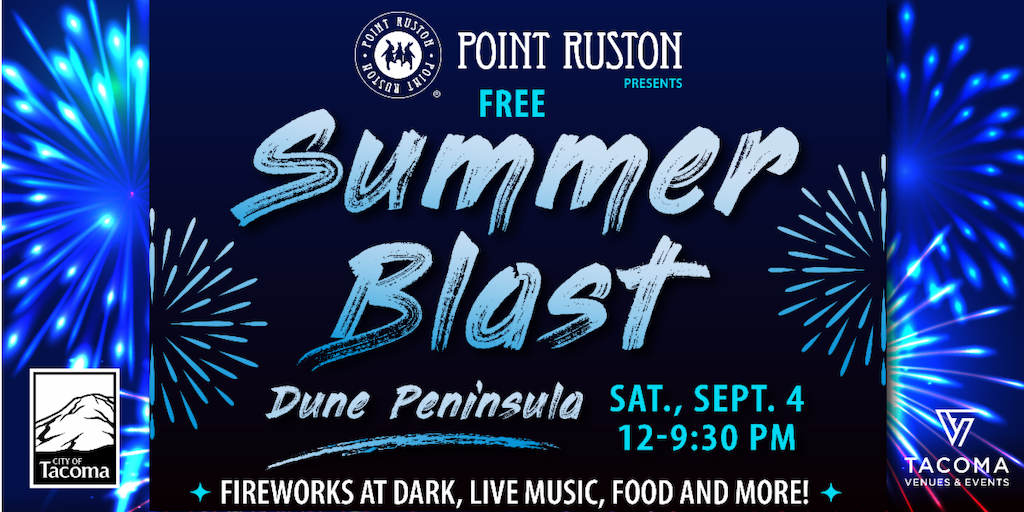 Join us for a family-friendly day of live music, food, entertainment and crafts vendors, culminating in a fireworks display over Commencement Bay.
Activities will kick off at noon on Saturday at both Dune Peninsula and Point Ruston with a selection of vendors from the popular Tacoma Night Market.
The fireworks display will launch from a barge offshore from Cummings Park, making them visible from many locations along the waterfront. Ruston Way will remain open to traffic, and restaurants and other businesses may remain open during the event.
This will be a walk-in event. The nearest parking is available at Point Ruston and Point Defiance. There will be a passenger drop-off zone in front of the "slag pot" at the entrance to Dune. Parking will not be available on Dune Peninsula.
Go green and ride your bike to the event! A bike corral will be located on Dune Peninsula to provide a convenient place to lock bicycles. Learn more about performers and parking here.